23 SEP - Reminder about the League Meeting on Monday 25 Sept - All clubs are reminded that it is the next League meeting on Monday 25 September in the John Street stand at Bramall Lane, starting at 7:30pm All clubs must be represented.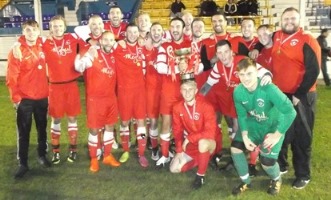 21 SEP - STEVE GEE MERIT CUP FINAL - Redmires pip Cobden to win the Steve Gee Merit Cup Final - The League's Steve Gee Merit Cup Final between last season's CBC Premier Runners-up and Sunday Senior Cup semi finalists Redmires and last season's Division Two Runners-Up Cobden View took place at Stocksbridge Park Steels Look Local Stadium, and it was Redmires that came out on top of a real thriller 3-2 to lift the trophy for a second time.
Redmires started the quicker and John Pedder almost gave them the lead with a shot that struck the outside of the post. More good work by Pedder almost broke the deadlock and the pressure finally told when a cross from the right was slammed into the bottom corner by Redmires' skipper Ben Graney. Cobden eventually got a foothold in the game and one attack ended with shouts for a penalty for handball and soon after a dangerous cross evaded everyone in the box. Redmires ended the half strongly with Jake Gamban's shot saved by Josh Delaney in the Cobden goal and soon after Delaney had to make an even better save from Pedder's low drive.
Cobden looked a different side in the second half and were soon on level terms when they carved Redmires right side open and when the cross came in Tim Pitt was on hand to roll the ball home. Pitt thought he had added a second soon after, only to see it ruled out by the assistant referee's flag for offside. Delaney then saved to stop Redmires from re-taking the lead, but it was Spencer Bingley in the Redmires goal that next had to make an even better save to stop Aaron Ellis's deflected shot.
Josh Limbrick then shot just wide as Cobden continued to drive forward, but it was Redmires that got their noses back in front when Jake Gamban scrambled the ball home from a corner. They quickly doubled their advantage when Gamban's through ball found Tom Whiting and he slid the ball home. Cobden didn't give up though and only a brave piece of keeping by Bingley stopped Pitt from scoring a second, before Cobden's Ben Bell volleyed just wide.
They were rewarded soon after though when Pitt pounced on a mistake to advance and roll the ball past the onrushing Bingley. It then needed another terrific save by Bingley to stop Pitt from completing a hat-trick. Redmires were hanging on at this stage and only two more saves by Bingley stopped Cobden from equalising before referee Matt Tyers whistled for full time. It had been a terrific effort by both sides and a great advert for the league and both clubs.
The squads: Redmires: Spencer Bingley, Matt Hanson, Hamed Arezzo, Conal Jacklin, Dave Knaggs, Ben Graney (C), George Rudd, John Pedder, Andy Bath,Jake Gamban,Jake Schofield, Jake Sawyer, Dan Callow, Chris Cottyn, Tom Whiting, Danny Turner
Cobden View: Josh Delaney, Ben Mayne, Scott Needham, Andy Jacobowski, Joe Tayloe (C), Aaron Ellis, Josh Limbrick, Alex Butt, Ben Bell, Tim Pitt, Rich Higgins, Lee Mansell, Will Cutler, Mike McVay, Adam Beresford, George Wilson-Bland
Referee: Matt Tyers, Assistant Referees: Craig Couldwell and Michael Brown
21 SEP - Fixtures for October now shown - The fixtures for October are now shown in the Fixtures section. The exception is 22 Oct as we cannot formulate any fixtures on that date until the Sunday Cup ties on 8 Oct have been played and the draw for Round 3, due to be played on 22 Oct, has been made, but all teams and referees allocated to the Blades Super Draw league that date should assume they will have a game on that date until told otherwise.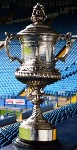 20 SEP - Sunday Cup 2nd Round Cup draws - The draws for the Sunday Senior and Sunday Junior Cups was made earlier today and it saw just one all-Blades Super Draw League tie come out of the hat - the Junior Cup tie between Division 1 Ranch and Division 2 Royal Earl. All ties in both competitions are scheduled for Sunday 8 Oct. The ties involving our clubs are as follows:
Sunday Senior Cup: AFC Schoolboy v Redmires; Balby Bridge v Penistone Church; Handsworth Old Crown v KCM Fighting Cocks; Intake Old Boys v Groves Social; MonkWood v Wickersley Youth; Norton Oaks A v Albert; Red Lion Bombers v Stannington Village; Woodseats Club v Joker; Worsbrough Common v Wadsley Bridge Pheasant.
Sunday Junior Cup: AFC Thirsty Flame v Brinsworth Phoenix; Boynton Sports v Todwick Villa; Crookes FC v Elsecar Fitzwilliam Arms; Greasbrough Reserves v Oughtibridge WM; Highgate v Norton Sportsman; Langold Lakeside or Shirebrook Spartans v Mosborough Whites; Norton Oaks B v Cafe Sport Comrades; Ranch v Royal Earl; Southey Social v Manor Barn; Woodhouse Athletic v Forum; Woodseats Chantrey v Queens Head Hoyland. .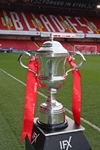 17 SEP - twentytwo League Cup Round 2 draw - The draw for Round 2 of the League twentytwo Cup saw holders Handsworth Old Crown pick up a home tie against the Division 1 Cobden View side they share their Hillsborough College pitch with. Last season's beaten finalists, Norton Oaks A, also have a home tie against early Division 1 leaders Woodhouse Village. There's just one all-CBC Premier tie, with Wickersley Youth enetertaining former holders Redmires, while Hallam FC look to have a tough task at league newcomers Royal Earl. The full draw is as follows : Oughtibridge WM v Forum, Norton Oaks B v Chapeltown RBL, Handsworth Old Crown v Cobden View, Mosborough Whites v Southey Social, Brinsworth Phoenix v Mosborough Reds, Civil Sports A v Cotts FC, Wickersley Youth v Redmires, Royal Earl v Hallam FC, Intake Old Boys v Shakey, Boynton Sports v Woodseats Club, Norton Sportsman v Killamarsh Juniors, Colley v Penistone Church, WB Pheasant v Ranch, Norton Oaks A v Woodhouse Village, Steelers v Stannington Village, Crookes FC v Civil Sports B. All ties will be played on Sunday 15 Oct, with an 11am kick-off.

17 SEP - SUNDAY SENIOR CUP - Penistone win a thriller at Civil, while Redmires and Stannington both ease their way through - The all-CBC Premier tie at Civil Sports A saw Penistone Church pip their hosts in a real thriller, while last season's semi finalists eased their way through at Birley with the help of an Andy Bath (right) double. Stannington Village had an even easier passage with six different scorers at Brampton Rovers.

SUNDAY JUNIOR CUP - Eleven go through, but eight go out - Eleven of our clubs went through to Round 2 and although 8 teams went out at the first stage, five of them lost to fellow Blades Super Draw League clubs. A Jamie Smith (left) treble helped Forum to victory over Cotts, while a Danny State double helped Mosborough Whites to victory at Cobden View. A Jack Peake double saw Norton Oaks B beat Woodhouse Juniors, while Michael Towey and Jack Hargreaves doubles helped Royal Earl to a comfortable victory over Colley. The closest of the five all-Blades Super Draw ties was at Norton Sportsman, who needed penalties to come through against Mosborough Reds.
The most exciting tie saw Tyrone Gunter and Matt Jacobs doubles help Ranch win an eleven goal thriller at Middlewood Rovers, while a Liam Cartledge treble helped Crookes FC to a comfortable win at New Bohemians. A Jake Ballinger treble helped Boynton Sports through at Sheffield Legends, while Brad Gray and Jordan Sambrook doubles saw Woodseats Chantrey through at Brierley Cubs U21 and Ryan Whitney and Josh Sugden doubles helped Southey Social go through at The Kop End's expense. A Jack Hawkes double helped Brinsworth Phoenix through at Thorncliffe, but for Crookes & District, Wadsley Horse & Jockey and Civil Sports B it was the end of the road.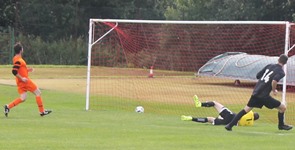 17 SEP - CBC PREMIER - First Premier wins for both Intake and Killamarsh, but an Owen double helps keep Woodseats Club top - A Mark West double, the second in the dying seconds of the game (pictured right), helped Intake Old Boys to a thrilling victory at Hallam - Intake's first ever top flight victory, and it was also a first ever Premier victory for Killamarch Juniors who pipped Wickersley Youth in another thriller. A third thriller came saw Woodseats Club need two Nicky Owen strikes to help them to a point at Wadsley Bridge Pheasnt - a result that keeps Woodseats top and Pheasant second.
DIVISION 1 - Ryan is dead-Lee to send Village top - Ryan Lee hit five goals on his debut as Woodhouse Village beat Steelers to become the early leaders of Division 1.
DIVISION 2 - No games in Division 2 due to Sunday Cup ties - There was no games in Division 2 due to Sunday Cup ties
14 AUG - September Fixtures and Referees now listed - The Fixtures and Referees for September are now listed in the Fixtures section. All home teams MUST make sure that their home pitch is available on all the dates shown. Please email Keith immediately if your pitch is not available on a date shown.
All home clubs must also confirm the details with your referees and opponents for all dates shown IMMEDIATELY. The home clubs should later (the Tuesday before the game) ring the referee to make sure the referee has got all the details.
Please email Keith immediately if any of the referees tell you they cannot do the fixture listed. Matches without referees must still go ahead and, if you have not been allocated a referee by the date of the game, the two clubs must agree on a stand-in 'referee' between them. Keith will still be working to gain more referees, so if you find one yourself, will you let Keith know immediately please.
Click here for full detail of last Sunday's games and a preview of next weekend