18 MAR - All games postponed - All the League and Sheffield FA Sunday Cup games were postponed due to the snow. The Sunday Cup ties will try again next weekend. This means some of next Sunday's League games will change and the referees for our League Twentytwo Cup ties will also change.
11 MAR - CBC PREMIER - Redmires put leaders at their Whit's end - CBC Premier leaders Wadsley Bridge Pheasant had a golden chance to extend their lead at the top when they visited last season's runners-up Redmires. However, it did not go to plan as the home side recorded a 3-1 win. Tom Whiting was the man of the moment for Dave Knaggs' men with a well taken double, whilst Andy Bath added a third. Pheasant did get a consolation through Lewis Fothergill in the closing stages, but it was a major jolt to the visitors' title aspirations. Action from the game is below - pictures by Mick Moat.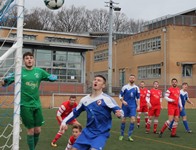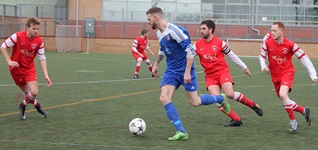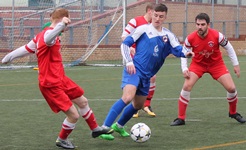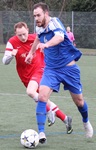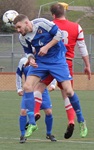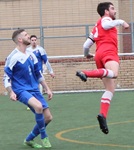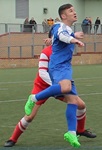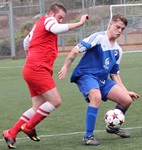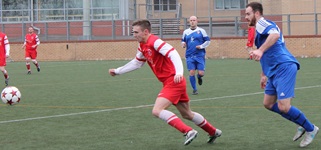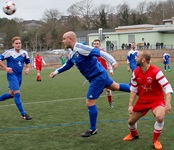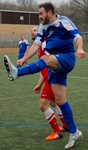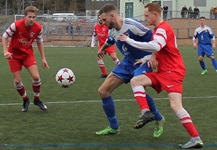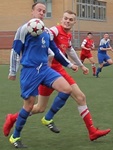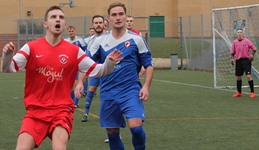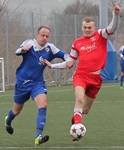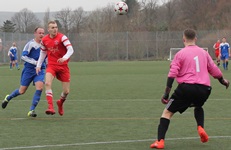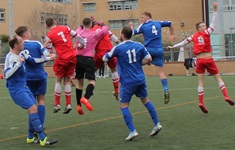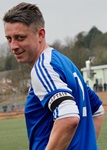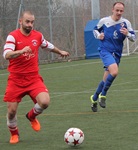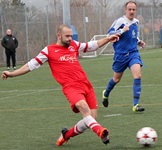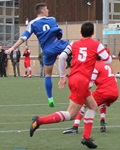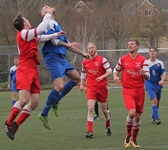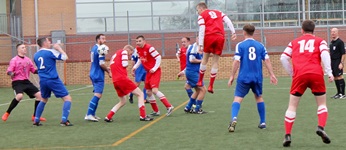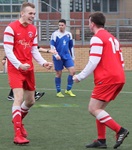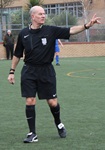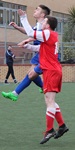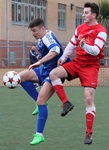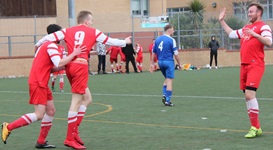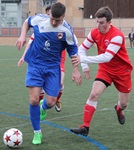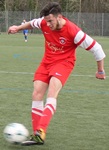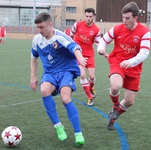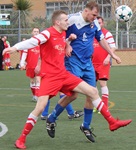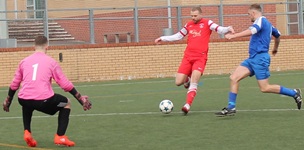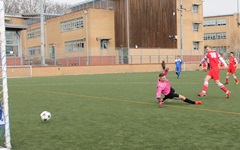 With second placed Wickersley's home game against Civil Sports A succumbing to a waterlogged pitch and a postponement, current champions Stannington Village closed within two points of the top two with a 6-2 away win at a Woodseats Club team struggling at the bottom end of the table. Goals from Dan Green and Cory Mann put Village two goals to the good at half time and they added four more in the second thanks to Dean Jepson, Alex Torr, Arnie Grayson and Danny Smith. Woodseats got some respectability with strikes form Owen and Turner but Stannington are seemingly moving into a groove now and will fancy their chances of retaining the CBC Premier title; especially with a game in hand on the leaders.
Intake Old Boys pushed Norton Oaks A further into the drop zone with a 5-3 away triumph. Liam Paterson gave Oaks the lead with a penalty but then Jonny Roper and Mark West combined for three straight goals which put the visitors well in command, West scoring twice and Roper once. A superb long-range effort from Joe Turner flew into the top corner for 1-4 before Paterson's second reduced the arrears. West completed his hat-trick with a superbly taken individual effort when he danced his way through the Oaks defence before slotting the ball under the advancing keeper; yet Paterson had the final goal completing his hat-trick but not enough to save his team from defeat. Action from the game is below - pictures courtesy of Norton Oaks.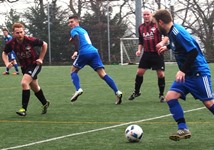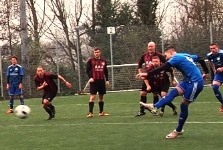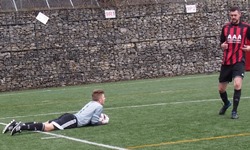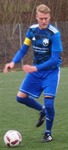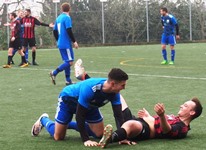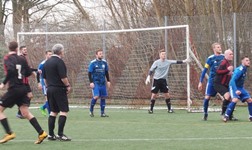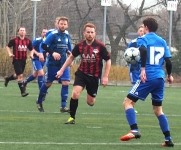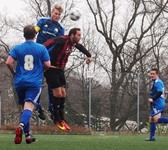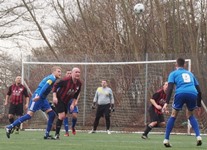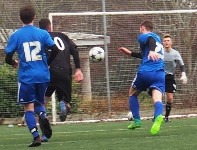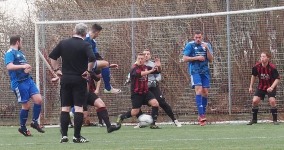 A second half blitz helped Handsworth Old Crown to a 7-0 win at bottom placed Hallam FC which pushes the home side nearer to relegation. They did battle well in the first half and restricted Handsworth to a single goal, but the second half was a destruction. David Sills, Russell Hobson and Matt Ellis all bagged braces whilst James Leesley ensured the visitors went home with a comprehensive win under their belts.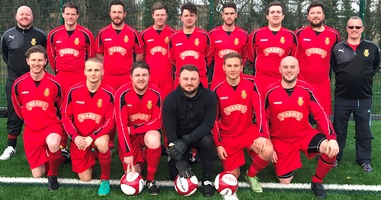 DIVISION 1 - Legion at Long last end Sportsman's unbeaten record - Division One leaders Norton Sportsman suffered their first ever league defeat after a 36 match unbeaten run as Joe Long scored the winner for second place Chapeltown RBL, leaving them as the League's only unbeaten team this season. Chapeltown RBL now trail by just three points and have two games in hand over Sportsman. Jack Waymouth gave Norton the lead when he got the all-important decisive touch after a scramble, but Legion were on level terms when former Civil Sports B striker Jed Phillips rose highest to meet a Niall Smith left wing cross and power a header home. Smith had a hand in the winner too, laying the ball off to Joe Long who rifled home a twenty-yard effort into the top corner. Sportsman pushed for an equaliser but Legion custodian Ben Palmer ensured his side would celebrate the win with a series of sensational saves when the visitors found a way through.
Also three points behind and with two games in hand are third placed Oughtibridge WM as they recorded a 3-0 triumph at the expense of a battling Norton Oaks B. Ross Brown gave Oughtibridge the lead with a superb effort from the edge of the area which gave the Oaks keeper no chance whatsoever, before top scorer Callum Chambers was teed up by Brown for number two. The points were secured thanks to Ollie Black, Black firing home a penalty after Chambers had been brought down in the area.
Oaks' chances weren't helped as Ranch eased their relegation fears with the help of a Matt Jacobs hat-trick in their 9-0 victory over Colley. Ranch's other goals came from Chris Wajs, Tyrone Gunter, Tom Burns, Josh Naylor, Mike Vella and Jay Lindsay. Cotts FC's run of four wins out of five was brought to a halt as a Ben Bell double helped Cobden View to a 4-1 victory over them Ben Bell rang true for the home team with a double, whilst Ben Mayne and Will Cutler were also on target. Michael Blythen netted for Cotts but they could make little headway against a Cobden side who deserved the points despite finishing the game with ten men.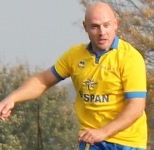 DIVISION 2 - Earl lord it at the top, while Boynton have a Ball - Division Two has its third leaders in as many weeks after a Steve Brammer and Tom Nolan trebles helped Royal Earl to a 9-1 victory at Woodseats Chantry and the top of the table. Earl's others came from Gareth Simons, Mike Towey and Callum Greaves whilst Chantrey's goal came from Rory Nolan.
Another hat-trick star in Division Two was Jake Ballinger of Boynton Sports as they kept up their title bid by recording a 5-0 win at Cadbury. Jermaine Modeste and Josh Jones also found the net. Shakey got themselves a much-needed win as they saw off Mosborough Whites 2-0 thanks to goals from Joe Woodhouse and Tyler Akroyd.