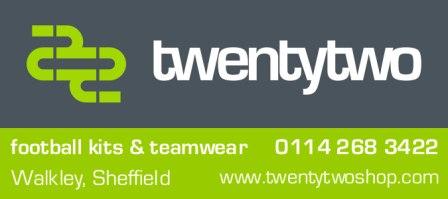 PLEASE NOTE THE EMAIL ADDRESS IS: keithsssl@aol.com
PLEASE ALSO NOTE THAT ANY MESSAGES WITH ATTACHMENTS WILL NOT BE OPENED UNLESS I HAVE BEEN NOTIFIED ABOUT THE CONTENT BY TELEPHONE: RING or TEXT 0794 091 3288
LATEST NEWS
for a preview of forthcoming games see lower down the page. For earlier reports see the News Index page
21 NOV - Fixtures for FEBRUARY 2020 now added - The Fixtures for FEBRUARY have now been added to the Fixtures section of the website. Home clubs should contact their opponents and Referees where shown ASAP for the whole month. Home clubs should also make sure their pitch provider has all the details ASAP.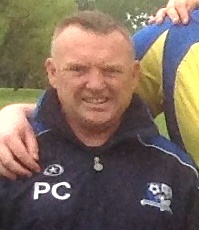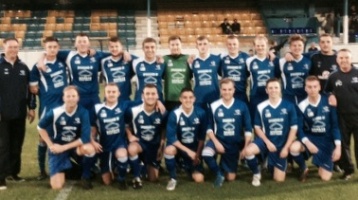 19 JAN - RIP Paul Carder - The League was saddened to hear that the former Wickersley Youth manager Paul Carder ahd passed away suddenly whilst on holiday. Paul was instrumental in bringing the side, intially known as Brinsworth Whitehill, to the League and he was their manager as they moved up the Divisions into the CBC Premier, before handing the reigns over to his son Lewis. Paul always made sure his team played football in the right manner and was a pleasure to be with. Our thoughts are with his family and friends at this difficult time. Paul is pictured far left and is on the right of his Brinsworth Whitehill team that appeared in the 2014 Steve Gee Merit Cup Final .
19 JAN - SUNDAY SENIOR CUP - Pheasant have to try again - Wadsley Bridge Pheasant's Sunday Senior Cup quarter final with Scawthorpe Athletic was postponed and they will have to try again next weekend.
19 JAN - SUNDAY JUNIOR CUP - Southey bow out - Despite a strong second half and a headed goal from Todd Guest, Southey Social went out at the Sunday Junior Cup Quarter Final stage with a 2-1 defeat at Sporting Wadworth.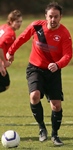 19 JAN - CBC PREMIER - Hobson's the choice for Handsworth, whilst top two both win out of the bottom three - Russ Hobson scored 5 as Handsworth Pub climbed to fifth with a stunning 7-5 victory over Wickersley Youth. The teams observed a minutes silence before the game in respect of former Wickersley manager Paul Carder. Hobson put Handsworth two up before Wickersley pulled one back when Drew Houghton's run and cross was tapped in at the second attempt by Jordan Thomas, but almost straight away, Harry Johnson struck a third for Handsworth. Jonathan Claxton headed in a deflected shot for Wickersley's second, but Matt Ellis's deflected free kick restored Handsworth's two-goal advantage.
Wickersley hit back again when Adam Daughtrey and Houghton combined to set up a second for Thomas, but before the break Hobson completed his hat-trick with a terrific overhead scissor kick. Ten minutes into the second half, Hobson hit his fourth when Handsworth was awarded a penalty, but a minute later, Ross Johnson's shot could only be parried by the Handsworth keeper and Daughtrey tapped home the rebound. Wickersley got even closer when Thomas's cross allowed Houghton to make it 6-5, but Hobson scored his fifth in a goalmouth scramble to make the points safe for Handsworth.

The top two moved further away from the rest though. Leaders Royal Earl came from a goal down to beat Oughtibridge WM 5-3. Oughtibridge went into the game missing several regulars and gave debuts to Herve Sezerano and Keian Ward, but they stunned Earl by taking the lead when Adam Thomas whipped in a great free kick that was put home by Harley Scholey. They almost doubled their lead when Callum Chambers shot was saved by the keeper, but Earl began to get into their stride and Oliver Beaumont levelled before the break. Early in the second half, a Connor Chappell penalty and a cool Richard Tootle finish put Earl in charge, but Tom Fletcher fired in a beauty to put Oughtibridge back in it. Alex Rippon (right) grabbed Earl's fourth, but Oughtibridge hit back again through Chas Tunnard and Chambers thought he had levelled when hit shot cannoned off the bar. Rippon grabbed his second in the last minute to ease Earl's nerves.

Second place Redmires maintained their perfect record by inflicting a second defeat of the season on Crookes 2-1. Redmires went in front with a 30 yard Jon Wall (left) free kick, but Crookes hit back before half time with a Joe Jerrison strike. After the break, Crookes had more possession, but Redmires looked more dangerous and, after hitting the woodwork four times, they finally grabbed a winner when Ben Palmer struck a contender for the goal of the season with a 35 yard half-volley.

19 JAN - DIVISION 1 - Stirrup gives Oaks a leg up - The only Division One game to beat the conditions saw Richard Stirrup (right) score a hat-trick as Norton Oaks won a thriller, 7-5 at Colley, to move up to third. Both sides had early chances, but it was Colley that took the lead with a Billy Thornley strike. Colley missed more chances and paid for it when Nasa Meah put Stirrup in for the equaliser. Oaks then took the lead with a great Matt Lennox finish, but Colley hit back to level through Jack Appleyard. Lennox and Poole combined to allow Dan Poole to put Oaks back in front and they doubled their lead before half-time when a sumptuous Scott Stringer cross was met by a Meah header over the keeper and into the far corner. Stringer increased the lead to 5-2 just after the break and although Appleyard netted his second for Colley, Stirrup scored a terrific solo goal to keep Oaks in charge. Instead of giving up, Colley hit back with a Joe Woodhouse and Ian Sharland strikes, but with Colley pressing hard for an equaliser, Oaks broke and Stirrup rounded the keeper to complete the scoring.
19 JAN - DIVISION 2 - Burke at the double for Green, whilst Wadsley s-Woon over Benji and Reds gain revenge - Michael Burke scored twice as second place Nether Green moved to within four points of the top of Division Two with a 6-4 victory in a yet another thriller at Darfield United. It was Tom Davis's second game in charge after agreeing to take over the manager's role for Green and Jim Pollard gave his side an early lead. After Sean Bunyan missed a penalty for Darfield, Green doubled Green's lead through Harry Pollard and they looked to have the game sewn up by half time with two more goals from Jack Holli-Smith and Sol Limb. After a few words of 'encouragement' in the Darfield dressing room at half time they came out all-guns blazing and two Jordan Beardsley strikes put them back in the game. Burke netted to keep them at bay, but an Elliot Phelan strike and a third for Beardsley had Green sweating until Burke netted his second late on.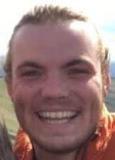 There was another high scoring game, including a Benji Woon (right) treble, as Wadsley Jack won 6-3 at Prince of Wales. Prince took the lead when Charlie Hawkins' cross saw Dan Neilson rise like a salmon to head home and they doubled their lead before half-time when Matt Waterhouse met keeper Ben Raynes' clearance to hit a left foot shot past the Wadsley keeper. The second half belonged to Wadsley, with Woon's hat-trick together with George Scott, Reece James and Ethan Wilkinson strikes winning it for them despite Tom Furniss briefly levelling things for Prince.
Mosborough Reds gained revenge for the previous week's defeat by Beighton Magpies by beating them 2-0. It took just four minutes for Luke Newman to head home from a terrific Alix Sorsby cross and Oliver Tupling hit a brilliant free kick to double the lead in the tenth minute. After that the Mosborough defence stood firm and their first clean sheet of the season meant they went home with the points.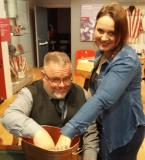 13 DEC - LEAGUE TWENTYTWO CUP - Quarter Final draw - Sheffield United's Club Historian and Supporter Liaison John Garrett and his wife Sarah helped make the draw for the League Twentytwo Cup and it saw the last remaining Division Two side Eckington BFC drawn against CBC Premier Wickersley Youth. Division One Chapeltown RBL have a tough task against semi-finalists for the last two seasons, Crookes. The only certain all-CBC Premier tie sees Redmires paired with Norton Sportsman, but there could be another as Royal Earl will face Stannington Village if they both come through their delayed ties. The full draw is: Crookes FC v Chapeltown RBL; Redmires v Norton Sportsman; Stannington Village or Southey Social v Boynton Sports or Royal Earl; Wickersley Youth OV v Eckington BFC. The two delayed ties and three Quarter Final ties will be scheduled for 12 January, providing there are no complications with County FA Sunday Cup ties.
FORTHCOMING FIXTURES
12 January
There are big games in three cup competitions this weekend, with most teams looking for semi-final spots. In the Sunday Senior Cup, Wadsley Bridge Pheasant entertain last season's beaten finalists Scawthorpe Athletic. Pheasant have already put out two former finalists, so it could be a notable hat-trick and a first ever semi-final spot for them. In the Sunday Junior Cup Division Two leaders entertain a FC Portcullis that put out Wadsley Jack Athletic in Round 3, whilst both Nether Green and Sheffield Sixs have away ties at AFC Mallard and Birdwell Rovers respectively. Nether Green has only conceded two goals in the competition so far and a repeat of that kind of defensive strength should see them through. After a shakey start to the season, Sixs look to be getting into the form expected of them and that could carry them through.
In the League Twentytwo Cup, holders Royal Earl travel to Division One Boynton Sports for their delayed Round 3 tie and the other delayed Round 3 tie see former holders Stannington Village entertain Sunday Junior Cup Quarter Finalists Southey Social. The three Quater Finals see an all CBC Premier tie at Redmires, where Norton Sportsman are the visitors, Crookes trying to make a third successive semi-final at home to Division One Chapeltown RBL and Wickersley Youth trying for their first semi-final at home to Division Two Eckington Boys.
In the CBC Premier, there are two games featuring four teams looking for some much needed points. Bottom club Woodseats Club entertain a Handsworth Pub jst two places above them, whilst second bottom Cotts FC travel to an Oughtibridge WM just four points better off. Division One leaders Cobden View entertain a Woodhouse Juniors that suffered a heavy defeat last weekend, whilst second place Intake Old Boys will look to get over their defeat last weekend with a home win over Ranch. Colley need at least a point at Civil Sports to get into the top three, but if Civil win they will go third instead.
In Division Two, second place Darfield United should climb to within three points of top spot with victory at Cadbury. Should Darfield not win, Brinsworth Phoenix can go second with a home win over Prince of Wales, but the visitors are in the form of their lives, so Phoenix will have to be at their best.The other two games see four of the bottom five clash with Mosborough Reds entertaining neighbouring Beighton Magpies and Wadsley Jack Athletic entertaining Killamarsh Juniors.
FIXTURES IN BRIEF
12-Jan SUN SEN CUP WB Pheasant v Scawthorpe Athletic SUN JUN CUP AFC Mallard v Nether Green; Birdwell Rovers v Sheffield Sixs; New Bohemians v FC Portcullis TWENTWO CUP Boynton Sports v Royal Earl; Crookes FC v Chapeltown RBL; Redmires v Norton Sportsman; Stannington Village v Southey Social; Wickersley Youth OV v Eckington BFC CBC PREMIER Oughtibridge WM v Cotts FC; Woodseats Club v Handsworth Pub DIVISION 1 Civil Sports v Colley; Cobden View v Woodhouse JFC; Intake Old Boys v Ranch DIVISION 2 Cadbury v Darfield United; Mosborough Reds v Beighton Magpies; Brinsworth Phoenix v Prince of Wales; Wadsley Jack Ath v Killamarsh Juniors
19-Jan CBC PREMIER Cotts FC v Stannington Village; Handsworth Pub v Wickersley Youth OV; Norton Sportsman v WB Pheasant; Redmires v Crookes FC; Royal Earl v Oughtibridge WM DIVISION 1 Chapeltown RBL v Sheffield Sixs; Civil Sports v Southey Social; Colley v Norton Oaks; Mosborough Whites v Boynton Sports; Ranch v Intake Old Boys; Woodhouse JFC v Cobden View DIVISION 2 Beighton Magpies v Mosborough Reds; Brinsworth Phoenix v Eckington BFC; Darfield United v Nether Green; Killamarsh Juniors v New Bohemians; Prince of Wales v Wadsley Jack Ath; Shakey v Cadbury
26-Jan CBC PREMIER Crookes FC v Oughtibridge WM; Handsworth Pub v Redmires; Royal Earl v Norton Sportsman; WB Pheasant v Woodseats Club; Wickersley Youth OV v Cotts FC DIVISION 1 Boynton Sports v Cobden View; Intake Old Boys v Chapeltown RBL; Mosborough Whites v Ranch; Norton Oaks v Civil Sports; Sheffield Sixs v Woodhouse JFC; Southey Social v Colley DIVISION 2 Cadbury v Brinsworth Phoenix; Eckington BFC v Darfield United; Nether Green v Beighton Magpies; New Bohemians v Prince of Wales; Shakey v Killamarsh Juniors; Wadsley Jack Ath v Mosborough Reds