20 MAR - Final League positions and Leading Scorers now published + 30 March League Meeting cancelled - After much deliberation the League Management has agreed the final League positions now shown in the Tables section. The Leading Scorers can be found via the Results section. All teams have been notified
16 MAR - Season ended - After The FA today made the following statement, the League has no option than to end the season now:
"Following the Governmentís announcement today, for people to avoid social contact and gatherings where possible, we are now advising that all grassroots football in England is postponed for the foreseeable future. Throughout this period, we have taken Government advice with the priority being the health and wellbeing of all. We will continue to work closely with the grassroots game during this time. We are in regular communication with the Government and the situation within English football at all levels remains under regular review. Further updates will follow as needed". Sheffield & Hallamshire County FA will also postpone all courses, events and workshops until further notice."
This in effect ends the League season. We still have 158 league games to play, plus 5 or more League Cup and County Cup games, so there is no possibility that the season can be ended normally.
The League will now decide what we do about this season. We will also decide what to do about the League Cup, but it is obvious that the final will not be at Bramall Lane this season.
If possible, we will try to come up with a solution that rewards the efforts so far. Inevitably, some teams will agree with the outcome and some won't. All we can promise is that the final decision will be taken by the independent League Committee.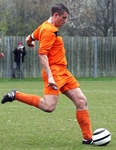 15 MAR - SUNDAY SENIOR CUP SEMI-FINAL - End of the road for Pheasant - Despite an Andy Dawson (left) equaliser taking the tie to extra time, Wadsley Bridge Pheasant's Sunday Senior Cup run came to an end at the semi-final stage with a 3-1 defeat by MonkWood. MonkWood took a deserved lead with a header, but Dawson levelled with a stunning volley just before the break. Pheasant pressed in the second half but found chances hard to come and it was their visitors that missed the best chance late on. That saw extra time and in the second half a wicked deflection saw MonkWood go ahead and with Pheasant pushing for an equaliser, MonkWood scored a third on the break.
15 MAR - CBC PREMIER - Sweet 16 for Redmires, but Stannington keep up the chase - Redmires added to Woodseats Club's relegation woes with a 6-0 victory over them to go 16 points clear at the top of the CBC Premier. Tom Whiting and Jon Wall gave Redmires a two goal lead at the break and as Woodseats tired in the second half, Whiting hit his 32nd goal of the season, before an own goal and one each for Andy Bath and Sean Maloney completed the scoring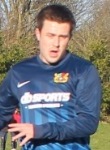 Stannington Village kept up the chase with a 7-1 victory over another relegation struggler, Cotts. Stannington took the lead early when Josh Allison headed home from a Lewis Dickinson corner and the second came when a great through ball by Jack Haslam found Danny Abdulla who finished well in the far corner. A good move which ended up with Lee Johnstoneís pass finding Dickinson to provide a left foot finish into the bottom corner and it was four before half time when Dickinson scored his second from the penalty spot. Number five came soon after the break when Jack Haslam nipped in front of the goalkeeper to tap home. The sixth was a fortunate ricochet off Danny Abdulla over the keeper, but the last was a good finish from Alex Torr (right) just inside the box off the underside of the bar. Cotts only reply came from Jon Dolan.
In their League Twentytwo Cup semi-final dress rehearsal, Crookes had a narrow 2-1 victory over Wickersley Youth to keep their outside title hopes alive. After a goalless first half, Wickersley opened the scoring seven minutes into the second half when a Kallum Nix, Adam Daughtrey, Ross Johnson triangle results in Johnson, juggling the ball just inside the Crooks penalty and beating the keeper low to his right. Crookes hit back and Joel Purkiss equalised with a low angled shot. It looked like it could go either way, but it was Crookes that took the points with a Joe Jerrison strike five minutes from time.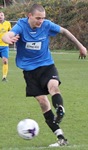 Another narrow win went Norton Sportsman's way 3-2 over Oughtibridge WM. A Callum Chambers penalty just before half time gave Oughtibridge the lead, but Josh Gibson levelled with a header from a Harry Mitchell corner for Norton after the break. Antony Holmes (left) then put Norton ahead with a terrific solo goal and with three minutes left, Holmes set up Michael Gibbons for Nortonís third. Oughtibridge hit back straight away with a Brad Fletcher strike, but Norton held on for the win.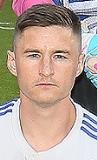 15 MAR - DIVISION 1 - Civil go top as the virus causes fixture chaos - In the only Division One game played it saw new leaders after two Jordan Turner (right) strikes helped Civil Sports to victory at Boynton Sports and to the top of the table. Civil took the lead through Turner, but Boynton went straight down to the other end to level with a Jake Ballinger strike and they equalise straight form kick off. Parity didnít last long though as Turner grabbed his second, but Ballinger also grabbed his second to level again with the last kick of the first half. The game went Civilís way with a big helping hand from their hosts as Curtis Priday headed into his own goal and in the dying minutes Sheldon Jordan rounded the Boynton keeper to seal the win and send Civil to the top.
15 MAR - DIVISION 2 - Leaders fall to Haydock, whilst Phoenix start to fly again and Feathers fly for Magpies - Division Two leaders New Bohemians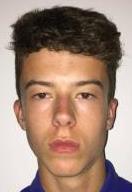 dropped their first points of the season when Alister Haydock (left) hit the gameís only goal to give fellow title challengers Eckington victory over them. Tom Cropper and Jack Brownell both went close for Bohemians in the first half, but Eckington had also had their chances and they struck soon after the break. Bohemians keeper Tom Denton made a fantastic reaction save, but Eckington kept the ball alive and Haydock fired home. Bohemians pressed for an equaliser, with Brownell coming closest, but both keepers were determined there would be no further goals
.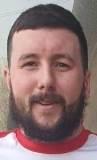 Brinsworth Phoenix flew back up to second with a 4-1 victory at Darfield United. After a goalless first half Phoenix got a deserved lead soon after the break when Jack Hawkes (right) smashed home after a through ball from man of the match Rob Gardiner. Bradley Hardy then got his name on the scoresheet with a peach of a free kick that two keepers would have struggled to save. New signing Callum Turner got on the scoresheet with a well worked goal after some slick passing between Hardy and John Mellor. Mark Thornton got his customary header after link up play between Liam Jacobi and Mellor to make it 4-0 and although Jordan Beardsley pulled one back for Darfield it was just a consolation.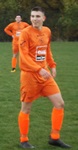 At the foot of the table, Beighton Magpies, with the help of a Dale Featherstone (left) hat-trick, beat fellow strugglers Killamarsh Juniors 4-3. Magpies took a three goal lead with strikes from Thomas Rofe, and two from Dale Featherstone, his second a superb lob over the keeper. Instead of giving up, Killamarsh fought back with two from Alex Platton and one from Liam Barley to level the scores. Magpies shook themselves and pressed, but missed chance after chance until Featherstone was presented with a gift and completed his hat trick with a calm finish past the keeper to give Magpies their second home win of the season.
Another struggler, Mosborough Reds, also had a narrow victory, 3-2 over Prince of Wales, to also give them their second home win of the season. Reds took an early lead when an Oliver Tupling corner was headed back across the box by Conor Fields for Scott Williams to score, but Prince levelled when a Charlie Hawkins corner was knocked down by Dan Nielson for Liam South to turn home. Reds went ahead again in the second half when an Adam Russell free kick beat the keeper. Reds missed a great chance to extend it when James Arrand smashed a penalty over the bar, but they did get a third when Tupling scored from outside the box. Prince got back into it when Luke Simmonds despatched a penalty after Aaron Watts had been brought down, but Reds held on.
13 MAR - Games on 15 March - The League has received advice from The FA (via the County FA) that, in England, and in line with the UK government policy, Grassroots football can continue for the time being. In view of this, clubs can play their games this weekend, but....... Should any club not want to take the risk, or are unable to play because their ground is closed, we will allow them to not play this weekend, but they must inform their opponents and Keith, ASAP & NO LATER THAN NOON SATURDAY 14 MARCH, and the home club must immediately inform the referee. We might well be just delaying the inevitable, but want to allow clubs to make their own decision until such times as the UK Government change their advice. We will let you know if the advice changes with regard to Grassroots football.
FORTHCOMING FIXTURES
15 March
The big game this weekend is the Sunday Senior Cup semi-final between Wadsley Bridge Pheasant and MonkWood. The visitors have already beaten one Blades Super draw side with an 8-1 victory over Norton Sportsman, so they are obviously a team to be reckoned with, but Pheasant have seemed to always find a way to win in some close games. Pheasant's wins include a penalty shoot-out victory over fellow CBC Premeier side Redmires - the only game that Redmires has failed to win this season.
In the league, Redmires can take another step towards their first League title with a home win over Woodseats Club, but Woodseats have shown signs that they could yet avoid the drop and this might not be the foregone conclusion the league table suggests. Royal Earl should stay in the race with a home win over Handsworth Pub and the same can be said of Stannington Village, who should overcome a Cotts that looked destined for a quick return to Division One. Crookes look to have a harder task against a Wickersley Youth that has scored 12 goals in their three away games so far, although they also conceded 15 in those games. Oughtibridge WM will hope to get something from Norton Sportsman to boost their survival hopes.
The big games in Division One see Cobden View entertain Mosborough Whites and Civil Sports travel to Boynton Sports. Both games could have a big impact on the title, but with son many teams in with a shout, nothing is likely to be decided too soon.Norton Oaks should win at Woodhouse Juniors, but Intake Old Boys visit to Southey Social could go either way, as could Sheffield Sixs visit to Colley.
Division Two's big game sees leaders New Bohemians travel to title rivals Eckington Boys. Nether Green should maintain their title challenge with victory at Cadbury, but Brinswoth Phoenix will find Darfield United a more difficult task. Elsewhere Mosboruogh Reds entertain Prince of Wales and Beighton Magpies entertain neighbours Killamarsh Juniors.
FIXTURES IN BRIEF
15-Mar SUNDAY SENIOR CUP WB Pheasant v MonkWood CBC PREMIER Crookes FC v Wickersley Youth OV; Norton Sportsman v Oughtibridge WM; Redmires v Woodseats Club; Royal Earl v Handsworth Pub; Stannington Village v Cotts FC DIVISION 1 Boynton Sports v Civil Sports; Cobden View v Mosborough Whites; Colley v Sheffield Sixs; Southey Social v Intake Old Boys; Woodhouse JFC v Norton Oaks DIVISION 2 Beighton Magpies v Killamarsh Juniors; Cadbury v Nether Green; Darfield United v Brinsworth Phoenix; Eckington BFC v New Bohemians; Mosborough Reds v Prince of Wales
22-Mar SUNDAY JUNIOR CUP Nether Green v Birdwell Rovers; Sporting Wadworth v New Bohemians CBC PREMIER Cotts FC v WB Pheasant; Crookes FC v Redmires; Norton Sportsman v Stannington Village; Wickersley Youth OV v Royal Earl DIVISION 1 Boynton Sports v Woodhouse JFC; Civil Sports v Intake Old Boys; Colley v Cobden View; Mosborough Whites v Southey Social; Norton Oaks v Chapeltown RBL; Ranch v Sheffield Sixs DIVISION 2 Beighton Magpies v Wadsley Jack Ath; Darfield United v Eckington BFC; Killamarsh Juniors v Brinsworth Phoenix; Shakey v Cadbury
29-Mar CBC PREMIER Crookes FC v Norton Sportsman; Oughtibridge WM v Woodseats Club; Redmires v Royal Earl; Stannington Village v Wickersley Youth OV; WB Pheasant v Handsworth Pub DIVISION 1 Chapeltown RBL v Ranch; Intake Old Boys v Boynton Sports; Sheffield Sixs v Civil Sports; Southey Social v Mosborough Whites; Woodhouse JFC v Colley DIVISION 2 Brinsworth Phoenix v Killamarsh Juniors; Cadbury v Beighton Magpies; Eckington BFC v Wadsley Jack Ath; Mosborough Reds v Shakey; Nether Green v New Bohemians; Prince of Wales v Darfield United