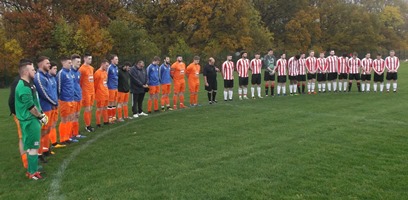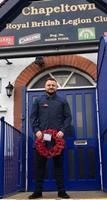 11 NOV - CBC PREMIER - A Sunday to remember as the goals flow in - Our clubs marked Remembrance Sunday by having a minute's silence before each game (pictured are Mosborough Whites and Beighton Magpies either side of referee Ken Nicholson) and their respect for the occasion was rewarded with a flood of goals with the 14 games in three divions producing 92 goals. The four CBC Premier games produced 27 of them with Intake Old Boys and Woodseats Club leading the way by sharing 10 of them.
Also pictured right is Chapeltown RBL's keeper Ben Palmer just before he laid a wreath on behalf of his club.
Woodseats Club looked well in control at half time when they led 4-1 but Intake showed incredible resolve to take a share of the spoils with a brilliant second half comeback. Elliott Coles netted a brace for Intake as did Lewis Whittaker for Club whilst a long range screamer from Josh Barringham ripped into the Club net with Shaun Garwell also netting. Liam Bryan, Dimtri White and Sam Read found the net for Club, but Chris Bell volleyed home after a goalmouth scramble in the final minute to give Intake a well-earned point.
Norton Sportsman went top for the first time with a 4-2 victory over Wickersley Youth. Brad Bowland gave Sportsman the lead when he latched onto a through ball, but the visitors were level at the interval thanks to a delightful finish from Brad Carroll. Two goals in the early stages of the second half from Bowland's second of the game and a clever flick from Callum Frith seemed to have put the home side in charge but Michael Cuckson pulled the visitors back within one. However, with Wickersley chasing the equalising goal, Sportsman secured the win when Danny Rogers stabbed home from close range on a counter attack.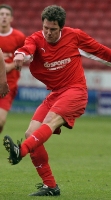 Only one point behind are defending champions Stannington Village, who showed their determination to hold on to the title by inflicting a first defeat of the season 3-1 on the Wadsley Bridge Pheasant they meet again next week in the Sunday Senior Cup. Lewis Dickinson gave Village the lead when he latched onto a diagonal pass from Shaun Flynn (right) and finished excellently from an acute angle. The same two combined for the second goal, Dickinson teeing up Flynn whose first time effort found the net. A third followed straight after the half time restart, Jimmy Middleton's shot was well saved by the Pheasant keeper but Callum Pinhorn put the rebound away. Joe Slater tucked away a penalty for Pheasant but it could have been more convincing had Stannington taken chances offered up.
Up three places is Redmires after they recovered from 2-1 down against a patched up Handsworth Old Crown, to eventually take the points with a 5-2 away win. Goals from Ben Shackshaft and Liam Greenfield sandwiched a Jon Wall effort to hand Old Crown the lead but Dave Knaggs' side dominance in the game eventually told as they hit four goals without response to secure three points. Andy Bath, Chris Cottyn, Jake Schofield and an own goal proved the difference in the end.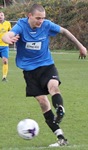 11 NOV - DIVISION 1 - Forum make it a magnificent 7 - Forum maintained their 8 point lead by making it seven wins out of seven with a 4-2 home win over Mosborough Reds. Two goals in the opening twelve minutes from Josh Gibson and Andy Harrison put the leaders in command early and it became 3-0 when Antony Holmes (left) netted with eleven first half minutes left. An own goal in the opening five minutes of the second half gave Reds a lifeline but Matty Ord restored Forum's three goal lead just after the hour. Alix Sorsby drilled home a superb effort from the edge of the area after a well worked Reds short corner routine with sixteen minutes left but Forum kept their perfect record.

Michael Blythen's hat-trick for Cotts ensured they remained second as they edged past Southey Social by the odd goal in five. Blythen put his side two goals to the good at the interval but Ryan Damms continued his own personal goalscoring streak when he netted on the hour. Southey ramped up the pressure with Kieran Hopkinson twice going close for an equaliser, first seeing his free-kick being brilliantly tipped onto the bar by the Cotts custodian and then having an acrobatic overhead kick headed off the line. Blythen (right) beat the offside trap to put the home side 3-1 ahead with and despite Ryan Whitney pulling a second goal back for the visitors almost immediately, Cotts hung for the win.
Crookes leapfrogged Royal Earl by inflicting a second home defeat of the season on them. After going behind, Earl responded with three goals of their own thanks to Sam Smith, Mike Towey and Billy Wright, but in a game that was a credit to the league as a whole, Crookes took the points on the day with Liam Cartledge and Matt Cowen both netting doubles.
Cobden View climbed three places thanks to a 3-2 success at Norton Oaks A. After a goalless first half, Brad Hardy gave Oaks the lead on the hour but Cobden replied with three of their own thanks to a brace from Joe Taylor (one from the penalty spot) and Mike McVay. Martin Lee pulled one back with five minutes to go to set up the grandstand finish but Oaks couldn't find a leveller.
Norton Oaks B did better by sharing 10 goals with Civil Sports A. Oaks were always in the lead but couldn't hold for a much needed first win of the season as Civil grabbed their equaliser in the final minute. Nasa Meah led the scoring for Oaks with a couple and these were added to by efforts from Jack Peake, Oli West and Jordan Holland. Civil played their part and had a couple from James Brown, and single strikes from Leon Howarth, Josh Corker and player-manager Gary Eades hitting the home net.
11 NOV - DIVISION 2 - Howard shows Whites the way to the top after Cadbury melt at Jockey - A Chris Howard hat-trick helped Mosborough Whites defeat Beighton Magpies 6-1 and to the top of Division Two after previous leaders Cadbury suffered defeat at Wadsley Horse & Jockey. The young and spirited Beighton Magpies side struck first with a Danny King bullet, but two long throws by Jordan Meadows were met by Julian Lawrence and Chris Howard to put Whites ahead. The second half saw Whites take control and as well as Howard hitting two more, Luke Walker, and Meadows added two more, and had it not been for goalkeeper Ryan Featherstone playing his first game in two years, Whites would have had many more.
Action from the game is below: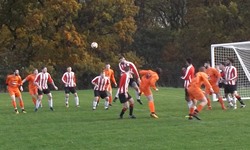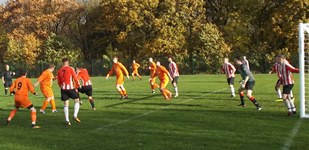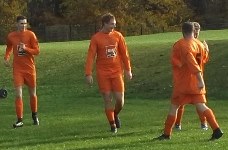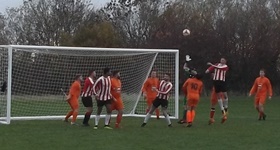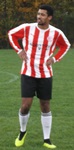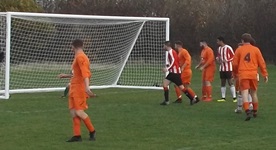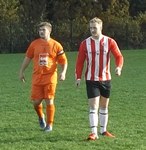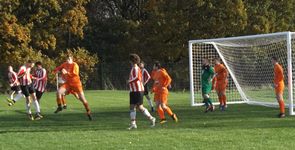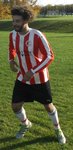 Cadbury as they slipped to third after a 5-1 loss at Wadsley Horse & Jockey who rode away the points. Reece James and George Scott both notched doubles for Jockey with a penalty from Lewis Smith completing their nap hand; making Richard Hales' effort for Cadbury just a mere consolation.
In fourth place is Boynton Sports after their 3-1 win at Woodseats Chantrey. A superb curling effort from Ricardo Stewart gave Boynton a first half lead, but the home side levelled in the second half when Rhys Oakes centred for Brad Gray to head home. Marcus Gordon restored Boynton's lead within minutes and the win was secure when Curtis Priday's free-kick found the net via a Chantrey deflection.

Colley were the day's biggest scorers with an 8-4 win at a Civil Sports B still looking for their first point. Alex Cowlishaw can count himself unlucky after hitting a hat-trick for Civil and Joe Taylor added another but they were undone as both Chris Fowler (left) and Danny Parker returned to Green Lane to score a brace apiece, whilst Billy Thorley, Faisal Miladi, Ragen Dempsey and Matt Jebson netted for the visitors who recovered from 4-2 down at one point.
Brinsworth Phoenix gained their first away win, 2-1 at Shakey. Karl Fox put Brinsworth Phoenix ahead from the penalty spot, only for the home side to be on level terms at the interval when Shakey's Andrew Redfern netted a spot kick of their own. The game winner came from Phoenix's Jack Hawkes' whose superb run was capped with the coup de grace and a cool finish past the home keeper.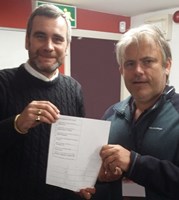 10 NOV - TWENTYTWO CUP - Quarter Final Cup draw - The draw for the League Twentytwo Cup Quarter Finals was made by The Star's James Shield and Yorkshire Post's Leon Wobschall (pictured right) at Bramall Lane prior to last night's Sheffield derby and it saw holders Wadsley Bridge Pheasant drawn at home against semi-finalists last season, Division One Crookes FC. Last season's beaten finalists and winners in 2017, Handsworth Old Crown will face a very difficult trip to Stannington Village, whilst former holders Redmires entertain Division One leaders Forum. The winners of the delayed tie between Division Two Boynton Sports and CBC Premier Intake Old Boys wil travel to Sunday Junior Cup holders, Division One Royal Earl. Ties will be played in December and January on dates to be arranged. All clubs will be advised when dates are published.
5 NOV - Fixtures and Referees for 18 & 25 November now added - The Fixtures and Referees for 18 & 25 November have now been added to the website. Home clubs should contact their opponents and Referees where shown ASAP.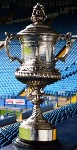 1 NOV - SUNDAY SENIOR CUP - Pheasant to meet Stannington in last 16, Woodseats at home, but Renishaw are away - Wadsley Bridge Pheasant and Stannington Village will meet two successive weeks after they were drawn together in the last 16 of the Sunday Senior Cup. Woodseats Club will entertain the Conisbrough Conyers side that won at Oughtibridge WM in the last round, whilst Renishaw Rangers travel to Sheffield Imperial side Terminus Tavern. The full draw for games to be played on 18 Nov is: Joker v St Josephs EMUS; K.C.M. Fighting Cocks v Wombwell Main; MonkWood v Reresby Arms; Scawthorpe Athletic v Worksop Borough Blue; Terminus Tavern v Renishaw Rangers; WB Pheasant v Stannington Village; Westville v Swinton Robin Hood; Woodseats Club v Conisbrough Conyers.
1 NOV - SUNDAY JUNIOR CUP - Southey to entertain Woodhouse, but all the rest stay apart - Division One Southey Social will entertain Division Two Woodhouse Juniors in the last 16 and Crookes could meet Boynton Sports if Boynton win their delayed tie, but all the other seven clubs have been drawn apart. Holders Royal Earl are at home to The Pewter Pot, but all the rest are away, with last season's finalists Mosborough Whites travelling to Sheffield Legends. The full draw for games to be played on 18 Nov is: AFC Schoolboy v Sheffield Sixs; Cawthorne v Aughton FC; Crookes FC v Boynton Sp; Eckington U 21 v Cotts FC; Royal Earl v The Pewter Pot; Sheffield Legends v Mosborough Whites; Southey Social v Woodhouse Junior; Wombwell Main Youth v Cobden View