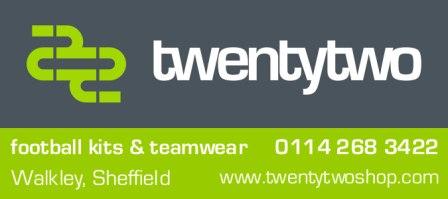 PLEASE NOTE THE EMAIL ADDRESS IS: keithsssl@aol.com
PLEASE ALSO NOTE THAT ANY MESSAGES WITH ATTACHMENTS WILL NOT BE OPENED UNLESS I HAVE BEEN NOTIFIED ABOUT THE CONTENT BY TELEPHONE: RING or TEXT 0794 091 3288
LATEST NEWS
for a preview of forthcoming games see lower down the page. For earlier reports see the News Index page

13 OCT - SUNDAY SENIOR CUP - Pheasant pluck Three Feathers, Youth too much for Village and Purkiss wrecks The Cottage - Luke Fletcher (left) hit a hat-trick as Wadsley Bridge Pheasant won at Rotherham League's Three Feathers in a real seven goal thriller. Fletcher rifled

Pheasant into the lead and it was doubled when Ash Simpson headed home from a corner. The home side thought they had a route back into the game when they were awarded a penalty, but Joel Statham (right) saved to keep Pheasant's lead intact. The home side were dealt a further blow before half time when they had a player dismissed.
It didn't seem to disrupt Feathers too much though as they hit back to level after the break, but Pheasant went back in front when a quick break by Joe Woodhouse then found Fletcher who lobbed the keeper. Feathers kept up the pressure after that and it looked like they had forced extra time when they equalised in the first minute of added time, but Pheasant went straight down to the other end and when the ball landed at Fletcher's feet at the back post, he slammed the ball home to complete his hat-trick and send Pheasant through.
Pheasant will meet fellow Blades Super Draw CBC Premier side Redmires in the next round after they comfortably beat Division Two side Killamarsh Juniors. John Parry scored four for Redmires and Tom Whiting took his tally in the past three weeks to eleven with three. Danny Reet and Conall Jacklin also hit hat-tricks along with two from Sean Maloney and an own goal.

Wickersley Youth came out on top of the other all-Blades Super Draw League clash at CBC Premier rivals Stannington Village 5-3. Wickersley went behind for the third consecutive game when a cross from Joe Barker found Bill Green who superbly glanced home with his head. Wickersley levelled when Jamie Fawcet (left) tapped in from six yards, but Stannington went back in front just before half-time when a good move saw Joe Barker square the ball for Shaun Flynn to sidefoot home.
Five minutes into the second half Wickersley levelled a second time when Joe McGuiness nipped round a defender before slipping a low shot past the keeper. Wickersley got their noses in front when Matt Godley and Nathan Taylor combined to make the chance for Fawcett to score his second, but it was Stannington's turn to level when Callum Lee's cross was headed back for Ben Cook to head home at the near post. Ten minutes from time Godley's long ball found Jordan Thomas loose on the edge of the area and he put Wickersley back in front with an angled shot and five minutes from time when a darting run from McGuiness saw him tripped outside the area, Godley hit the free kick into the roof of the net to clinch the victory

Joel Purkiss (right) hit four as Crookes comfortably beat Mexborough's The Cottage 9-1. Crookes took just five minutes to take the lead with a Liam Cartledge penalty and although The Cottage quickly levelled, Crookes soon regained the lead when Purkiss chipped the keeper. Purkiss added his second before half-time and completed his hat-trick soon after the break. Tom Staniland, Danny Flynn with two and Pete Smith all added their names to the scoresheet before Purkiss completed the scoring with his fourth. Norton Sportsman couldn't join them in Round 3 after falling to a heavy defeat at MonkWood.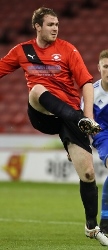 13 OCT - CBC PREMIER - Handsworth off the mark - Handsworth Pub climbed off the foot of the CBC Premier table with their first three points of the season with a 2-1 victory over local rivals Cotts. Handsworth started like a house on fire and goals from Sam Marsden and Ben Shackshaft (left) quickly had them two up. Cotts FC pulled one back when Sam Stacey ghosted into the box to head home. Cotts FC had further chances in the first half and hit the woodwork, but Tom Crosby in the Handsworth goal and his defence dealt with all that was thrown at them. The second half started by Handsworth having a lot of possession without hurting the Cotts defence, but even though Cotts again began to dominate, the Handsworth defence held firm

13 OCT - DIVISION 1 - Stirrup gives Oaks a leg up, as Walker and Meadows double up to send Whites top - Richard Stirrup (right) showed his class with four goals as Norton Oaks moved out of the bottom three by knocking Intake Old Boys off the top of Division One with a 6-3 victory over them. Stirrup, making his debut, had Oaks two up before Calum Paine pulled one back from the penalty spot. Stirrup then completed his hat-trick, but Intake stayed in the game with a Jack Heald strike before half time. After the break, Stirrup hit his fourth and although Intake again pulled one back through Elliott Coles, they were twice caught out by quick breaks as Lewis Trevett and Will Carlisle confirmed Oaks' first win since February.
Colley started the day in second, but they also slipped to defeat, 2-1 at Boynton Sports. Although the first half had few chances, Boynton missed the best of them when they were awarded a penalty, but Colley's veteran keeper James Abramski saved to keep the teams level. Boynton did take the lead after the break when Abramski could only tip a shot onto the bar and Enos Huly was first to the ball to score. Colley responded and a defence-splitting ball allowed Matt Jebson to level. Both sides had chances after that but the best fell to Kurtis Cockburn and he duly obliged with a peach of a goal for the winner.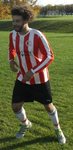 Those results allowed Mosborough Whites to go top as Luke Walker and Jordan Meadows (left) both scored twice in a convincing 5-0 victory over Chapeltown RBL. The game changing moment came when the Chapeltown keeper brought Joe Glover down just outside the area and the referee had no choice than to dismiss him. After that, Whites went all out on the attack and Walker put them ahead with a free kick. Meadows added a second by converting a fierce Glover cross. Walker made it three with a mazy run through a sea of defenders before finishing into the corner and Glover made it four when he calmly netted after being put through. Meadows didn't want to be out done and after seemingly trying dozens of shots, he was finally presented with his second with an open goal.
Player manager Gary Eades scored the clincher as Civil Sports went second with a 3-1 victory at Ranch. After hitting the post early in the game, Civil took the lead through James Brown. Ranch's task was then made harder when a defender was dismissed for denying a goalscoring opportunity and right on half time Torick Akram doubled Civil's lead. Ranch came out fighting after the break and with the ten men dominating, they deservedly pulled one back through Jack Williams. That stunned Civil out of their slumber and Eades settled their nerves with a sublime finish.

Sheffield Sixs are still searching for their first points of the season after slipping to an agonizing 4-3 home defeat by Cobden View. Brad Howe gave Sixs the lead after just five minutes, but Tim Pitt (right) levelled for Cobden before half time. Howe put Sixs back in front early in the second half, but a second by Pitt and one from Mike McVay put Cobden in front. Sixs looked to have saved a point when Jack Battle produced a superb long range strike in the final minute, but in the final minute of stoppage time a McVay shot took a massive deflection past the Sixs keeper to gift Cobden the points.
Another late goal gave Woodhouse Juniors a share of the spoils, 2-2 at Southey Social. After an even first half of few chances, Southey looked like getting on top, but were caught on the break and Elliott Metcalfe put Woodhouse in front. Southey responded and two Kieran Hopkinson penalties put them in charge, but some terrific defending and goalkeeping kept Woodhouse in the game and their reward for that was a last gasp Lee Williams equaliser.

13 OCT - DIVISION 2 - Ivan's terrible to Shakey and Sam's the man to send Bohemians top – Ivan Adrian (left) hit a hat-trick to give Prince of Wales a share of the points in a 4-4 draw at a Shakey that started the day on top of Division Two. Liam Jacobi gave a perfectly weighted pass to Ivan Adrian, who skipped past the left back before beating the keeper. Shakey hit back instantly with a Billy Hilbert free kick finding the net, but Prince went back in front when pressure from Brad Gray forced a defensive error and Charlie Hawkins ran through to calmly finish. Shakey hit back again and Liam Moorhouse brought them level a second time.
The second half saw Prince go back in front a third time when James Roffey provided a route one pass for Adrian to score his second. Shakey roared back again and Hilbert netted his second to level a third time and it looked like they would keep top spot when Steve Dickinson gave them the lead. It would have been cruel on Prince, but they got their deserved share of the points when Hawkins produced a cheeky lob over the defence for Adrian to bring down, go round the keeper and fire into the open net. Prince threw everything at Shakey for a winner, but a draw was a fair result.

New Bohemians took full advantage to overtake Shakey and go top as a Sam Smith (right) hat-trick was the highlight in a convincing victory over an Eckington side that started the day in second. A good early start from Eckington saw a volley from Tom Gambles brilliantly saved by the Bohemians keeper, but it was Bohemians that went in front when Eckington keeper Ed Davidson brought James Hastings down and Hastings picked himself up to score from the spot. Eckington equalised before half time though, when a great cross from Pat Stothard was met by Tom Gambles.
Bohemians re-took the lead soon after the break when a corner saw Ross McCarthy rise highest to loop a header over the keeper. Another keeper saw Sam Smith produce a cheeky back-heel to double Bohemians lead. Smith then scored a terrific solo goal to put Bohemians in complete command and he completed his hat-trick after a smart one-touch passing move left him with the simple task of putting the ball home.

Nether Green pushed Eckington down to fourth after a Tom Davis (left) hat-trick helped Green to a 6-2 victory over Darfield United. Jack Hollis-Smith, Harry Pollard and Jack Price netted Green's others, but their man of the match award went to Jordan Harrison-Rennie for his absolute rock of a display at the back. Kailam Mcdermott and Elliott Phelan netted for Darfield.

A George Scott (right) double helped Wadsley Jack Athletic to their first win of the season, 5-2 against Beighton Magpies. Magpies struck first when a well worked corner allowed Adrian Good to score, but Wadsley hit back to lead at half time with two from Scott. After Leon Dearns had netted a third, Todd Saxelby scored Magpies second, but Reece James, Will Fisher and a first goal for seven years for man of the match Callum Huntington made it a convincing win for Wadsley
.

11 OCT - Race night for Phil - Intake Old Boys secretary Phil Jowett (left) has been diagnosed with prostate cancer and is going through a tough time at the minute. Phil he has been a popular figure around grassroots football for over 25 years so his long standing friend Kev Sheedy has organised a fund raising race night for Phil so we can give him something back. The race night is Friday 29th November 7.30 start at the Attercliffe Liberal Club and Kev is looking for people to sponsor a race at £10 per race and / or buy a horse in each race which is £5 per horse. If anybody from our league wants to sponsor a race or buy a horse please contact Kev Sheedy via email owlslegend@hotmail.co.uk
8 OCT - STEVE GEE MERIT CUP FINAL - Colley to face Southey Social in the Steve Gee Merit Cup Final - This season's Steve Gee Merit Cup Final will be at Stocksbridge Park Steels Look Local Stadium on Thursday 17 October and it will see Division One rivals Colley and Southey Social meet each other. The game kicks-off at 7:15 pm and admission is free.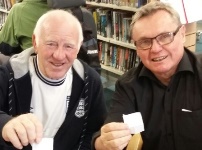 8 OCT - LEAGUE TWENTYTWO CUP - Three all-CBC Premier ties in the Round 3 Draw - The draw for Round 3 of the League Twentytwo Cup was made by the Crystal Peaks' Library Sporting Memories group today and it saw three all-CBC Premier ties come out of the hat. The full draw is: Chapeltown RBL v Norton Oaks; Civil Sports or Boynton Sports v Woodhouse JFC or Royal Earl; Colley v Wickersley Youth OV; Crookes FC v Cotts FC; Eckington BFC v Ranch; Redmires v Handsworth Pub; Stannington Village v Killamarsh Juniors or Southey Social; Woodseats Club v Norton Sportsman. Pictured right is two of the Sporting Memories group that made the draw, Dave Redfern (left) and John Longstaff MBE (right).
The following games will be scheduled for 3 November: Chapeltown RBL v Norton Oaks; Colley v Wickersley Youth OV; Crookes FC v Cotts FC; Eckington BFC v Ranch; Redmires v Handsworth Pub; Woodseats Club v Norton Sportsman. Also on 3 November will be the Killamarsh Juniors v Southey Social and the Civil Sports v Boynton Sports ties postponed last weekend. The other postponed tie, Woodhouse Juniors v Royal Earl, will be scheduled for 10 November
Providing the three postponed ties are played as re-scheduled, the following ties will probably then be scheduled for 1 December: Stannington Village v Killamarsh Juniors or Southey Social; Civil Sports or Boynton Sports v Woodhouse JFC or Royal Earl.
FORTHCOMING FIXTURES
20 October
It's Round 2 of the Sunday Junior Cup this weekend and taking pride of place is four all-Blades Super Draw ties - two of them featuring Division One teams and two featuring Division Two teams. The first all-Division One clash sees Civil Sports entertain near neighbours Southey Social. The teams met in Division One just a couple of weeks ago and it was Civil that came out on top 7-2 to end a run of four consecutive victories by Southey over them, but all concerned said that it was a much closer game than the score suggests, with a terrific performance by 3-goal Jordan Turner proving to be the decisive factor. The second sees Colley entertain a Sheffield Sixs that gained promotion along with their hosts last season. Colley have made the better start this season and if Sixs don't defend better than they did in their 6-4 victory in the previous round it could be the hosts going through.
The first of the all-Division Two games sees one of the previous round's top scorers Eckington entertain near neighbours Mosborough Reds. Eckington won 12-1 at Dearne & District U21 in Round 1, but Reds will be much stiffer opposition, who showed their defensive strength with a 1-0 victory over another Division Two side Darfield United. The second sees newcomers Nether Green entertain Brinsworth Phoenix and although Green will go into it as favourites after beating Division One Chapeltown RBL 5-1 in the previous round, Phoenix, with veteran striker John Mellor, could cause them problems.
The pick of ties against opposition from other leagues could well be Boynton Sports visit to Renishaw Rangers and Ranch's home tie against The Pack Horse. Woodhouse Juniors entertain Mexborough Athletic and New Bohemians also have a home tie against a Rotherham Division One side, Homestead, whilst Mosborough Whites entertain a Rotherham Division Two side, Aughton. Wadsley Jack Athletic also entertain Rotherham Division Two opponents with the visit of Maltby Main JFC and another facing Rotherham Division Two opposition is Prince of Wales when they travel to AFC Trades.
In the League, the CBC Premier's top game sees Redmires entertain a Wadsley Bridge Pheasant that completed the double over them on their way to the title last season. Redmires finished as Runners-up last season and know that if they want to land the title for the first time they must stop that run of defeats. Stannington Village entertain a Norton Sportsman that held them to a draw in the corresponding fixture last season and this could be equally close this time. Crookes entertain a Cotts side that came up with them last season. They beat each other once last season and with the attacking prowess both teams have at their disposal it would be a surprise if there aren't plenty of goals in this one. Royal Earl have made a promising start to life in the top tier and they could consolidate that with a victory at an inconsistent Oughtibridge WM. The last of the CBC Premier games sees Wickersley Youth travel to a Woodseats Club they did the double over last season. Wickersley have made the better start and that could continue with this one.
The only game in Division One sees Cobden View entertain Norton Oaks. It's a game that Cobden must win if they are to get into the promotion race, but Oaks have shown some real determination of late and could prove to be a stubborn nut to crack. In Division Two both Darfield United and Beighton Magpies have home games as they go in search of their first points of the season. Darfield have the toughest game against a Shakey side that need maximum points to keep up their promotion challenge, whereas Beighton entertain one of last season's strugglers, Cadbury.
FIXTURES IN BRIEF
13-Oct SUNDAY SENIOR CUP - ROUND 2 AFC Three Feathers v WB Pheasant; Crookes FC v The Cottage; MonkWood v Norton Sportsman; Redmires v Killamarsh Juniors; Stannington Village v Wickersley Youth OV CBC PREMIER Handsworth Pub v Cotts FC; Oughtibridge WM v Woodseats Club DIVISION 1 Boynton Sports v Colley; Intake Old Boys v Norton Oaks; Mosborough Whites v Chapeltown RBL; Ranch v Civil Sports; Sheffield Sixs v Cobden View; Southey Social v Woodhouse JFC DIVISION 2 Cadbury v Brinsworth Phoenix; Nether Green v Darfield United; New Bohemians v Eckington BFC; Shakey v Prince of Wales; Wadsley Jack Ath v Beighton Magpies
20-Oct SUNDAY JUNIOR CUP - ROUND 2 AFC Trades v Prince of Wales (Norton); Nether Green v Brinsworth Phoenix; Civil Sports v Southey Social; Colley v Sheffield Sixs; Eckington BFC v Mosborough Reds; Woodhouse Junior v Mexborough Athletic; Wadsley Jack Athletic v Maltby Main JFC; Mosborough Whites v Aughton; New Bohemians v Homestead; Ranch v The Pack Horse; Renishaw Rangers v Boynton Sports CBC PREMIER Crookes FC v Cotts FC; Redmires v WB Pheasant; Stannington Village v Norton Sportsman; Woodseats Club v Wickersley Youth OV; Oughtibridge WM v Royal Earl DIVISION 1 Cobden View v Norton Oaks DIVISION 2 Darfield United v Shakey; Beighton Magpies v Cadbury
27-Oct CBC PREMIER Cotts FC v Handsworth Pub; Oughtibridge WM v Redmires; Royal Earl v Crookes FC; WB Pheasant v Norton Sportsman; Wickersley Youth OV v Stannington Village DIVISION 1 Chapeltown RBL v Ranch; Mosborough Whites v Civil Sports; Norton Oaks v Woodhouse JFC; Sheffield Sixs v Intake Old Boys; Southey Social v Boynton Sports DIVISION 2 Cadbury v Eckington BFC; Nether Green v Mosborough Reds; Prince of Wales v Beighton Magpies; Shakey v Killamarsh Juniors; Wadsley Jack Ath v Brinsworth Phoenix