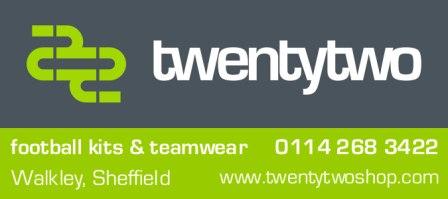 PLEASE NOTE THE EMAIL ADDRESS IS: keithsssl@aol.com
PLEASE ALSO NOTE THAT ANY MESSAGES WITH ATTACHMENTS WILL NOT BE OPENED UNLESS I HAVE BEEN NOTIFIED ABOUT THE CONTENT BY TELEPHONE: RING or TEXT 0794 091 3288
LATEST NEWS
for a preview of forthcoming games see lower down the page. For earlier reports see the News Index page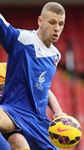 8 DEC - SUNDAY SENIOR CUP - Kane shows he's able to send Pheasant through, but Crookes go out - A Kane Doughty extra time winner against Brinsworth Whitehill sent Wadsley Bridge Pheasant into the last 8 of the Sunday Senior Cup. Brinsworth were off the mark quickly, taking a deserved lead and missing other good first half chances to increase it. With the wind at their back in the second half, Pheasant took control and equalised with an Adam Askwith (left) strike. They took the lead with a wind-assisted John Travis corner, but they were caught out by a swift break for a Brinsworth equaliser. That took the game into extra time and after Doughty put Pheasant back in front they saw the game out. Despite taking the lead with Tom Islip and Joel Purkiss goals, Crookes run ended when Rotherham's AFP hit back to win 3-2.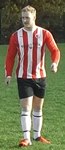 8 DEC - SUNDAY JUNIOR CUP - Walker at the double to help Whites through, but Wadsley Jack go out - In the Sunday Junior Cup, Mosborough Whites finally won their much delayed tie with Birley B 3-2. Luke Walker (right) gave Whites a first half lead and although it was cancelled out after the break, Walker was at the back post to restore Whites lead almost immediately. After playing a one-two with Dec Healy, Chris Howard made it 3-1 and although Birley took advantage of an early Xmas present to pull one back, Whites held on to go through to the last 16 where they will face fellow Blades Super Draw League side Nether Green. Wadsley Jack Athletic's run came to an end though with a 2-0 defeat by FC Portcullis.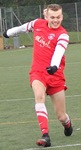 8 DEC - CBC PREMIER - Big wins for Redmires and Sportsman as top four all win - There was big wins for both Redmires, at Oughtibridge WM, and Norton Sportsman, at Cotts, as the CBC Premier's top four all win. Along with Jon Wall, Conall Jacklin and Danny Reet's exquisite lob, Tom Whiting (left) continued his amazing record of goals in every game of the season with two more in second place Redmires' 5-0 win at Oughtibridge WM to take his tally to 25 in all competitions so far this season.
Montelle Kamara struck twice as Norton Sportsman moved up to fourth with a 7-1 win at Cotts. Conner Pryde crossed for Kamara's first after just five minutes and Pryde was again the provider for a Danny Rogers tap-in. Antony Holmes made it three just before half time and, just after the break, Kamara volleyed home a Robert Cupitt cross for his second. Chris Lewis, Andy Gibbons and Chris Winters added Norton's others, whilst Cotts sole reply came from Harry Shaw.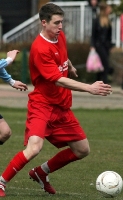 Danny Cardwell gave leaders Royal Earl an early lead against bottom of the table Woodseats Club, but Woodseats showed this was going to be no pushover and deservedly levelled through Ben Southwell. It looked like Woodseats would get their first point of the season until Oliver Beaumont grabbed a second half winner for Earl. Third place Stannington Village had an equally narrow 2-1 victory at Handsworth Pub. Piers Bond provided the chance for Lee Johnstone (right) to put Village in front, before Joe Hawksworth and Lewis Dickinson combined to provide the chance for Johnstone to slide the ball home for his second. After the break, keeper Nathan Ryan kept Handsworth at bay with a terrific penalty save, but he was beaten by a Carl Bowler header to leave Stannington hanging on for the final few minutes.
8 DEC - DIVISION 1 - Southey into top three and Oaks stun Boynton - Southey Social climbed into Division One's top three with a 2-0 victory at Chapeltown RBL. Byron Mullen provided the assist for Ryan Whitney to open the scoring and after Kieran Hopkinson had hit a post in the second half, he doubled Southey's lead from the penalty spot after Mullen had been brought down.

Just behind them is Norton Oaks after a Richard Stirrup (left) hat-trick helped them to a sensational 7-5 victory over Boynton Sports. Stirrup's first was cancelled out by Joe Beachell and although Sam Smedley volleyed Oaks in front again it was cancelled out by an Evan Watson free kick. Lewis Trevett and Jordan Noble goals before half time seemed to put Oaks in command, but Boynton hit back after the break through two Ross Thompson goals – the second a penalty. The down side of that was that in winning the penalty, Lee Jordan suffered a broken collarbone and not too long afterwards Will Carlisle put Oaks back in front again. Boynton equalised again through Watson, but when Stirrup hit his second and third goals for Oaks there was no way back for the visitors.
Sheffield Sixs made it four consecutive League and Cup wins with a 3-2 victory over Ranch, but despite Ranch having to play the whole game with just 10 men, they really made Sixs work hard for it. Jay Lindsay gave Ranch a half time lead, but a Danny Barnsley strike and an own goal put Sixs in front after the break. Matt Lindsay levelled for Ranch and it looked like they would take a deserved point home, but, just as the game was entering time added on, Connor Lomax hit Sixs winner from the edge of the area.
8 DEC - DIVISION 2 - Bohemians extend their lead as Green held by Magpies, whilst Hawkes get his eye in - New Bohemians extended their lead at the top of Division Two after their 4-1 victory over Darfield United. Despite only being able to field 10 men, Darfield shocked the leaders when Elliott Phelan took advantage of a defensive error to open the scoring, but the leaders were back on level terms before the break with a neat finish from Liam Goodall. Bohemians took the lead with one of the goals of the season as James Hastings volleyed the ball from inside the centre circle into the top corner and he soon added a second from the edge of the area. Sam Smith completed the scoring when he was first to a rebound off the keeper.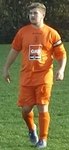 The lead at the top was extended after a Beighton Magpies that started the day at the bottom of the table surprisingly held second place Nether Green to a 2-2 draw. It might have been much worse for Green after goals from Danny King (right) and Todd Saxelby gave Beighton a shock two goal lead. The referee ruled that a third 'goal' hadn't crossed the line and Green managed to pull one back before half time through Harry Pollard. Brad Smith levelled for Green in the second half, but it was Beighton that looked the more likely winners with the Green keeper needing to be at his best to keep them out.
Brinsworth Phoenix are now just a point behind Green after Jack Hawkes scored four in their 5-1 victory over Mosborough Reds. John Mellor set Hawkes up for his first, but full back Alex Maybury hit a stunning free kick to bring Reds level. Hawkes set up Sam Firth to put Phoenix back in front. After that it was the Hawkes show as Phoenix proved too strong. Killamarsh Juniors keeper Jack Thorpe kept his first clean sheet of the season and it meant that David Singh's spectacular goal was enough to give them just their second win of the season, 1-0 over Cadbury.
FORTHCOMING FIXTURES
15 December
The Sunday Senior Cup takes centre stage again this weekend when Wickersley Youth entertain the holders from Rotherham, Joker. The visitors will start strong favourites as it is over four years since they last lost in the competitition and have won it for the last three seasons. Wickersley have already come through two tough ties to reach this stage, winning 5-3 at Stannington Village and beating Manor Barn 3-2, so they will be written off at your peril, but it will still take a monumental effort for Wickersley to end the holders record run.
In the Sunday Junior Cup, Sheffield Sixs entertain a Rossington side that beat Boynton Sports in the previous round, whilst Southey Social travel to Gamecock. Nether Green could face fellow Blades Super Draw side Mosborough Whites if they have beaten Birley B last Sunday and the other of our sides that could be involved is Wadsley Jack Athletic. If they have beaten FC Portcullis, they will meet the winners of the Woodsetts Wefare v Picture House Tap tie.
In the CBC Premier, the top game sees Wadsley Bridge Pheasant entertain Crookes. Both sides have scored more than three goals per game, so goals look certain. Leaders Royal Earl will be favourites to stay top with victory over Cotts and Stannington Village should stay in the title race with a home win over Woodseats Club, but second place Redmires have a much harder looking task at home to Norton Sportsman. Two sides trying to keep away from the bottom three meet at Oughtibridge WM, where Handsworth Pub are the visitors.
Division One leaders Cobden View entertain an inconsistent Chapeltown RBL, but Intake Old Boys look to have a sterner test at home to Colley. Boynton Sports will start favourites at home to Norton Oaks, but Civil Sports visit to Woodhouse Juniors could be closer. The Division Two game of the day sees Darfield United visit Brinsworth Phoenix, whilst Eckington travel to neighbours Mosborough Reds. Cadbury could get a rare home win at Killamarsh Juniors expense and Prince of Wales might get their first home win of the season against Beighton Magpies. Wadsley Jack Athletic entertain a Shakey side trying for their first win in seven.
22 December
The only game this day is Division Two leaders New Bohemians visit to Thorncliffe Arms in the Sunday Junior Cup. Bohemians started their run with a 12-2 home win over Brinsworth Whitehill U21 and followed it up with a 5-1 victory over Homestead, but their best win was a 2-0 home win over fellow Division Two title challengers Eckington Boys. Thorncliffe beat Innings 6-2 in the previous round and prior to that they beat Ivanhoe 5-3 and Aston Athletic 4-2, so they look to have plenty of firepower.
FIXTURES IN BRIEF
15-Dec SUNDAY SENIOR CUP Wickersley Youth v Joker SUNDAY JUNIOR CUP Sheffield Sixs v Rossington; Nether Green v Mosborough Whites; Gamecock v Southey Social CBC PREMIER Oughtibridge WM v Handsworth Pub; Redmires v Norton Sportsman; Royal Earl v Cotts FC; Stannington Village v Woodseats Club; WB Pheasant v Crookes FC DIVISION 1 Boynton Sports v Norton Oaks; Intake Old Boys v Colley; Cobden View v Chapeltown RBL; Woodhouse JFC v Civil Sports DIVISION 2 Brinsworth Phoenix v Darfield United; Cadbury v Killamarsh Juniors; Mosborough Reds v Eckington; Prince of Wales v Beighton Magpies; Wadsley Jack Ath v Shakey
22-Dec SUNDAY JUNIOR CUP Thorncliffe Arms v New Bohemians