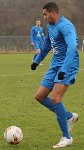 9 DEC - CBC PREMIER - Bryan makes life hard for Redmires - With CBC Premier leaders Oughtibridge WM not in action, any of three sides could have leapfrogged David Hudsonís team to ascend to the top but neither of them managed to do so in one of the most open CBC Premier Division races so far. With the weather taking out Norton Sportsmanís home game against Stannington Village, Redmires slipped up when crashing to a 3-0 loss at Woodseats Club. A superb volley from Nick Owen gave the home side a lead after just ten minutes play and that was doubled after twenty with Liam Bryan (right) on target. Five minutes from half time, Bryan scored his second of the game and despite a tight second half; Club held sway for three massive points.

Moving up to third in the table are Wadsley Bridge Pheasant as they overcame a tough task at Handsworth Old Crown with a 3-1 away win. Handsworth led at the break when Ben Shackshaft got his head onto a Jordan Stocks cross, but the visitors were back on parity when Adam Askwith was the man on the spot to level. Dylan Parrott (left) was introduced as a substitute for Pheasant and it was his through ball that led to Joel Evans volleying home past the Handsworth keeper. Parrott wasnít done then as he sealed the win with a superb curling effort that found the top corner of the net.
Intake Old Boys continued their revival with a superb 6-1 win at a Chapeltown RBL side now seven from the safety margin. Mark West led the hit parade with a brace, whilst Josh Barringham, Jamie Roper, Jack Heald and Elliot Coles all found the back of the Legion net. Legion competed as well as they have done all season and netted through Ben Wright who headed home a Danny Cardwell free-kick but despite also striking the foot of the post, slipped to their eighth loss in ten league games.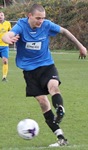 9 DEC - DIVISION 1 - Forum go 8 points clear in a flood of goals - After losing their Division One unbeaten record a fortnight ago, Forum got back to winning ways with a 4-2 success at home to Cobden View. Cobden took the lead when Ben Bell capitalised on a Forum mistake but the home side were 2-1 ahead at the interval thanks to goals from Nat Reid and Antony Holmes (right). Substitute Will Cutler drew Cobden level with a low drive but Joseph Thompson restored the lead for Forum almost immediately and Matty Ord secured the points with Forumís fourth of the game.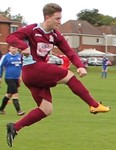 Cotts saw their big home game against Royal Earl succumb to a waterlogged pitch, and this inactivity allowed Crookes FC to rise to third on goal difference after racking up an 11-1 win at bottom placed Mosborough Reds. Matt Cowen (left) went nap for the visitors to lead their scorechart whilst Liam Cartledge added a hat-trick of his own. Andy and Phil Parkin both netted single strikes as did Mike Murphy as away side went goal crazy against a Reds side whose strike came from Josh Smith with a well-controlled turn and shot six minutes from half time.
In the Norton Oaks derby, the B side produced a superb comeback with three goals in the final ten minutes to win by the odd goal in seven. Will Carlisle gave the B team an early lead but a brace from Martin Lee and one from Scott Westney put the A side into a 3-1 lead at the half time interval. That lead stayed intact until Carlisle scored twice in the closing stages, one with his weaker foot, to level matters and complete a superb treble. Buoyed by this comeback, Oaks B continued to press and were rewarded with a winner when an Oaks A defender turned a Nathan Davies cross into his own net with just two minutes left to play.

If you wanted goals though, you had to be at Ranch versus Southey Social as the two sides traded thirteen goals with Ranch edging it. Jack Williams (right) bagged a hat-trick for the hosts who came from behind three times with Alex Mosley, Mikey Vella and Harley Wilson also on target. Southey were propelled by five goals from John Mellor, three of which came from the penalty spot and one from Ryan Damms but it was Mitch Cowlishaw who struck a brilliant left foot winner from the edge of the area with fifteen minutes left. A classic game that had everything and had neutrals purring.
9 DEC - DIVISION 2 - Chantrey hit the last unbeaten record for Six - The last unbeaten record left standing is no more as Sheffield Sixs slipped to a 2-1 loss at Woodseats Chantrey who produced their best performances of the season. Luke Simmonds gave Chantrey the lead when he volleyed in from range via the crossbar after twenty-one minutes and it was doubled when Spencer Russell tapped home from close range ten minutes from the interval. Liam Davies reduced the arrears almost immediately and despite Sixs piling the pressure and hitting the crossbar twice in the last five minutes, Chantrey produced a superb rear-guard action to record a superb win.


Goals from Simon Marsden and Marcus Gordon (right) did the trick for Boynton Sports as they rode away with three points from their visit to Wadsley Horse and Jockey, whilst Beighton Magpies and Cadbury shook hands on a 1-1 draw in a game that was another one that was a credit to the league. Scott Bottom gave Cadbury the lead with ten minutes to go to half time and despite some dogged resistance from the visitors, Beighton levelled matters with quarter of hour to go through Joshua Butcher (left). The games between Civil Sports B and Mosborough Whites, and Woodhouse Juniors against Brinsworth Phoenix were postponed due to unplayable pitch surfaces.
28 NOV - Fixtures and Referees for 16 December now added - The Fixtures and Referees for 16 December have now been added to the website. Home clubs should contact their opponents and Referees where shown ASAP.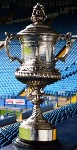 23 NOV - SUNDAY CUPS - A Cup away day for our clubs - All five of our clubs remaining in the County FA Sunday Cups quarter finals have been handed away ties. In the Sunday Senior Cup, Stannington Village have been handed a tough tie at Rotherham Sunday League's Joker FC and Woodseats Club travel to the Terminus Tavern side that put out Renishaw Rangers in the previous round. In the Sunday Junior Cup, holders Royal Earl travel to the AFC Schoolboy side that edged out Sheffield Sixs in the previous round and Crookes FC go to the Wombwell Main Youth side that beat Cobden View on penalties. Southey Social travel to the Cawthorne side that narrowly beat Beighton Magpies in Round 2. The ties involving our clubs are: Sunday Senior Cup: Joker v Stannington Village; Terminus Tavern v Woodseats Club Sunday Junior Cup: Cawthorne v Southey Social; Wombwell Main Youth v Crookes FC; AFC Schoolboy v Royal Earl. All ties are due to be played on 16 Dec.