25 JULY - Clubs must check their Club details - All clubs must check their details in the Clubs section of the League website and confirm the details are correct, or provide details of any change to Keith. Clubs must check with their pitch provider that the team they share with is still the one listed.
8 JULY - The next League Meeting will be by Zoom on Monday 13 July at 7:30 - All clubs should be represented by at least one person who will need to be able to speak on behalf of their club.
It is better if you use a laptop or PC with a camera and people will need to install Zoom onto their device. Two links have been sent to clubs for them to access the meeting.

25 JUNE - We wish Callum Chambers well - The League has been made aware that Oughtibridge WM striker Callum Chambers (right) was involved in an accident last weekend that left him in a serious condition. I'm sure everyone connected to the League wish him well for speedy recovery.
13 JUNE - AGM postponed - The League AGM was due to be held on 15 June, but, due to the current lockdown conditions, it has been postponed. We hope to be able to hold one by video link, using Zoom, in the near future - clubs will be notified, so please make sure you have someone connected to your club with Zoom on their Laptop, or tablet, or PC, or smartphone.

29 APR - John Mellor is the top Goalscorer from 2007/08 - In response to a question about who has scored most goals in the League I have put the following together. I should mention that I only have records from 07/08 and for league goals only, so no cup goals are counted. Since then 13 players have scored a hundred or more, with John Mellor (left) top of the pile with 192. The others are Nick Owen 164, Ricky Davidson 160, Craig Senior 153, Jon Wall 131, Sam Read 125, David Sills 124, Scott Birch 115, Nick Ash 114, Callum Chambers 110, Joe Knight 108, Adam Todd 105, Matt Meaney 102. Just two of them scored all their goals for one club - Craig Senior for Ecclesfield Players Lounge and Nick Ash for Bull's Head. Other scorers include Michael Blythen 94, Andy Bath 91, Danny Reet 90, George Rudd 88, Brad Bowland 87, Danny Turner 84, Danny Clinton 84, Chris Cottyn 83, Scott Whittington 78, Dave Knaggs 75, Jack Hawkes 74, Karl Fox 69, Tom Whiting 69, Alex Torr 68, Tim Pitt 67, Simon Staniforth 66, Alan Mowforth 66, Matt Ellis 64, Wes Bamford 62, Matt Asher 61, Matt Cowen 59, Dan Commander 57. There will be others from before 2007/08 and there might be the odd one where the records aren't perfect. More pictures of the top 13 - starting with Nick Owen and ending with Matt Meaney: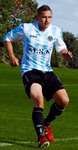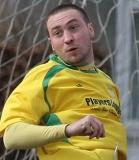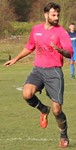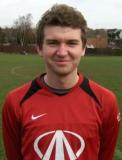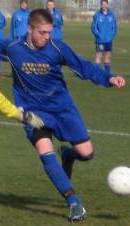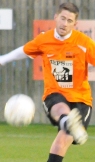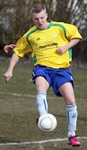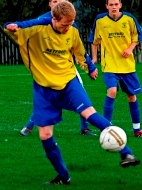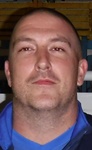 22 APR - Final League tables ratified by The FA - The final League tables have now been ratied by both the County FA and the English nationional FA. The League's decision to finalise the league tables, rather than scrapping the season, was mirrored by all the adult Sheffield Sunday Leagues - the Sheffield Imperial League, the U21 League and the U18 League. Provding grassroots football is allowed to resume as normal in September, the League wants to play the League Twentytwo Cup semi-finals and Final for the 19-20 season at the start of next season. Should the resumption be delayed, those games might not be possible.
When conditions allow, the Divisional Champions and Runners-up will receive their annual League trophy, but, to acknowledge that the season didn't ended normally, all have agreed to not receive medals. This will allow the League to give all its clubs a discount on their League fees for the next season. Details of the League fees will be published when it becomes clearer if and when grassroots football will be allowed to resume.
20 MAR - Final League positions and Leading Scorers now published + 30 March League Meeting cancelled - After much deliberation the League Management has agreed the final League positions now shown in the Tables section. The Leading Scorers can be found via the Results section. All teams have been notified
16 MAR - Season ended - After The FA today made the following statement, the League has no option than to end the season now:
"Following the Government's announcement today, for people to avoid social contact and gatherings where possible, we are now advising that all grassroots football in England is postponed for the foreseeable future. Throughout this period, we have taken Government advice with the priority being the health and wellbeing of all. We will continue to work closely with the grassroots game during this time. We are in regular communication with the Government and the situation within English football at all levels remains under regular review. Further updates will follow as needed". Sheffield & Hallamshire County FA will also postpone all courses, events and workshops until further notice."
This in effect ends the League season. We still have 158 league games to play, plus 5 or more League Cup and County Cup games, so there is no possibility that the season can be ended normally.
The League will now decide what we do about this season. We will also decide what to do about the League Cup, but it is obvious that the final will not be at Bramall Lane this season.
If possible, we will try to come up with a solution that rewards the efforts so far. Inevitably, some teams will agree with the outcome and some won't. All we can promise is that the final decision will be taken by the independent League Committee.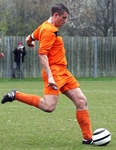 15 MAR - SUNDAY SENIOR CUP SEMI-FINAL - End of the road for Pheasant - Despite an Andy Dawson (left) equaliser taking the tie to extra time, Wadsley Bridge Pheasant's Sunday Senior Cup run came to an end at the semi-final stage with defeat by MonkWood.
15 MAR - CBC PREMIER - Sweet 16 for Redmires, but Stannington keep up the chase - Redmires added to Woodseats Club's relegation woes with victory over them to go 16 points clear at the top of the CBC Premier, but Stannington Village kept up the chase with victory over another relegation struggler, Cotts. Crookes had a narrow victory over Wickersley Youth and another narrow win went Norton Sportsman's way over Oughtibridge WM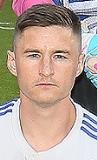 15 MAR - DIVISION 1 - Civil go top as the virus causes fixture chaos - In the only Division One game played it saw new leaders after two Jordan Turner (right) strikes helped Civil Sports to victory at Boynton Sports and to the top of the table.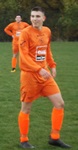 15 MAR - DIVISION 2 - Leaders fall to Haydock, whilst Phoenix start to fly again and Feathers fly for Magpies - Division Two leaders New Bohemians dropped their first points of the season when an Alister Haydock strike gave fellow title challengers Eckington victory over them. Brinsworth Phoenix flew back up to second with victory at Darfield United. At the foot of the table, both Beighton Magpies, with the help of a Dale Featherstone (left) hat-trick, against Killamarsh Juniors, and Mosborough Reds, against Prince of Wales, secured their second home wins of the season.
13 MAR - Games on 15 March - The League has received advice from The FA (via the County FA) that, in England, and in line with the UK government policy, Grassroots football can continue for the time being. In view of this, clubs can play their games this weekend, but....... Should any club not want to take the risk, or are unable to play because their ground is closed, we will allow them to not play this weekend, but they must inform their opponents and Keith, ASAP & NO LATER THAN NOON SATURDAY 14 MARCH, and the home club must immediately inform the referee. We might well be just delaying the inevitable, but want to allow clubs to make their own decision until such times as the UK Government change their advice. We will let you know if the advice changes with regard to Grassroots football.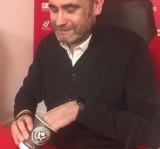 7 MARCH - TWENTYTWO CUP - Semi-Final draw sees Redmires meet Stannington and Wickersley Youth face Crookes - The League Twentytwo Cup semi-final draw was made by the Sheffield Star's journalist James Shields (right) in Sheffield United's Media suite before the Blades game with Norwich City and it saw Redmires v Stannington Village and Wickersley Youth v Crookes. The ties to be played on Sunday 12 April at the HSBC Sports Ground, with both games kicking-off at 11 am.
12 FEB - Fixtures for MARCH 2020 now added - The Fixtures for MARCH have now been added to the Fixtures section of the website. Home clubs should contact their opponents and Referees where shown ASAP for the whole month. Home clubs should also make sure their pitch provider has all the details ASAP.
9 FEB - SUNDAY CUP SEMI FINALS - Pheasant get a home draw, whilst Bohemians and Green avoid each other - Wadsley Bridge Pheasant have been handed a home semi-final against Rotherham Premier side MonkWood in the Sunday Senior Cup. MonkWood beat Norton Sportsman in Round 2. The other semi-final sees Sheffield Imperial League's Red Lion Bombers travel to another Rotherham Premier side, AFP.
Division Two's top two New Bohemians and Nether Green have avoided each other in the Sunday Junior Cup semi-finals. Bohemians travel to Doncaster's Sporting Wadworth that has already put out two of our Division One sides, Woodhouse Juniors and Southey Social, whilst Nether Green entertain Barnsley's Birdwell Rovers that beat Sheffield Sixs in the quarter finals.