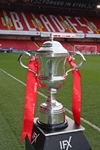 13 JAN - TWENTYTWO CUP - Smith treble as Royal Earl end Boynton's run - The last of the League Twentytwo Cup cup quarter finals saw Boynton Sports giantkilling run brought to a shuddering halt by Royal Earl.
13 JAN - CBC PREMIER - Pheasant stay on top, but the chasers both win, whilst Wickersley out of the danger zone - Wadsley Bridge Pheasant stayed top with a narrow win over Intake Old Boys, but Redmires and Stannington also had wins over Oughtibridge WM and Renishaw Rangers to keep pace with them. Norton Sportsman and Woodseats Club lost ground after drawing with each other, but Wickersley Youth beat Chappeltown RBL to move out of the bottom three.
13 JAN - DIVISION 1 - Top two both beaten and Oaks A move up - The day's big surprise was Cobden Viw's victory over leaders Forum and the team that started the day in second, Cotts FC, slipped a place after being beaten by Crookes FC. Jon Rossiter's winner gave Norton Oaks A three points to move up three places and Norton Oaks B also took a good point from a draw with Southey Social
13 JAN - DIVISION 2 - Sweet revenge for Sixs, and Whites move up, but Colley and Woodhouse stalemate - Leaders Sheffield Sixs gained revenge for their only defeat of the season by beating Woodseats Chantrey and Mosborough Whites took advantage of Boynton Sports cup involvement by beating Cadbury to go second. Colley and Woodhouse Juniors draw with each other did nothing to help either of their promotion ambitions, whilst Civil Sports B got only their second point of the season from a draw with Brinsworth Phoenix and Shakey gave ther chances of getting out of the bottom three a boost with a narrow win at Wadsley Horse & Jockey.
9 JAN - Woodseats Chantrey set for Radio Sheffield - At the start of 2019, Radio Sheffield launched a new feature on their Football Heaven show which adopts a grassroots team each weekend to be their TEAM OF THE WEEK and this weekend it is our Division Two outfit, Woodseats Chantrey. Radio Sheffield will follow their progress this weekend and afterwards do a live chat on their Football Heaven show. Chantrey's currently injured goalkeeper James Rossey will first be on Football Heaven tomorrow, Thursday, between 6:15 & 6:30 and this will then be followed up with a further interview after the team has played, probably the following Tuesday, 15 Jan. This is an opportunity any club can take advantage of - all you have to do is email footballheaven@bbc.co.uk with details about your team, including a contact phone number, to get involved.
11 DEC - Fixtures and Referees for JANUARY 2019 now added - The Fixtures and Referees for JANUARY 2019 have now been added to the website. Home clubs should contact their opponents and Referees where shown ASAP.