16 SEPT - SUNDAY SENIOR CUP - Pheasant hope to shed Three Feathers - The draw for Round 2 of the Senior Sunday Cup has thrown up a real giant of a game with League Champions Wadsley Bridge Pheasant travelling to Rotherham Sunday League's Three Feathers and Norton Sportsman's reward for their victory over Royal Earl also sees the face Rotherham opponents when they travel to MonkWood. It has also thrown up an all-Blades Super Draw tie with Stannington Village playing host to Wickersley Youth Old Village and there could be another as Redmires will entertain Killamarshh Juniors if Redmires win this coming weekend's tie against Sheffield Legends. Crookes are rewarded with a home tie against The Cottage. The full draw involving our teams is: AFC Three Feathers v WB Pheasant Crookes FC v The Cottage; MonkWood v Norton Sportsman; Redmires or Sheffield Legends v Killamarsh Juniors; Stannington Village v Wickersley Youth OV. All fixtures currently due to be played on Sunday 13 October.

15 SEPT - SUNDAY SENIOR CUP - Archer hits gold to topple Earl and there is no stopping Crookes at Terminus - James Archer (left) netted twice as Norton Sportsman knocked out Royal Earl and Crookesalso went through by putting out last season's semi-finalists Terminus Tavern. Luke Fletcher on his debut was another to net twice as Wadsley Bridge Pheasant comprehensively won at Woodseats Club and Wickersley Youth will also go through after their opponents could not field a team due to injuries incurred the day before..
15 SEPT - CBC PREMIER - Stannington break Handsworth's grip on them - Doubles from Lewis Dickinson and Josh Allison helped Stannington Village to beat Handsworth Pub at home for the first time in four seasons.

15 SEPT - DIVISION 1 - Rossiter treble puts Old Boys top, closely followed by Colley - John Rossiter (right) hit a hat-trick as Intake Old Boys became the early leaders of Division One as they maintained their perfect record with a home win over Mosborough Whites. Colley also have yet to drop a point after their win at Cobden View. Southey Social also have a 100% record after winning their first game of the season against Chapeltown RBL, whilst Ranch were among the goals again, sharing six with Woodhouse Juniors.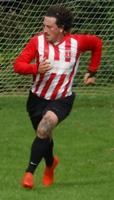 15 SEPT - DIVISION 2 - Beever eager to put Eckington on top and Sam's the man for Phoenix - Ben Beever netted twice as Eckington kept top spot in Division Two with victory over fellow new boys Killamarsh Juniors, whilst Sam Firth hit a hat-trick to help Brinsworth Phoenix collect their first three points with victory over Beighton Magpies. Shakey are second after an impressive victory at Nether Green, whilst two late Jono Cooper strikes gave New Bohemians victory at Wadsley Jack Athletic, and a James Waite double put Prince of Wales in a twirl and give Cadbury their first points of the season, whilst a Josh Smith (left) double proved enough for Mosborough Reds to overcome Darfield United.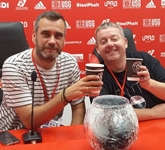 9 SEPT - TWENTYTWO CUP - Round 2 draw sees Pheasant drawn at Stannington - The League Twentytwo Cup Round 2 draw was made by journalists James Shields and Richard Sutcliffe in Sheffield United's new Media suite and the only all-CBC Premier tie is gigantic, with reigning League Champions Wadsley Bridge Pheasant travelling to multiple champions Stannington Village. Elesewhere, holders Royal Earl have been drawn away at Division One Woodhouse Juniors and previous winners Handsworth Pub also travel to a Division One side in Cobden View.
The full draw is: Colley v Cadbury; Chapeltown RBL v Shakey; Civil Sports v Boynton Sports; Cobden View v Handsworth Pub; Cotts FC v Sheffield Sixes; Darfield United v Wickersley Youth OV; Killamarsh Juniors v Southey Social; Mosborough Reds v Norton Oaks; Norton Sportsman v Wadsley Jack Ath; Oughtibridge WM v Eckington BFC; Prince of Wales v Crookes FC; Ranch v Mosborough Whites; Redmires v Nether Green; Stannington Village v WB Pheasant; Woodhouse JFC v Royal Earl; Woodseats Club v Intake Old Boys. All ties to be played on Sunday 6 October.
4 SEPT - Referees for 15 & 22 SEPTEMBER 2019 now added - The Referees for 15 & 22 SEPTEMBER have now been added to the website. Home clubs should contact their Referees where shown ASAP.
30 AUGUST - Reminder of the rule changes for the 2019-20 season - There is a number of significant rule changes for the new season including "Sin-Bins". Details of all these changes can be found by following the link to Rule Changes
25 AUGUST - Fixtures for SEPTEMBER 2019 now added to the website - The Fixtures for SEPTEMBER have now been added to the Fixtures section of the website. Referees are only shown for 1, 8 and 29 September as we don't yet know which referees will be taken for Sunday Cup ties on both the 15 and 22 September. Referees will be allocated to any League games on 15 & 22 September after the County FA has allocated referees to the Sunday Cup ties on those dates. Home clubs should contact their opponents and Referees where shown ASAP. Please let Keith know ASAP if a Referee says they cannot take the game allocated to them.