14 APR - CBC PREMIER - Gibbons treble as Sportsman win to finish fifth, whilst Intake sign out with defeat - Norton Sportsman won at Handsworth Old Crown with the help of a Michael Gibbons hat-trick to finish a very creditable fifth in their first season in the top flight, whilst the already relegated Intake Old Boys signed out of the CBC Premier with a home defeat by Oughtibridge WM.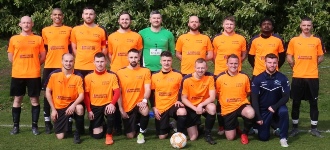 14 APR - DIVISION 1 - Forum make sure the title will go to the final game - Forum (left) drew their final game of the season at fourth place Cotts to regain top spot in Division One meaning that Royal Earl must avoid defeat in their final game of the season next weekend to pip Forum to the title. Crookes made sure that goal difference didn't come into the equation for third place with victory over Southey Social in their final game of the season, whilst Cobden View made fifth place theirs with victory at Mosborough Reds. Defeat in their final game of the season at Civil Sports A meant that Norton Oaks B failed to overtake Oaks A side.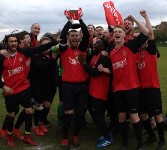 14 APR - DIVISION 2 - Boynton take the title, whilst Colley clinch fourth place - Leaders Boynton Sports (right) beat second place Sheffield Sixs to clinch the Division Two title. Sixs still held on to second place though and third place Mosborough Whites also slipped to a rare defeat at Shakey. Colley clinched fourth place with a draw at the only team that could overtake them, Woodhouse Juniors.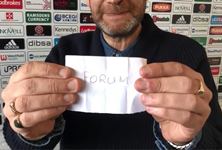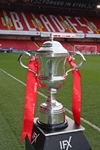 13 APR - TWENTYTWO CUP - Forum set for the home dressing room - The Sheffield Star's Blades reporter James Shield made the draw to see would occupy the home dressing room when the League stages it's twentytwo Cup Final at Bramall Lane and it was Forum's name that came out of the hat. The date for the final is not yet known, but will be advertised here as soon as it is known.
13 APR - Colley fundraiser for an injured player - Colley are going to hold a fundraiser for their injured player Danny Parker at the Green Lane, Civil Sports Social club on Saturday 20 April starting at 7:00 pm. All are welcome to attend.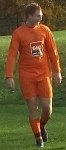 11 APR - DIVISION 2 - Magpies fly away with the points - Woodhouse Juniors chances of a fourth place finish took a dive as Beighton Magpies completed their season with a thrilling 5-4 victory over them. Just one goal came in a tight first half when Dale Featherstone produced a calm finish. The game opened up in the second half and Lewis Hunt (right) doubled Magpies lead with a low shot, before Leon Cheslett pulled one back for Woodhouse. Dale Featherstone restored Magpies two goal lead with a 30 yard lob over the keeper, but Harry Broadbent again reduced the arrears for Woodhouse. Lee Hackett chipped the keeper for a fourth for Magpies and Hunt made it five with a classy finish for his second of the game. Woodhouse didnít give up and Lee Williams netted a quick fire double, but Magpies managed to see the game out and climb above their hosts.
8 APR - The FA Grassroots Football Awards 2019 - The FA Grassroots Football Awards 2019 The FA and McDonaldís Grassroots Football Awards 2019 are now open for nominations. The nomination window will be open until 10th May. There are 10 categories available for individuals to nominate.
If there is anyone within your club, or the League, that you think should be nominated please click the following link http://www.sheffieldfa.com/news/2019/apr/08/the-fa-and-mcdonalds-grassroots-football-awards-are-back
29 MARCH - Sin Bin Training - Please see below, detail of Sin Bin training courses to be run by the County FA, including one at Ice Sheffield next Wednesday 3 April. You have to book a place in order to attend and we strongly recommend that you get someone from your club to attend.
SENT TO ALL LEAGUES & DISTRICT FAís The County FA has now finalised a list of workshops which are available to support peoplesí knowledge around Temporary Dismissals (sin bins) which is coming into effect from the 2019-20 season for all grassroots football (this includes mini-soccer and youth football, menís football (from Step 5 and below) and womenís football (Step level TBC).
Attendance at workshops is via registration only, through the relevant booking link on the County FA website - http://www.sheffieldfa.com/news/2019/mar/20/sin-bin-workshops They do not plan on running additional workshops but will have a recorded presentation available for anyone who is unable to attend a workshop. Should you have any questions about any of the above information, please donít hesitate to get in touch.
22 MARCH - Fixtures and Referees for APRIL 2019 now added - The Fixtures and Referees for APRIL have now been added to the website. Home clubs should contact their opponents and Referees where shown ASAP.