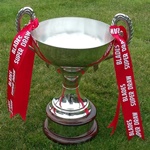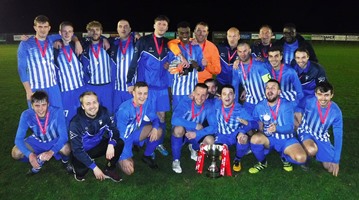 17 OCT - STEVE GEE MERIT CUP FINAL - Colley pip Southey Social in the Steve Gee Merit Cup Final - Tonight's Steve Gee Merit Cup Final at Stocksbridge Park Steels Look Local Stadium saw Division One rivals Colley and Southey Social meet each other and it proved to be a terrific advert for the League between two evenly matched teams. Colley started quicker and took the lead when Man of the Match "Phonse" Hussein set up Matt Jebson to fire low into the corner.After that, Southey began to get on top to dominate the game, but early in the second half, a quick break saw Danny Parker double Colley's lead with a real poacher's goal.
Southey hit back immediately with Byron Mullen crossing for Ryan Damms to head home and Southey piled on even more pressure after that. They deservedly levelled when Colley's Chris Fowler could only divert another Mullen cross into his own net and after that only some desperate defending, good goalkeeping and a couple of glaring misses stopped Southey from winning. Tht took the game to a penalty shoot-out, which It looked like it would never end with the keepers standing no chance until the 19th penalty saw Colley's veteran keeper James Abramski make the save from Matt Betts, allowing Akram Miladi to step up to score and win the trophy for Colley for the first time. Colley are pictured right with the trophy. A full report and more pictures will follow in Latest News over the weekend.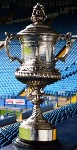 13 OCT - SUNDAY SENIOR CUP - Pheasant pluck Three Feathers, Youth too much for Village and Purkiss wrecks The Cottage - Luke Fletcher hit a hat-trick as Wadsley Bridge Pheasant beat Rotherham League's Three Feathers in a real thriller. Wickersley Youth came out on top of the all-Blades Super Draw League clash with Stannington Village as did Redmires in their clash with Killamarsh Juniors. Joel Purkiss hit four as Crookes comfortably beat The Cottage, but Norton Sportsman fell to a heavy defeat at MonkWood.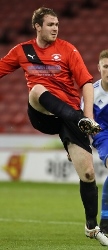 13 OCT - CBC PREMIER - Handsworth off the mark - Handsworth Pub climbed off the foot of the CBC Premier table with their first three points of the season after Sam Marsden and Ben Shackshaft (left) goals gave them victory over local rivals Cotts.
13 OCT - DIVISION 1 - Stirrup gives Oaks a leg up, as Walker and Meadows double up to send Whites top - Richard Stirrup showed his class with four goals as Norton Oaks moved out of the bottom three by knocking Intake Old Boys off the top of Division One with victory over them. Colley started the day in second, but they also slipped to defeat at Boynton Sports and that allowed Mosborough Whites to go top as Luke Walker and Jordan Meadows both scored twice in a convincing victory over Chapeltown RBL. Player manager Gary Eades scored the clincher as Civil Sports went second with victory at Ranch, whilst a Tim Pitt double and a last gasp own goal helped give Cobden View victory at Sheffield Sixs. Another late goal gave Woodhouse Juniors a share of the spoils at Southey Social.

13 OCT - DIVISION 2 - Ivan's terrible to Shakey and Sam's the man to send Bohemians top - Ivan Adrian (right) hit a hat-trick to give Prince of Wales a share of the points at a Shakey that started the day on top of Division Two and New Bohemians took full advantage to overtake Shakey and go top as a Sam Smith hat-trick was the highlight in a convincing victory over an Eckington side that started the day in second. Nether Green pushed Eckington down to fourth after a Tom Davis hat-trick helped Green to victory over Darfield United and a George Scott double helped Wadsley Jack Athletic to their first win of the season against Beighton Magpies.

11 OCT - Race night for Phil - Intake Old Boys secretary Phil Jowett (left) has been diagnosed with prostate cancer and is going through a tough time at the minute. Phil he has been a popular figure around grassroots football for over 25 years so his long standing friend Kev Sheedy has organised a fund raising race night for Phil so we can give him something back. The race night is Friday 29th November 7.30 start at the Attercliffe Liberal Club and Kev is looking for people to sponsor a race at £10 per race and / or buy a horse in each race which is £5 per horse. If anybody from our league wants to sponsor a race or buy a horse please contact Kev Sheedy via email owlslegend@hotmail.co.uk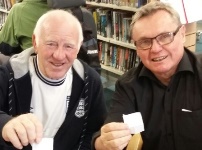 8 OCT - LEAGUE TWENTYTWO CUP - Three all-CBC Premier ties in the Round 3 Draw - The draw for Round 3 of the League Twentytwo Cup was made by the Crystal Peaks' Library Sporting Memories group today and it saw three all-CBC Premier ties come out of the hat. The full draw is: Chapeltown RBL v Norton Oaks; Civil Sports or Boynton Sports v Woodhouse JFC or Royal Earl; Colley v Wickersley Youth OV; Crookes FC v Cotts FC; Eckington BFC v Ranch; Redmires v Handsworth Pub; Stannington Village v Killamarsh Juniors or Southey Social; Woodseats Club v Norton Sportsman. Pictured right is two of the Sporting Memories group that made the draw, Dave Redfern (left) and John Longstaff MBE (right).
The following games will be scheduled for 3 November: Chapeltown RBL v Norton Oaks; Colley v Wickersley Youth OV; Crookes FC v Cotts FC; Eckington BFC v Ranch; Redmires v Handsworth Pub; Woodseats Club v Norton Sportsman. Also on 3 November will be the Killamarsh Juniors v Southey Social and the Civil Sports v Boynton Sports ties postponed last weekend. The other postponed tie, Woodhouse Juniors v Royal Earl, will be scheduled for 10 November
Providing the three postponed ties are played as re-scheduled, the following ties will probably then be scheduled for 1 December: Stannington Village v Killamarsh Juniors or Southey Social; Civil Sports or Boynton Sports v Woodhouse JFC or Royal Earl.