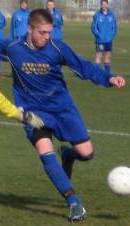 17 APR - DIVISION 1 - Oaks Birch Colley to edge towrards safety - Scott Birch (left) scored four as Norton Oaks Bbeat already relegated Colley 5-3 to put six points between themselves and the drop zone. Two from Birch and one from Will Carlisle had Oaks three up at the interval, but Colley hit back after the break and Chris Fowler and Ridham Miladi both scored to reduce the arrears to one. Birch then completed his hat-trick to put Oaks back in charge, but Colley responded again and Fowler netted his second. Birch should have had his fourth when he missed a penalty, but soon after he made up for the miss to clinch the game for Oaks.
15 APR - CBC PREMIER - Fothergill double keeps Pheasant in touch - A Lewis Fothergill double helped Wadsley Bridge Pheasant to a narrow victory over relegation threatened Norton Oaks A and there is now just one point seperating the top three teams, while Redmires are just four points further back after their win at another relegation struggler, Woodseats Club. Killamarsh and Handsworth Old Crown both moved a point away from the drop zonwe by drawing with each other.
DIVISION 1 - Cotts catch Oughtibridge napping, and Village slip as Sugden farms out a treble, while Civil are relegated - Third place Oughtibridge WM slipped to their second defeat in three games as Cotts more or less made their place in Division One safe with their fourth away win of the season. Fourth place Woodhouse Village failed to close the gap though as also slipped to defeat at a Southey Social inspired by hat-trick hero Josh Sugden. That made it a good day for leaders Norton Sportsman who maintained top spot with victory at a Norton Oaks B still needing points to avoid slipping into the bottom three. It was also good for Chapeltown RBL as they went second after a double from veteran Dale Shaw helped them to victory at Cobden View. Civil Sports B's fight against relegation is over after they slipped to defeat at in-form Ranch inspired by a hat-trick from Matt Jacobs.
DIVISION 2 - Earl and Forum end all-square to put Crookes in the driving seat - Royal Earl keep top spot for the moment despite being held by Forum, but that result means just one point seperates the top three. Forum slipped to third behind a Crookes FC that now look favourites to land the Division Two title as they have a game in hand on the other two, although they do have to go to Forum next weekend. Boynton Sports chances of a top three finish ended with a home defeat by Mosborugh Reds, but Mosborough Whites still have a very slim chance of making the top three after two Morgan Fox goals helped them come from two down to defeat fourth place Wadsley Horse & Jockey.
12 APR - SUNDAY JUNIOR CUP FINAL - Royal Earl and Mosborough Whites to meet in the Final on 19 April at Stocksbridge - The County FA confirmed today that the all-Blades Super Draw League Sunday Junior Cup Final between Royal Earl and Mosborough Whites will take place on Thursday 19 April at Stocksbridge Park Steels stadium. It means that both Earl's and Whites' league games scheduled for that night will have to be rescheduled.


12 APR - CBC PREMIER - Champions back on top, while Oaks gain a precious point - After a goalless first half against in-form Redmires, chmpions Stannington Village scored twice through Shaun Flynn (left) and Callum Pinhorn to take control, but they needed all their defensive strength to hold on to it after Jake Gamban pulled one back for the visitors. The 2-1 win puts them back on top of the CBC Premier by a point above Wickersley Youth.
At the foot of the table third from bottom Norton Oaks A grabbed a 2-2 at Handsworth Old Crown with a late Andy Dawson (right) header. Oaks led at half time through a Kenny Brakes header, but two goals in five minutes from Greg Taylor and Mike Golland put Crown ahead until Dawson's late strike. It wasn't such good news for second bottom Woodseats Club as they slipped to a 3-2 home defeat by Intake Old Boys. John Roper gave Intake the lead only for Jake Whistlecraft to equalise. Woodseats then went ahead through Lewis Whittaker, but it was Crown's turn to equalise through Harry Chamberlain's rocket into the top corner. It went from bad to worse for the home club when Roper beat their offside trap and his cross could only be turned into his own net by a defender.
DIVISION 1 - Four goal Chambers helps Oughtibridge to the ton, while Buxton hits four as Civil shock Cotts - Callum Chambers scored four as Oughtibridge beat Southey Social 5-1 to take their season's goal tally to 101 and up to second in the Division One table. A Josh Sugden strike had Southey level for a while, but they couldn't cope with Chambers, who scored their 100th goal before Chas Tunnard completed the scoring. Woodhouse Village stayed in the promotion chase with a 6-1 victory at Brinsworth Phoenix. After a goalless first half, Village went ahead throgh Jamie Hopkins, but Jack Hawkes levelled for Phoenix from the penalty spot. Ollie Grady soon had Village back in front and Hopkins quickly added his second. Liam Simmonite made his return to the side to join his brothers Ryan and Sean on the pitch for the first time and it was Sean that further celebrated with Village's fourth, before Stef Flint and Tom Reed completed the scoring.
A second player to hit four was Civil Sports B's Josh Buxton as the bottom club claimed their first win of the season, 7-3 over a Cotts FC still not clear of danger. Alex Cowlishaw, Joe Taylor and George Hobson hit Civil's others, while Chenston Clarke with two and Michael Blythen with one scored for Cotts. Two sides destined for a mid-table finish, Ranch and Cobden View, fought out an entertaining 4-4 draw. Joe Denby put Ranch ahead only for Joe Taylor to equalise from the spot. Mike Vella put Ranch back in front and Danny Foster made it 3-1 after the break. Ben Bell pulled one back for View, but Ranch looked to have won it when Tyrone Gunter made it 4-2. View didn't give up though and in the last three minutes an Aaron Ellis strike and a last gasp Ben Mayne goal gave them a deserved share of the spoils.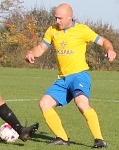 DIVISION 2 - Earl back on top, and Crookes keep pace with them, but Boynton slip to Whites - Although they were made to work hard for their victory, Royal Earl went back to the top of Division Two with a 3-0 win at Cadbury. Callum Greaves headed them in front in the first half,

but Cadbury were proving to be difficult opponents and it wasn't unti they had a player dismissed for handball in the area that Earl gained some breathing sspace. The penalty was saved, but they were pushing Cadbury further back and finally made it more comfortable with Sam Smith and Steve Brammer (left) goals. The victory means Earl are now just one more win from sealing promotion at the first attempt.
Crookes FC kept pace with them with a 5-1 victory at Woodseats Chantry. Liam Cartledge (right) took his League tally to 22 with three of them, while Luke Walker and Liam Morris netted their others. Josh Connolly netted for Chantrey. Boynton Sports promotion bid stuttered again with a 2-1 defeat by Mosborough Whites. Chris Calcott in the first half and Jack Bennett in the second had Whites two up before a late Sports goal gave them a nervous finish.
5 APR - LEAGUE TWENTYTWO CUP FINAL - Pheasant get 'Home' draw - The Star's Blades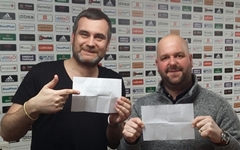 reporter James Shield and the Daily Mirror's Nathan Hemmingham (pictured right) did the draw to see which team would have the home dressing room when Bramall Lane stages the Blades Super Draw League Twentytwo Cup. James pulled out the 'Home' team and it went to Wadsley Bridge Pheasant, leaving Nathan to put Handsworth Old Crown in the 'Away' dressing room. A date for the final will not be decided until it is known whether or not Sheffield United will be involved in the Championship Play-Offs.
Please let Keith know if there are any problems with these games.