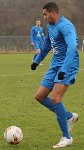 9 DEC - CBC PREMIER - Bryan makes life hard for Redmires - Redmires missed the chance to go top when a Liam Bryan (right) double helped fellow title challengers Woodseats Club to victory over them. Wadsley Bridge Pheasant moved to within a point of top spot with victory at Handsworth Old Crown. Mark West was another to score two as Intake Old Boys moved clear of the bottom three with victory at Chapeltown RBL.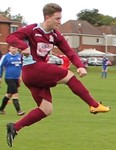 9 DEC - DIVISION 1 - Forum go 8 points clear in a flood of goals - As Division One's four games produced an incredible 38 goals, Forum netted four of them to beat Cobden View and go 8 points clear at the top. The most goals came as Ranch beat Southey Social in a 13 goal thriller, with John Mellor scoring 5 but finishing on the losing side and there was 12 goals in Crookes' victory at Mosborough Reds, with Matt Cowen (left) bagging 5 of them. Will Carlisle hit a hat-trick as Norton Oaks B gained bragging rights with victory over their A team.
9 DEC - DIVISION 2 - Chantrey hit the last unbeaten record for Six - The League's last unbeaten record was shattered as a Woodseats Chantrey that started the day second bottom beat leaders Sheffield Six. Boynton Sports moved to within 3 points of the leaders with victory at Wadsley Horse & Jockey, whilst Beighton Magpies and Cadbury shared the spoils.
28 NOV - Fixtures and Referees for 16 December now added - The Fixtures and Referees for 16 December have now been added to the website. Home clubs should contact their opponents and Referees where shown ASAP.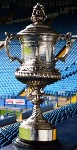 23 NOV - SUNDAY CUPS - A Cup away day for our clubs - All five of our clubs remaining in the County FA Sunday Cups quarter finals have been handed away ties. In the Sunday Senior Cup, Stannington Village have been handed a tough tie at Rotherham Sunday League's Joker FC and Woodseats Club travel to the Terminus Tavern side that put out Renishaw Rangers in the previous round. In the Sunday Junior Cup, holders Royal Earl travel to the AFC Schoolboy side that edged out Sheffield Sixs in the previous round and Crookes FC go to the Wombwell Main Youth side that beat Cobden View on penalties. Southey Social travel to the Cawthorne side that narrowly beat Beighton Magpies in Round 2. The ties involving our clubs are: Sunday Senior Cup: Joker v Stannington Village; Terminus Tavern v Woodseats Club Sunday Junior Cup: Cawthorne v Southey Social; Wombwell Main Youth v Crookes FC; AFC Schoolboy v Royal Earl. All ties are due to be played on 16 Dec.