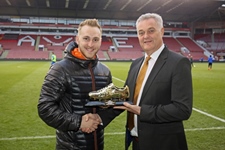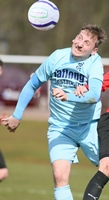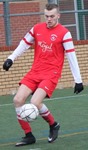 16 MAY - Luke picks up the Golden Boot Award - After scoring 29 goals to help Mosborough Whites to promotion from Division Two, as well as being Division Two's top scorer, Luke Walker was the League's Leading Scorer and he received the Sheffield Trophy Centre Golden Boot award from Sheffield United's Operations Director Dave McCarthy at Bramall Lane at half time during the League's Cup Final - see picture left. Luke finished five clear of Boynton Sports Jake Ballinger.
For the second season in succession, Redmires' Tom Whiting (1st right) was the CBC Premier Leading scorer, with his 22 goals being 9 clear of his nearest rival, Liam Bryan of Woodseats Club, and helping Redmires to their third Runners-Up spot in five seasons. Division One was much tighter with Crookes' Liam Cartledge's hat-trick in their last league game of the season taking his tally to 20, to pip his team mate Matt Cowen and Cotts FC's Michael Blythen who both finished on 19. It's the second successive season that Cartledge (far right) has received a Leading Scorer Award as he was Division Two's top scorer the previous season.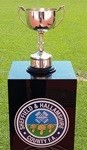 12 MAY - SUNDAY JUNIOR CUP FINAL - Schoolboys make sure Crookes leave New York empty handed

-

The final of the County FA Sunday Junior Cup at a magnificent New York Stadium saw Doncaster's AFC Schoolboys defeat Super Draw Division One side Crookes FC 3-2 to become the first Doncaster side to win the trophy. For a full report and pictures see Latest News.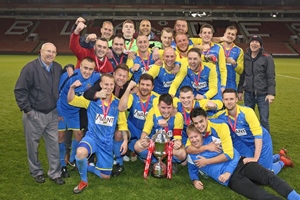 12 MAY - SUNDAY JUNIOR CUP FINAL - Royal Earl rule at the Lane

-

The Super Draw League Twentytwo Cup Final at Bramall Lane saw Royal Earl finally overcome their hoodoo side Forum, with an emphatic 5-0 victory in front of a crowd of 500. See latest news for a full report and pictures - MORE PICTURES NOW ADDED TO LATEST NEWS.
8 MAY - Further Funding Opportunity for Clubs - After feedback the County FA has received from both leagues and clubs they have created a range of new funding grants available to clubs to apply for from now, specifically for single team clubs, as they were not eligible for the ĎStay in the Gameí fund, which is currently open. There are numerous different grants for clubs to apply for depending on their specific needs. These are separated into two areas:
Adult Football Fund - http://www.sheffieldfa.com/news/2019/may/07/adult-football-fund - Growth Fund & Retention Fund
Charter Standard Development Fund - http://www.sheffieldfa.com/news/2019/may/03/charter-standard-development-fund - Growth Fund, Partnership Fund & Development Fund
See links to the County FAís website for more information and the application forms.
30 APR - FA Funding for existing Adult Male clubs - The Football Association (The FA) is re-launching its adult male retention-focused funding scheme to support menís 11-a-side community football teams in South Yorkshire. The newly-titled Stay in the Game scheme will offer existing clubs the opportunity to apply for grants of £750 to help cover the various associated costs of running a football team. The window for applications is open until Thursday 6 June 2019. For more detail see https://www.sheffieldfa.com/news/2019/apr/17/stay-in-the-game
Clubs seeking more information on the programme should either contact Leon Dearns, Adult Football Office on 0114 261 5507 or email Leon.Dearns@SheffieldFA.com. You can also visit the Football Foundation website.
29 MARCH - Sin Bin Training - Please see below, detail of Sin Bin training courses to be run by the County FA, including one at Ice Sheffield next Wednesday 3 April. You have to book a place in order to attend and we strongly recommend that you get someone from your club to attend.
SENT TO ALL LEAGUES & DISTRICT FAís The County FA has now finalised a list of workshops which are available to support peoplesí knowledge around Temporary Dismissals (sin bins) which is coming into effect from the 2019-20 season for all grassroots football (this includes mini-soccer and youth football, menís football (from Step 5 and below) and womenís football (Step level TBC).
Attendance at workshops is via registration only, through the relevant booking link on the County FA website - http://www.sheffieldfa.com/news/2019/mar/20/sin-bin-workshops They do not plan on running additional workshops but will have a recorded presentation available for anyone who is unable to attend a workshop. Should you have any questions about any of the above information, please donít hesitate to get in touch.