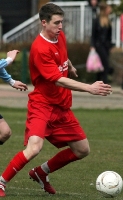 24 MAR - CBC PREMIER - Pheasant have a magnificent 7, but Redmires and Stannington stay in touch - Wadsley Bridge Pheasant had seven different scorers in a victory at Chapeltown RBL and they need just two more wins to regain the title. Second place Redmires stayed in touch though with a narrow home win over Oughtibridge WM and current champions Stannington Village also remained in the chase after Lee Johnstone (left) and Alex Torr goals gave them a narrow victory at Norton Sportsman. Woodseats Club completed their season with a home draw against a Handsworth Old Crown that still needs a point to be absolutely safe.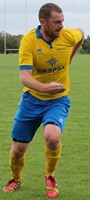 24 MAR - DIVISION 1 - Earl are promoted, but Crookes and Cotts suffer defeats - Royal Earl confirmed their promotion to the top flight as Steve Brammer and Michael Towey (right) doubles helped them to victory over fourth place Cotts, but Cotts still have a chance of a top three finish as third place Crookes lost out at Ranch as the tally of goals in Ranch home games went to an amazing 66 in just 9 games. The other Division 1 game saw Southey win at Mosborough Reds
24 MAR - DIVISION 2 - Sixes and Boynton are up and Whites are almost there - The top two of Sheffield Sixes and Boynton Sports both won to confirm their promotion to Division 1 and, despite not playing, Mosborough Whites are as good as there as their goal

difference is so much better than the only team that could catch them, Woodhouse Juniors. Sixes came from behind to win at Wadsley Horse & Jockey and Boynton Sports won at Woodhouse Juniors with the help of a Marcus Gordon (left) hat-trick. Colley grabbed a narrow win at home to Beighton Sports and Shakey Battled to victory at Woodseats Chantrey with the help of goals from Adam & Jack Battle.
24 MARCH - Civil Sports B resigned - The League was sorry to receive the resignation of Division 2 Civil Sports B. Because they had not yet played 75% of their League games this season it means that all their results and goals scored by them and their opponents will be removed from the records and tables.
22 MARCH - Fixtures and Referees for APRIL 2019 now added - The Fixtures and Referees for APRIL have now been added to the website. Home clubs should contact their opponents and Referees where shown ASAP.
17 MAR - Training for Pitch Maintenance - The County FA has asked that we publicise a Level 1 Winter Pitches: In Season (Maintenance) course scheduled for 27th March 2019 at SGP Thorncliffe. The course will run from 10am to 4pm and the cost per person is £100. The key subjects – assessment, sequencing of work and aeration to mowing, aeration and line marking, plus more – are studied through a progressive one-day IOG Learning course. With delivery from an industry expert, experience an educational hands-on training day featuring a productive presentation, plus turf care theory and practical working demonstrations. By attending this course, you will learn what is involved in preparing and maintaining a surface that allows for maximum playbility, and in addition, receive a Certificate of Attendance. For more information about the course or to book your place, please follow the link below. https://eventspace.thefa.com/sheffieldfa/participant/arrangement.aspx?id=270404
13 MAR - Renishaw Rangers resign - The League was sad to receive the resignation of Renishaw Rangers today. They had three games remaining and their opponents in them, Norton Sportsman, Wickersley Youth and Chapeltown RBL will be awarded the points.
17 FEB - Fixtures and Referees for MARCH 2019 now added - The fixtures and Referees for MARCH 2019 are now published on the League website. All home teams MUST make sure that their home pitch is available on all the dates shown. Please email Keith immediately if your pitch is not available on a date shown. All home clubs must also confirm the details with your referees and opponents for all dates shown IMMEDIATELY. The home clubs should later (the Tuesday before the game) ring the referee to make sure the referee has got all the details.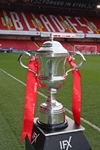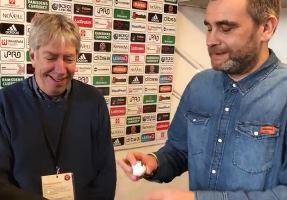 2 FEB - League Twentytwo Cup Semi-Final draw - The draw for the semi-finals of the Blades Super Draw League Twentytwo Cup was made at Bramall Lane today by The Sheffield Star's Blades reporter James Shields (right) and well known journalist Alan Biggs (left) and it saw last seasons beaten finilists and only CBC Premier side remaining, Handsworth Old Crown, drawn out against Division One leaders Forum. The other tie will be an all Division One affair between old adversaries Crookes and Royal Earl. The ties will be played at the HSBC Sports ground, Dore, on 31 March, both kicking off at 11 am. The draw is Handsworth Old Crown v Forum; Crookes v Royal Earl.