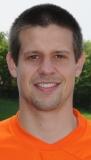 22 Sept 2011 - Bulls Head triumph in Steve Gee Merit Cup - After Kerry Dixon had drilled home an equaliser, Alan Mowforth (pictured left) scored the type of goal worthy of winning any game as Bulls Head just came out on top in a good quality Steve Gee Merit Cup Final against fellow Division One rivals Niagara.
After a start that saw both teams getting used to the big Stocksbridge Park Steels pitch it was Bulls Head that had the early chances, but last season's leading scorer missed an absolute sitter when he put the ball over the bar from little more than a yard out. Niagara's confidence grew after that and they began to take the game to Bulls Head and after a succession of corners, when the ball came out to Daniel Campbell his well placed shot skipped off the top of a defender into the top corner. Ash then missed another chance and Niagara went into the interval in front.
The second half saw Niagara looking for a second and after Danny Bainbridge's header was well saved, he looked certain to get it when he went round the keeper, but his shot came back off the post. Bulls Heaed started to have more of the ball and after some pressure the ball came out to Kerry Dixon on the edge of the area and his low shot flew through the crowd of players into the bottom corner.
Bulls Head were on top now and Joe Keighley looked certain to add a second, but his header came back off the bar. Niagara reacted and Bainbridge fired just wide, but it was Bulls Head that got the decisive second when the ball fell to Bulls man-of-the-match Alan Mowforth on the edge of the area he produced a step-over to leave a defender for dead before bending a great shot round the keeper into the net.
With their man-of-the-match Tom Staniforth driving them forward, Niagara did their best to grab the equaliser and Cooper headed wide, Bainbridge hit the side netting, but Bulls Head somehow managed to hold on until referee Matt Tyers final whistle. A final word for the officials referee Matt Tyers and his assistants, James Bell and Dennis Williams as they did a great job in a match that saw two sides play flat out without the need for any cards of any colour.
Teams: Bulls Head: Neil Gasgoine, Joe Windle, Kerry Dixon, Robert Dowber, John Marples, Tom Cocker, Matt Coates, Mark Bryant, Nick Ash, Alan Mowforth, John Kentzer. Subs: John Ward, Lee Smith, Joe Keighley, Matt Wilson, Phil Jenkins.
Niagara: James Shepherd, Craig Lonsdale, Matt Edwards, Daniel Bonnick,Ryan Sorby, Simon Staniforth, Craig Foster, Tom Staniforth, Daniel Cooper, Danny Bainbridge, Chris Smith. Subs: Bren Burns, Rikki Parsisson, Paul Cadman, Paul Bennison
Scorers: Daniel Cooper (Niagara 30 mins), Kerry Dixon (Bulls Head 75 mins), Alan Mowforth (Bulls Head 82 mins)
Referee: Matt Tyers. Assstant referees: James Bell, Dennis Williams