2020 - STEVE GEE MERIT CUP FINAL - The Steve Gee Merit Cup Final suspended for one season - Due to the COVID 19 pandemic, the Steve Gee Merit Cup Final 2020 will not be played.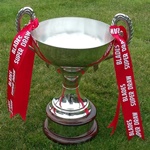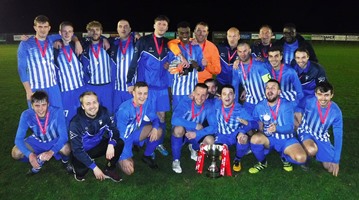 17 OCT 2019 - STEVE GEE MERIT CUP FINAL - Colley pip Southey Social in the Steve Gee Merit Cup Final - The Steve Gee Merit Cup Final at Stocksbridge Park Steels Look Local Stadium saw Division One rivals Colley and Southey Social produce a real cracker that was only decided by a 10-9 penalty shoot out after a 2-2 draw.
Colley had the first sight of goal came when Billy Thorley almost beat Southey keeper Callum Jones to a bad back pass. Colley's pressure finally saw them take a 15th minute lead when a mistake allowed Man of the Match "Phonse" Hussein to set up Matt Jebson to fire low into the corner. Southey hit back and attempts by Ryan Damms and Kieran Hopkinson were deflected for corners. Colley then had a good spell of control, with a Jebson cross causing Jones problems, before having a great chance to double their lead, but Matt Meaney could only scoop it wide. Just before half time Damms went down in the Colley penalty area but referee Pete Henger adjudged the player to have dived showed him the yellow card. Southey's Hopkinson was also booked a few minutes later for a foul on Hussein.
The second half saw Southey pile on the pressure in the search of an equaliser and Ryan Whitney hit the post and Damms, had a shot cleared off the line. Against the run of play, Colley doubled their lead when Danny Parker hit a powerful curling shot that left Jones with no chance. Southey hit back immediately with Byron Mullen crossing for Ryan Damms to head home at the near post and they piled on even more pressure after that. In a series of corners, Damms then had a shot cleared off the line before Southey's captain Todd Guest had a header clawed off the line by keeper James Abramski and Scott Ellis had a shot deflected over the bar.
Finally the Southey pressure paid off when another Mullen cross was deflected into his own net by Colley's Chris Fowler. Guest then headed over, but despite further Southey pressure Colley held on to take the game to a penalty shoot-out. It looked like the shoot-out would never end with the keepers standing no chance until the 19th penalty saw Colley's veteran keeper James Abramski make the save from Matt Betts, allowing Akram Miladi to step up to score to win the trophy for Colley for the first time. The game had been a real credit to all concerned and a very good evening was completed by the teams taking advantage of an excellent pint of "Chantrey Iron & Steel" in the bar.
COLLEY: James Abramski, Christopher Fowler, James Malone, Ridah Miladi (Capt), Ian Sharland, Lewis Hanson, Billy Thorley, Ildephonse Hussein, Daniel Parker, Matthew Jebson, Matthew Meaney Subs: Keegan Hepplestone, Faisal Miladi, Akram Miladi, Jack Cranswick, Ragen Dempsey
SOUTHEY SOCIAL: Callum Jones, Adam Danks, Carlton Nathaniel Carty, Ryan Keeney, Matthew Betts, Todd Guest (Capt), Scott Ellis, Ryan Whitney, Ryan Damms, Kieran Hopkinson, Jamie Hopkins Subs: Byron Mullen, David Wheeler, Harry Davison, Jamie Roper, Luke Parwana
Referee: Pete Henger Assistant Referees: Gareth Thomas and Jason Baker
Pictures from the game are below: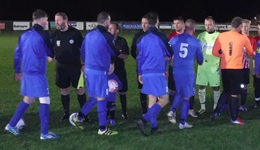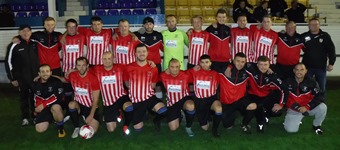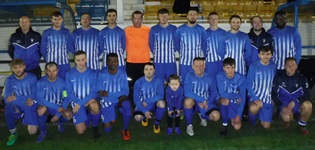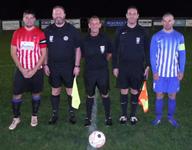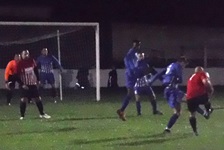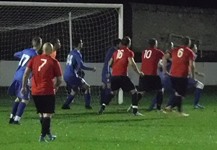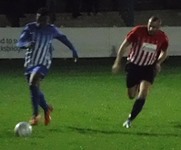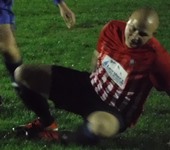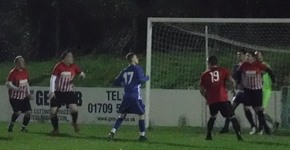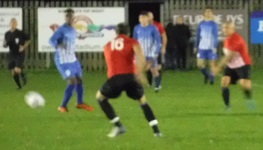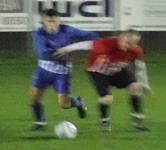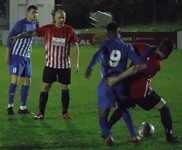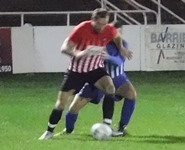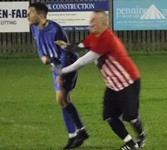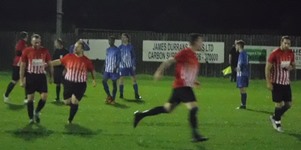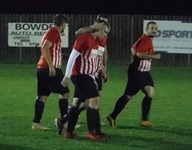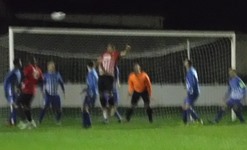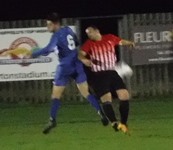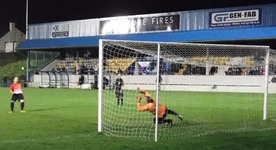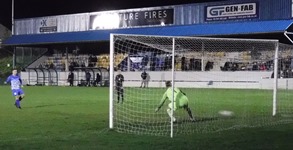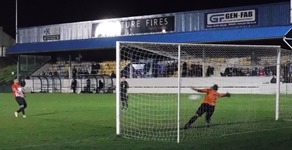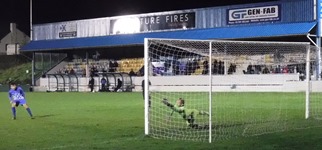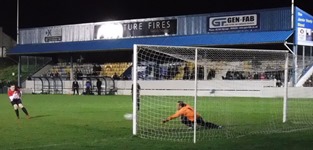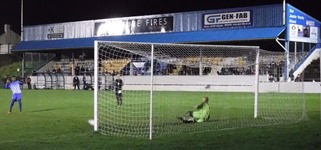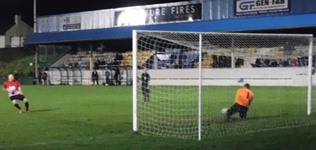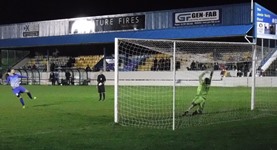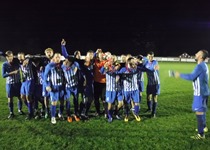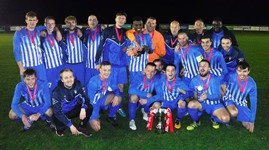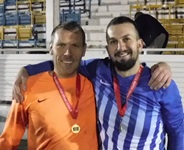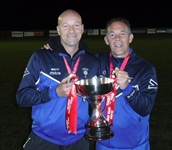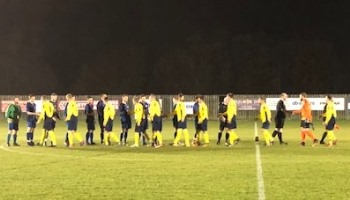 25 OCT 2018 - STEVE GEE MERIT CUP FINAL - Harrison double seals the Merit Cup for Oughtibridge - The Steve Gee Merit Cup Final, played at Stocksbridge Park Steels Look Local Stadium, saw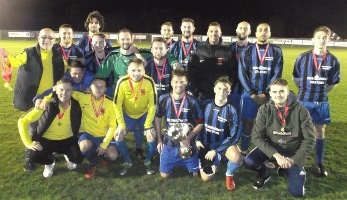 CBC Premier Oughtibridge WM come out 3-0 victors against Division One Norton Oaks B with first half goals from Danny Booth and a Matt Harrison double.
Oughtibridge quickly got into their stride and the Oaks defence was at full stretch to keep them at bay, but just as it looked like they had got over the worst of the pressure a terrific effort by Danny Booth found the top corner to put Oughtibridge ahead. That gave Oughtibridge the impetus again and when a Callum Chambers shot could only be parried by Oaks keeper Tom Burnham, Matt Harrison was on hand to double his side's lead. Harrison quickly picked up his second of the night to give Oughtibridge a three goal half-time lead.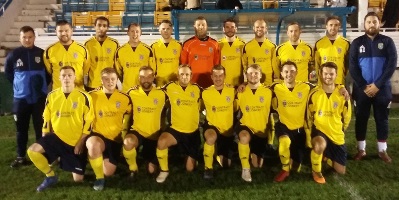 The second half was a more even affair with Oaks even threatening to pull a goal back, but Oughtibridge always looked threatening on the break and it needed Burnham to stop Chambers increasing Oughtibridge's lead with a couple of great saves. Oughtbridge skipper Ross Brown also went close, but Burnham dealt firmly with what was thrown at him and with Oaks skipper Matt Jessermino holding his defence together better after the break, Oaks managed to avoid any further damage. At the end of the game League President Larry Angel MBE presented the trophy to Oughtibridge skipper Ross Brown. Pictured right is Oughtibridge with the trophy. Left is Runners-up Norton Oaks B.
Norton Oaks B: Tom Burnham, Richard Gill, Oliver West, Lewis Trevett, Sam Smedley, Joe Lawson, Jack Peake, Matthew Jessermino (C), Reagan Eldridge, Joseph Brisbourne, Nathan Davies, Jordan Noble, Nick West, Jeremiah Donnelly Oughtibridge WM: Strachan Sampson, Evan Watson, Thomas Galloway, Simon Duckworth, Joshua Walker, Daniel Booth, Ross Brown (C), Oliver Black, Callum Chambers, Matthew Harrison, Charles Tunnard, Harley Scholey, Joe Appleyard, Wilson Coupe, Richard Honeyman, Adam Thomas Referee: David Williams Assistant Referees: Tony Tierney, John Reeves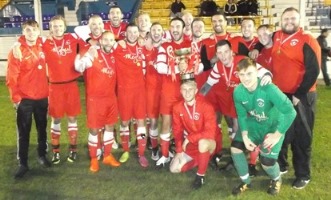 21 SEP 2017 - STEVE GEE MERIT CUP FINAL - Redmires pip Cobden to win the Steve Gee Merit Cup Final - The League's Steve Gee Merit Cup Final between last season's CBC Premier Runners-up and Sunday Senior Cup semi finalists Redmires and last season's Division Two Runners-Up Cobden View took place at Stocksbridge Park Steels Look Local Stadium, and it was Redmires that came out on top of a real thriller 3-2 to lift the trophy for a second time.
Redmires started the quicker and John Pedder almost gave them the lead with a shot that struck the outside of the post. More good work by Pedder almost broke the deadlock and the pressure finally told when a cross from the right was slammed into the bottom corner by Redmires' skipper Ben Graney. Cobden eventually got a foothold in the game and one attack ended with shouts for a penalty for handball and soon after a dangerous cross evaded everyone in the box. Redmires ended the half strongly with Jake Gamban's shot saved by Josh Delaney in the Cobden goal and soon after Delaney had to make an even better save from Pedder's low drive.
Cobden looked a different side in the second half and were soon on level terms when they carved Redmires right side open and when the cross came in Tim Pitt was on hand to roll the ball home. Pitt thought he had added a second soon after, only to see it ruled out by the assistant referee's flag for offside. Delaney then saved to stop Redmires from re-taking the lead, but it was Spencer Bingley in the Redmires goal that next had to make an even better save to stop Aaron Ellis's deflected shot.
Josh Limbrick then shot just wide as Cobden continued to drive forward, but it was Redmires that got their noses back in front when Jake Gamban scrambled the ball home from a corner. They quickly doubled their advantage when Gamban's through ball found Tom Whiting and he slid the ball home. Cobden didn't give up though and only a brave piece of keeping by Bingley stopped Pitt from scoring a second, before Cobden's Ben Bell volleyed just wide.
They were rewarded soon after though when Pitt pounced on a mistake to advance and roll the ball past the onrushing Bingley. It then needed another terrific save by Bingley to stop Pitt from completing a hat-trick. Redmires were hanging on at this stage and only two more saves by Bingley stopped Cobden from equalising before referee Matt Tyers whistled for full time. It had been a terrific effort by both sides and a great advert for the league and both clubs.
The squads: Redmires: Spencer Bingley, Matt Hanson, Hamed Arezzo, Conal Jacklin, Dave Knaggs, Ben Graney (C), George Rudd, John Pedder, Andy Bath,Jake Gamban,Jake Schofield, Jake Sawyer, Dan Callow, Chris Cottyn, Tom Whiting, Danny Turner
Cobden View: Josh Delaney, Ben Mayne, Scott Needham, Andy Jacobowski, Aaron Ellis, Josh Limbrick, Alex Butt, Ben Bell, Tim Pitt, Rich Higgins, Lee Mansell, Will Cutler, Mike McVay, Adam Beresford, George Wilson-Bland
Referee: Matt Tyers, Assistant Referees: Craig Couldwell and Michael Brown

22 SEP 2016 - Steve Gee Merit Cup Final - Osborne keeps his house in order for Phoenix to lift the cup - Thanks to a man of the match performance by keeper Kieran Osborne (left) a single John Mellor goal was enough for Brinsworth Phoenix to beat Ecclesfie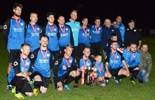 ld Players Lounge 1-0 and lift the Stee Gee Merit Cup.
Played at Stocksbridge Park Steels Look Local Stadium, it was Phoenix that made the better start and Mellor had the game's first half chance. Mark Groves headed over as Ecclesfield finally got forward, but a mistake let Mellor in and after rounding the keeper he slammed the ball home for what turned out to be the only goal of the game.
Ecclesfield responded and Groves had a shot deflected wide before Scott Spazjer just failed to connect with a cross. Further Ecclesfield pressure saw George Sheen shoot wide and Osborne make the first of his saves at the feet of a Danny Barnett clean through on goal, but it was Phoenix that almost doubled their lead just before half time when a Nicky Shaw free kick crashed against the crossbar. The second half saw both sides have chances without ever threatening to score until late in the game when Osborne made two terrific saves from Ecclesfield's Craig Senior. Phoenix held on to lift the trophy for the first time. Special praise should also go to referee Gareth Thomas and his assistants Ryan Henger and Chris Rose, who all helped the game to flow and help players and spectators alike enjoy the game.
The Teams: Brinsworth Phoenix: Kieran Osborne, Karl Howden, Evan Watson (C), Joe Statham, Scott Orton, Dale Savage, Jordan Pearce, Karl Fox, John Mellor, Kieran Goff, Matt Winfrow subs: Nathan Darwent, Nicky Shaw, Liam Brookfield, Bradley Spencer
Ecclesfield Players Lounge: James Abramski, Scott Touhey, Gavin Hunter, Dean Foreman, Ryan Keeney, Andy Baxter, Joe Knight, Mark Groves (C), Danny Barnett, George Sheen, Scott Spazjer subs: Craig Senior, Dale Hirst, Lewis Turton, Mitch Robinson, Paul Heath
Referee: Gareth Thomas Assistant Referees: Ryan Henger, Chris Rose
Pictures by Richard Harvey, Peter Revitt and Ian Revitt.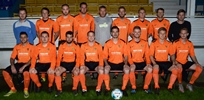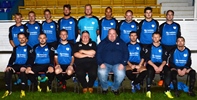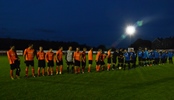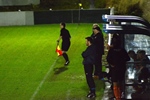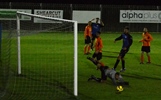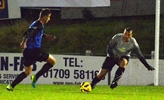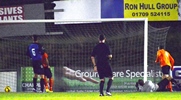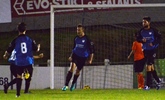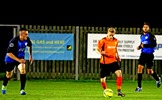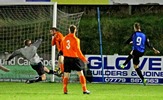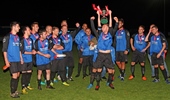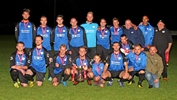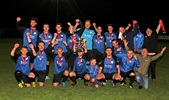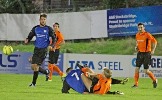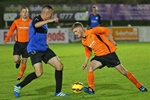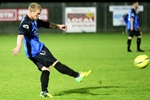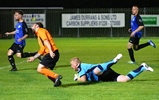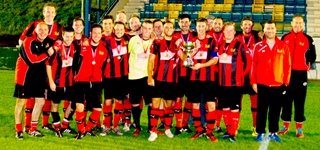 3 Sep 2015 - STEVE GEE MERIT CUP FINAL – Debuts are a dream as Stannington take the Cup - It was dream debuts all round as Danny Smith, Alex Torr and Adam Todd all scored in their first competitive game for League Champions Stannington Village, as they got the season underway by lifting the Blades Super Draw League Steve Gee Merit Cup with a 3-0 victory over last season's Sunday Junior Cup winners FC Handsworth Turf.
Stocksbridge Park Steels Look Local Stadium was in perfect condition to allow both teams to play fast penetrating football and it was Stannington's Lee Johnstone that was first to threaten the goal, but his free kick was too high. Turf went straight to the other end and only a saving tackle by Ben Cook stopped Turf taking advantage of a mistake by Ben Cook. Turf's Danny Leesley then had a driven cross well taken by Stannington keeper Nathan Ryan before the opening goal came to Stannington. Alext Torr beat the offside trap to advance into the area before crossing for fellow new signing Danny Smith to score convincingly.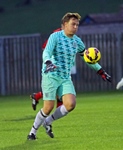 Turf hit back and Ryan had to save a Tom Crosby shot and Ben Shackshaft went even closer with a powerful shot just over the bar. Stannington searched for a second though and after beating a defender, Alex Torr saw his shot brilliantly saved by Turf keeper Liam Richardson (left). Richardson then needed to be at his very best again to turn away an Adam Todd shot and as Stannington increased the pressure Dan Green had a header cleared off the line before Torr forced Richardson to make his best save of the night to leave the score 1-0 at the break.
Turf were first to show after the break when Ben Shackshaft beat a defender before firing a shot into the side netting, but it was Stannington that went further in front when Turf's Gregg Taylor made his only mistake of the night by giving the ball away to Man of the Match Alex Torr and he stayed ice cold to hit a shot that Richardson got his hand to but couldn't keep out.
Taylor made up for his error by twice clearing off the line. Although the first was straightforward, the second, when Robin Elliott somehow got his head to a corner, was nothing short of miraculous and a goal looked certain until Taylor somehow got his head to the ball to clear from under the bar. Turf tried to respond, but when they did find a way through the Stannington defence Chris James' shot was brilliantly turned round the post by keeper Ryan. Stannington finally made the game safe with ten minutes remaining as a clever ball in found Todd in space in the area and he danced round the keeper before completing the scoring. All that was left at the end was for Stannington skipper Lee Johnstone to receive the Cup from League Chairman Keith Firminger
FC Handsworth Turf: Liam Richardson, Craig Cansdale Tom Smith, Danny Leesley, Carl Bowler, Gregg Taylor, James Leesley, Tom Crosby, Ben Shackshaft, Danny Wilson, Harry Johnson Subs:Sam Atkin, Gareth Taylor, Frazer McNeil, Chris James, Ryan Stringer
Stannington Village: Nathan Ryan, Aaron Worsfold, Ben Cook, Dean Jepson, Dan Green, Danny Smith, Callum Pinhall, Lee Johnstone, Alex Torr, Adam Todd, Shaun Flynn Subs: Jack Mylnek, Sami Eric, Robin Elliott, Cory Mann, Jack Ridge.
Referee: Jack Hall, Assistants: Will Cavanagh, Michael Brown (Action from the game is below - all pictures courtesy of Ian Revitt)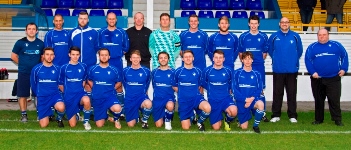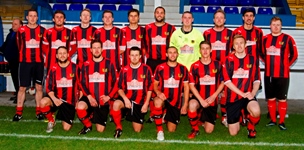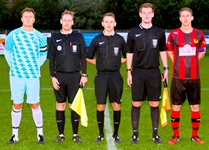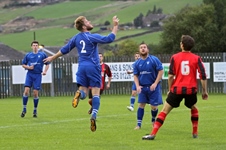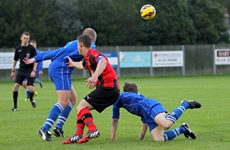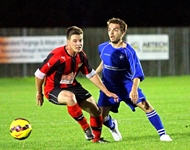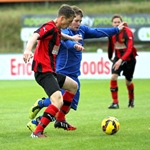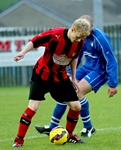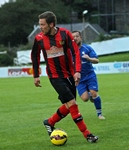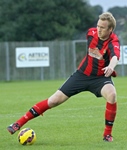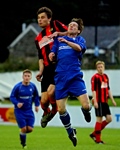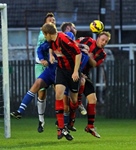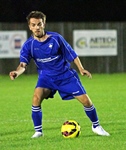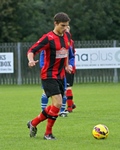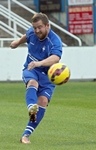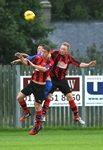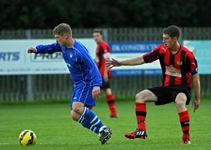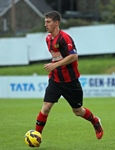 21 August 2014 - STEVE GEE MERIT CUP FINAL - Aston Swallownest to face Brinsworth Whitehill in Merit Final at Stocksbridge - The excellent disciplinary and sporting records of Aston Swallownest and Brinsworth Whitehill has seen them rewarded with an appearance in the Steve Gee Merit Cup Final at the Stocksbridge Park Steels stadium on Thursday 18 September. The kick-off is 7:15 and entrance is free to all.
It is a reward for both sides continued efforts to play the game in the right manner. After having just two cautions in the 2013-13 season, Aston went one better last season by having just one caution all season, while Brinsworth Whitehill had just five cautions for a second successive season. Both achieved the highest average score of 46/50 for their Sporting Awards from the other League clubs in 2013-14.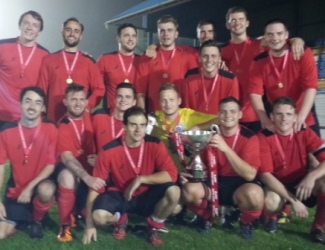 18-Sept - STEVE GEE MERIT CUP FINAL - Cup shock as Aston land the Merit Cup - A first half Ian Draper looping header and a David Sills strike after the break saw Division One Aston Swallownest beat CBC Premier Brinsworth Whitehill 2-0 in the Steve Gee Merit Cup Final, played at Stocksbridge Park Steels stadium.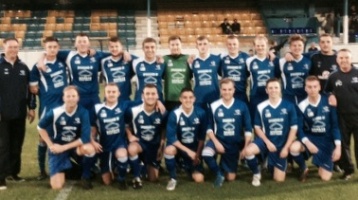 Both teams started high tempo game but Brinsworth (pictured right) were the first to settle into the game, keeping possession of ball, but for all of that possession, they didn't look like breaking down Aston's well organised defence, with right back Adam Smith snuffing out several attacks. Aston looked to hit them on the break through their strike partnership of David Sills and Ian Draper and in one such break Aston broke the deadlock when a high left wing cross from Smith was met by Draper and his looping header from the edge of the area gave the Brinsworth keeper no chance.
The lead was nearly cancelled immediately from the kick-off as Brinsworth raced down pitch and despite an inviting cross across face of goal by Ross Johnson, no one could get the important touch. Just before the break, Brinsworth went close again with another cross, this time from Joe McGuiness but yet again no one was able to get a touch.
The second half started with Aston having more of the ball and Sills looked certain to double their lead until a great goal line clearance by Matt Langley kept the ball out. Brinsworth then had a strong appeal for a penalty turned down by referee Pete Henger before a terrific save by Aston keeper Scott Hall stopped Cory Goodwin from equalising. ton continued to have more of the ball this half and they took a stranglehold of the game when a swift move fell to man of the match Sills outside the area and he smashed an unstoppable shot into the top corner
Brinsworth tried to respond and after another great save by Hall stopped them pulling one back they came even closer in in the final minute. A corner caused a scramble in the Aston goalmouth and after the ball was only half cleared off the line, a second attempt saw McGuiness's shot come back off the crossbar and when the ball came back out a third time, Simon Dungworth hit a great volley, but again the ball smashed against the crossbar before it was finally cleared. Aston deservedly held on to claim their first Final victory.
Aston Swallownest: Scott Hall, Adam Smith, Scott Macormac, Ross Edwards, Andrew Pearson, Ben Winter, Danny Wilcox, Billy Evans, David Sills, Ian Draper, Lee Milburn Subs: Sam Llewellyn, Konna Payne, Matt Wilton, Tom Connelly.
Brinsworth Whitehill: Richard Dowell, Danny Johnson, Jed McGowen, Josh Turner, Adam Halloub, Ryan Watson, Matt Langley, Lewis Watson, Joe McGuiness, Danny Willis, Ross Johnson Subs: Liam Faval, Cory Goodwin, Nathan Roebuck, Jack Armstrong, Simon Dungworth
Referee: Pete Henger Assistant Referees: Phil Jones and Adrian Roebuck