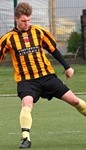 30 SEP - CBC PREMIER - Brown double helps 'Bridge to the top - We have new leaders in the CBC Premier Division, and that honour now goes to David Hudson's Oughtibridge WM who ascended to the summit thanks to a superb 4-1 away triumph at Chapeltown RBL. It was a great performance by Oughtibridge who drew first blood in this contest when Ross Brown (left) scored following a well executed counter attack. The lead was doubled five minutes into the second half when full-back Tom Galla headed in his first goal for the club; getting on the end of a Chas Tunnard cross. Danny Booth added number three with a superb solo effort before Brown's second of the morning extended it to four. Chapeltown did manage a consolation when Niall Smith set up youngster Ben Wright but it was not to be their day as they also missed a penalty when Gary Bacon struck the crossbar with his effort from twelve yards.
Oughtibridge go top because last weekend's leaders Woodseats Club could only draw 1-1 apiece with bottom placed Intake Old Boys. Club took the lead after twenty minutes when a cross into the penalty area wasn't cleared by Intake and Matt Darlow hammered the loose ball into the net. Despite playing with only ten men all game, Intake competed superbly and drew level with quarter of an hour left when Darren Robinson fired the ball home after the home custodian failed to claim a corner. They could have come away with a deserved win too but Club had to thank their goalkeeper as he made a few important saves despite the misjudgement which had led to the goal.
Action, including the goals, from the game is below - pictures by Mick Moat.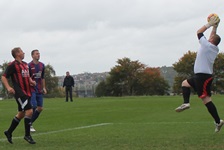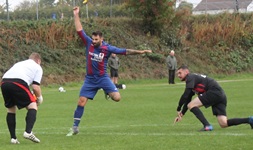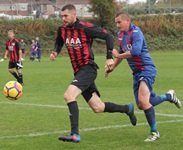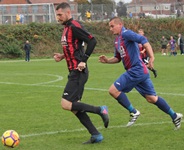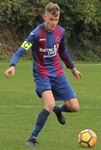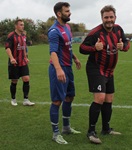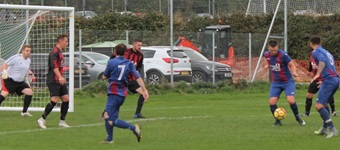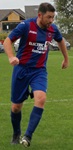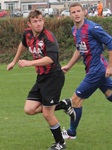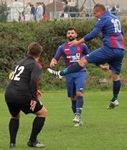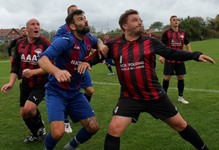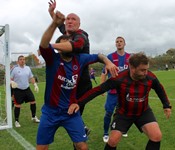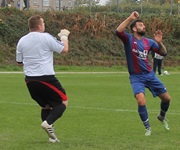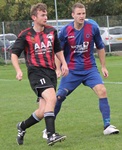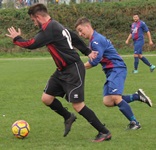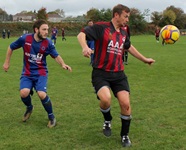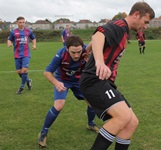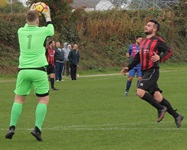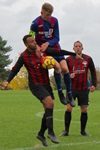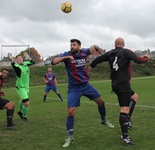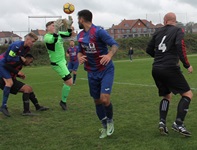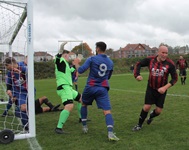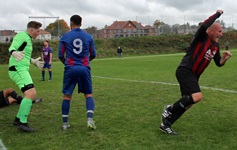 Norton Sportsman also could have gone top of the CBC Premier but they slipped to a 2-1 away loss at Tapton School to hosts Redmires. It started off well though for Norton as they took the lead after just ten minutes when Chris Winters got his head to a Sonny Wilson corner kick. Just before half time Redmires were level thanks to an Andy Bath effort. The winner came into the second half with the ever prolific Tom Whiting on target and despite Norton's best endeavours, Redmires took the points.
Wadsley Bridge Pheasant could have had a difficult game when they made the long trip to Renishaw Rangers but it proved to be a trip worth making as they recorded a 3-1 win there. After having a penalty appeal turned down, Pheasant took the lead when Lewis Fothergill crossed and Jordan Livett smashed the ball into the roof of the Renishaw net. Chances went begging for the visitors and it took an Adam Askwith side foot finish to double the lead just as Renishaw looked to get back into the game. Andy Dawson then played Fothergill to chip the home keeper for number three before Renishaw got themselves a consolation when Sam Finlaw's mazy run was rewarded with a fine goal. Harry Rodosthenous also hit the post for Rangers.
In the final CBC Premier game, current champions Stannington Village had lost their last two games going into their home clash with Wickersley. However, the run was stopped as Village went nap with a 5-0 home win. They opened the scoring when Alex Torr provided a corner and Lee Johnstone headed it in from six yards out. That was doubled when Danny Abdulla's set piece found Bill Green who scored at the second attempt after seeing his initial header saved by the visiting keeper. Just before the interval, Stannington added a third when Torr found Lewis Dickinson who finished with aplomb. Dickinson had a hand in number four, setting up Green to head in his second of the game and a good all round performance by the home side was completed with a fifth when a corner was headed out as far as Ben Cook who produced a stunning hooked volley into the far corner of the Wickersley net.
30 SEP - DIVISION 1 - Forum keep their lead as top three all win - It's five wins out of five for Division One leaders Forum as they overcame a potential awkward game at Ranch with a 2-0 success. A classic counter attack saw the deadlock broken after a goalless first half when Antony Holmes found the net. The points were secured with ten minutes to go when Matty Ord scored Forum's second and keep Jamie Smith's team perfect. Fellow promoted side Royal Earl stay second with a superb 5-1 away win at Civil Sports A. Earl controlled the game and were three goals to the good early on with Olly Beaumont, Jake Longley and player-manager Matt Parks all on target. Evan Cameron pulled one back for Civil but that was their only bright spot as the visitors added two more in the second half through Billy Wright and Tom Nolan.
Staying in touch are Cotts FC as they recorded a 5-0 home win over a Norton Oaks B side still looking for their first league win of the season. Michael Blythen scored a diving header and a penalty kick for the home side whilst there were further strikes from John Dolan, Sam Stacey and a second successful penalty kick; this time converted by Theo Wilson. Southey Social's hopes took a bit of a nosedive as they suffered a 2-0 home loss to a Norton Oaks A side now unbeaten in three games in all competitions. Goals from Martin Lee midway through the second half and John Rossiter five minutes from the end did the trick for Oaks.
Crookes FC's season moved in the right direction again with a 5-2 win at Cobden View in Division One's fifth and final encounter of the day. Daniel Flynn's strike was the sole goal in an even first half before Chris Tunstall doubled it in the second half. A superb curling effort from Ben Bell halved the deficit for the battling Cobden yet Paul Wood added a third for Crookes before Bell's header, a rarity in itself, made it a one goal game again. However Crookes kicked on once more and secured the win thanks to further strikes by Peter Smith and Max Pemberton.
30 SEP - DIVISION 2 - James bags four to help get Jockey off the mark, while top three all win - Five games in Division Two completed the schedule, and Boynton Sports still lead the way there after a 5-2 success at Colley which keeps them with a one hundred percent record. Colley could have taken the lead after ten minutes but missed the penalty they were awarded and paid the ultimate price as the visitors went down the other end of the pitch immediately with Jake Ballinger on target. It certainly inspired Boynton as they doubled the lead when Enos Huly deflected a strike from team-mate Marcus Gordon into the home goal. Faisal Miladi's header reduced the margin but the two goal advantage was restored five minutes from half time when Gordon set up Josh Jones for the latter's first of the season. Number four came early in the second half Ballinger set up Curtis Priday who dinked it home, and after wasting lots of chances Boynton added a fifth in the closing stages thanks to teenage substitute Ben Talbot. Chris Fowler added a consolation second almost immediately with a well timed chip but it was the leaders day.
Also with three wins out of three are league newcomers Sheffield Sixes as they defeated hosts Woodhouse Juniors 2-1. Woodhouse keeper Lee Williams saved a Sixes spot kick which acted as impetus to his side as Leon Cheslett's strike gave them a half time lead. Bradley Nicholson however levelled straight after the break and then with quarter of an hour left, Danny Barnsley netted the winner. In the battle of the two other unbeaten records, Mosborough Whites kept theirs as they won 4-1 at Woodseats Chantrey. Luke Walker opened the scoring midway for Whites after twenty-five minutes but Jordan Sambrook levelled matters. A costly mistake by Rhys Oakes gifted Levi Williamson and Whites their second of the game before Walker's second of the match made it 3-1 with a well taken left foot finish. The all important fourth came when Walker's effort tested the Chantrey keeper but Whites talisman Morgan Foy nodded home the rebound.
After losing their unbeaten record last week, Cadbury got sweet again with a 2-1 home win over visitors Civil Sports B. Alex Cowlishaw gave the visitors the lead but a depleted Cadbury line up equalised five minutes before the interval thanks to Josh Grant. A superb performance by the non-first choice home line up saw them create lots of chances in the second half with Tom Wilson being the hero when he netted the game winner. Yet another depleted side didn't fare too well in the shape of Brinsworth Phoenix as visitors Wadsley Horse and Jockey ran up a comprehensive 11-0 win. Reece James led the scoring with four and Niall Wilkinson chipped in with a hat-trick. George Scott added a brace himself whilst Lewis Smith and Elliott Willis completed the rout.