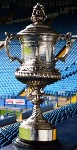 8 OCT - SUNDAY SENIOR CUP - Six go through, but three crash out - In the Sunday Senior Cup Blades Super Draw League clubs had a good day with five of them winning their ties and only three failing to progress. Leading the way were current CBC Premier Champions Stannington Village as they won 6-3 at Red Lion Bombers. Alex Torr, with a brace, and single strikes from Sean Flynn and Adam Todd had them 4-2 at the interval and despite missing a host of chances in the second they added more goals from Ben Cook and Dean Jepson to ensure they were in the hat for round three.
Aaron Liles and Kenny Brakes, the latter's second goal in as many weeks, put Norton Oaks "A" in command at home to Albert. Despite it being a close 2-1 game at the interval, Norton upped their game in the second half and scored three unanswered goals thanks to a brace from Jordan Marshall and Patric Winter finishing off a brilliant team move. Action from the game is below - pictures from Norton Oaks.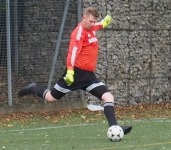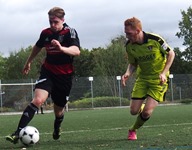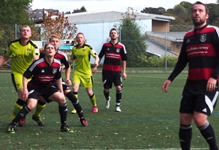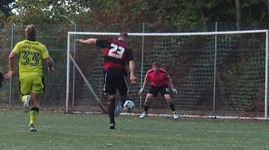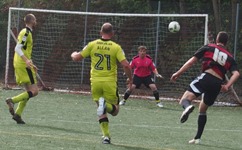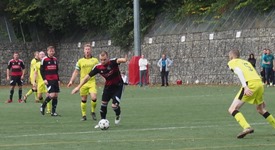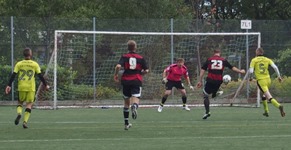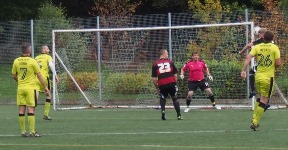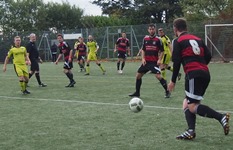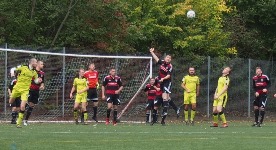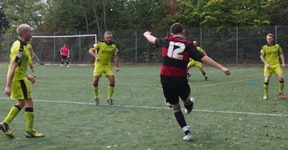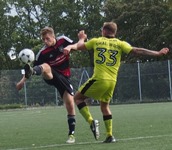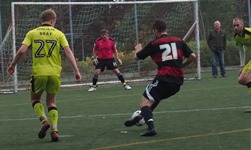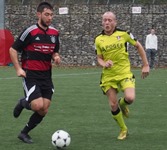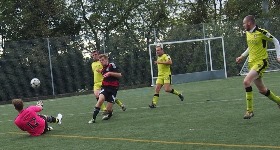 Also recording a 5-1 home win were Handsworth Old Crown as they saw off KCM Fighting Cocks. David Haggerty and Matt Ellis both scored twice and Russell Hobson once as a dominant performance, purely in the second half, gave Old Crown a deserved win.
Wadsley Bridge Pheasant enjoyed their trip to Worsborough Common and came away with a well rewarded 6-2 win. Jordan Turner led the individual scoring with a hat-trick whilst a couple from Adam Askwith and one from Joe Slater made it a good morning's work for the visitors. Our fifth side winning their tie were Intake Old Boys as they came through by the odd goal in five against Groves Social. Goals from Wood, Heald and Turner proved to be the difference there; and Redmires are also through but they didn't kick in a ball to do as planned hosts AFC Schoolboy forfeited the tie due to being unable to raise a team. Action from the game is below - pictures by Mick Moat.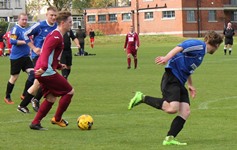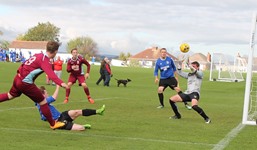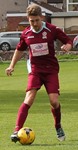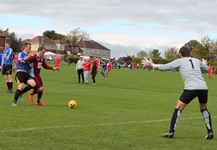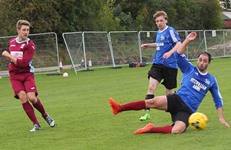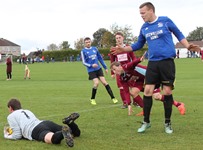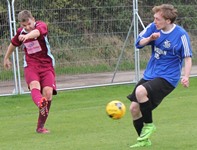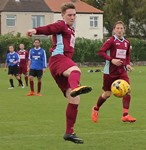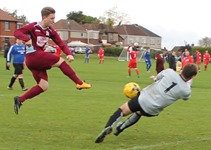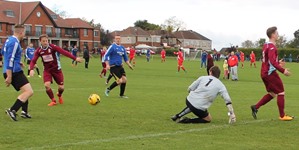 Biting the Sunday Senior Cup dust though were Penistone Church as they lost 5-3 at Balby Bridge in a game that the Penistone team felt shouldn't have been played due to the pitch condition: Lewis Dickinson, Scott Briggs and George Orrell on target for Church. Wickersley's trip to Monkwood also ended in a loss as they were defeated 4-2, Ben Thornton and Matt Godley scoring for Lewis Carder's team. Woodseats Club also fell by the wayside as Joker had enough about them to record a 4-1 away win. Club missing a penalty with a quarter of an hour left when 2-0 down proved to be the turning point as the visitors then scored a third, and although Whittaker pulled one back, a fourth in the last minute secured the visitors had the final say. Action from the game is below - pictures by Mick Moat.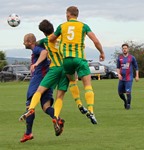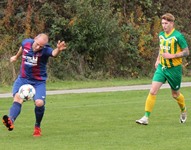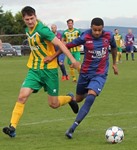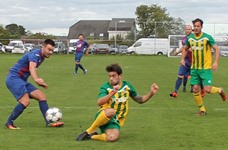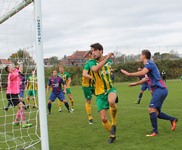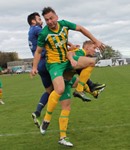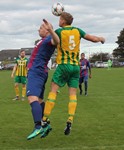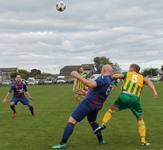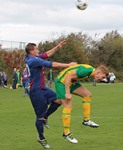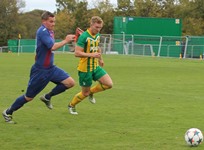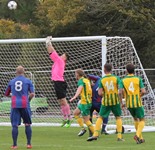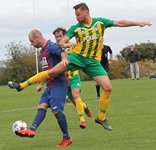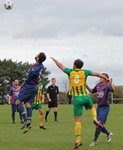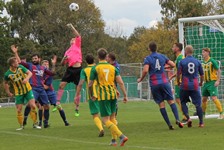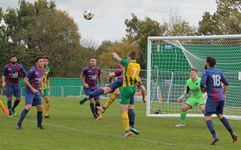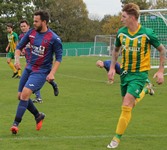 SUNDAY JUNIOR CUP - Eight go through, but three fall - In the Sunday Junior Cup, Oughtibridge WM made it unlucky thirteen for their hosts Greasbrough Reserves as they romped to a comprehensive away win. Callum Chambers and Matt Harrison both scored four times whilst doubles off Ollie Black and Chaz Tunnard plus a Callum Simms strike completed the rout. Danny Booth was outstanding in the Oughtibridge midfield, pulling all the strings and generally being unplayable.
A Liam Cartledge hat-trick proved to be the catalyst behind Crookes FC's 5-1 win at home to Elsecar Fitzwilliam Arms, Cowen and Pemberton also being on target. Also winning 5-1 were Norton Sportsman, as they recorded that at Highgate. Jack Waymouth and Brad Bowland both scored a pair and Chris Lewis also netted for a nap hand. Scoring doubles were Nasa Meah and Matt Jessermino for Norton Oaks "B" as they recovered from conceding an own goal at home to Café Sport Comrades, Will Carlisle also scored for Oaks as they ended up winning 5-2.
Southey Social were always in command of their tie at home to Manor Barn. Ryan Whitney and Todd Guest put them in command and a second half double from Josh Sugden gave Social a comfortable 4-0 win at the end. Two from Antony Holmes, and further goals Carter Mupwaya and Javan Sherratt ensured Forum's path at the expense of Woodhouse Athletic whilst Jack Bennett scored both goals for Mosborough Whites and make their lengthy trip to Langold Lakeside a worthwhile one. In the all Blades Super Draw League tie, it was Royal Earl who came out on top against hosts Ranch. Earl had six different scorers in Steve Brammer, Mike Towey, Jack Hargreaves, Tom Roebuck, Ryan Hindley and Chris Wood as they overcame their Division One hosts who had Ash Betts and an own goal to account for their tally.
Exiting the Junior Cup were Brinsworth Phoenix as hosts AFC Thirsty Flame extinguished them with a 4-2 home win; goals from Joe Statham and Nathan Darwent for the visitors. Woodseats Chantrey were left rueful as they were beaten 4-3 at home by Queens Head Hoyland. Chantrey were ahead after twenty minutes thanks to Charlie Hawkins but Queens then scored four answered goals to put the match seemingly beyond reach. However, the home team rallied in the final quarter of an hour and goals from Danny Lonsdale and Jordan Sambrook made it an interesting finish but they couldn't get another to force extra-time. Boynton Sports home tie against Todwick Villa was postponed until next week.
CBC PREMIER - Kamara gives Civil a Killa blow to send Juniors top - There was only a sole game in the CBC Premier Division and a Leon Howarth penalty seemingly put Civil Sports "A" on the right track at Killamarsh Juniors. Inspired by some fine goalkeeping by veteran James Abramski at one end, Killamarsh took a firm hold of the game at the other with four unanswered second half strikes. Chris Savage and Josh Batterham put them in front and they never relinquished it. Montelle Kamara with a brace, his first a superb thirty yard free-kick into the top corner, secured a 4-1 home win and as a result sent Killamarsh to the head of the CBC Premier table.
DIVISION 1 - Sam's the man to send Village back to the top - In Division One Woodhouse Village are the new leaders after a 4-2 win at a Civil Sports "B" side still looking for their first points of the season. Sam Fewkes scored a double for Village to take them there whilst Theo Wilson and Chris Salt also netted in the battle of the newly promoted sides; Civil's scores coming from Ben Firth and Jack Challenor. Two penalties from Joe Taylor helped Cobden View to a similar win at Cotts FC in a well contested game. Salem Hizam and Tom Houghton scored for the home side but Josh Limbrick and Tim Pitt also netted for Cobden to hoist them into fourth place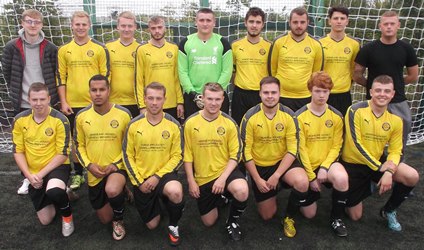 DIVISION 2 - Jockey Mitch too good for Reds to go top - Division Two action saw Wadsley Horse and Jockey become the new leaders after a 5-2 win at previously unbeaten Mosborough Reds. Two goals in the opening six minutes gave the visitors the lead and they would never let it go after that. Mitchell Simnett scored twice for Jockey whilst further strikes from Danny Barnsley, James McCormick and Ross Lamkin ensured they went nap; Joe Harris scoring twice for Reds. Billy Hilbert scored a hat-trick for Shakey as they defeated Crookes and District 6-1 on the road. New signing James Lippett had levelled matters for Crookes, but Shakey kicked on with Ross Ford, Steve Dickinson and Adam Smith also finding the net. And finally, Cadbury enjoyed a sweet away trip to Woodhouse Juniors: winning 2-1 thanks to goals from Holmes and Waite; Matt Megson being the home side's solitary scorer.