11 OCT - Race night for Phil - Intake Old Boys secretary Phil Jowett (left) has been diagnosed with prostate cancer and is going through a tough time at the minute. Phil he has been a popular figure around grassroots football for over 25 years so his long standing friend Kev Sheedy has organised a fund raising race night for Phil so we can give him something back. The race night is Friday 29th November 7.30 start at the Attercliffe Liberal Club and Kev is looking for people to sponsor a race at £10 per race and / or buy a horse in each race which is £5 per horse. If anybody from our league wants to sponsor a race or buy a horse please contact Kev Sheedy via email owlslegend@hotmail.co.uk
8 OCT - STEVE GEE MERIT CUP FINAL - Colley to face Southey Social in the Steve Gee Merit Cup Final - This season's Steve Gee Merit Cup Final will be at Stocksbridge Park Steels Look Local Stadium on Thursday 17 October and it will see Division One rivals Colley and Southey Social meet each other. The game kicks-off at 7:15 pm and admission is free.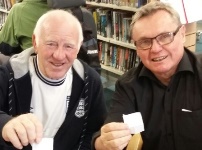 8 OCT - LEAGUE TWENTYTWO CUP - Three all-CBC Premier ties in the Round 3 Draw - The draw for Round 3 of the League Twentytwo Cup was made by the Crystal Peaks' Library Sporting Memories group today and it saw three all-CBC Premier ties come out of the hat. The full draw is: Chapeltown RBL v Norton Oaks; Civil Sports or Boynton Sports v Woodhouse JFC or Royal Earl; Colley v Wickersley Youth OV; Crookes FC v Cotts FC; Eckington BFC v Ranch; Redmires v Handsworth Pub; Stannington Village v Killamarsh Juniors or Southey Social; Woodseats Club v Norton Sportsman. Pictured right is two of the Sporting Memories group that made the draw, Dave Redfern (left) and John Longstaff MBE (right).
The following games will be scheduled for 3 November: Chapeltown RBL v Norton Oaks; Colley v Wickersley Youth OV; Crookes FC v Cotts FC; Eckington BFC v Ranch; Redmires v Handsworth Pub; Woodseats Club v Norton Sportsman. Also on 3 November will be the Killamarsh Juniors v Southey Social and the Civil Sports v Boynton Sports ties postponed last weekend. The other postponed tie, Woodhouse Juniors v Royal Earl, will be scheduled for 10 November
Providing the three postponed ties are played as re-scheduled, the following ties will probably then be scheduled for 1 December: Stannington Village v Killamarsh Juniors or Southey Social; Civil Sports or Boynton Sports v Woodhouse JFC or Royal Earl.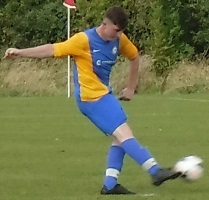 6 OCT - LEAGUE TWENTYTWO CUP - Eager Beever at the double as Eckington shock Oughtibridge - Round 2 of the League Twentytwo Cup saw just one shock, with a Ben Beever (left) double helping Division Two newcomers Eckington Boys come from two down to win 3-2 at CBC Premier and 2015 winners Oughtibridge WM. The home side made a strong start and took the lead early with a Tom Galloway header in the box. Despite Eckington beginning to gain momentum they were dealt a sucker punch after failing to clear and Brad Fletcher produced a tidy finish from outside the box to make it 2-0. Matt Harrison could have made it 3-0 when he hit the post, but Eckington were growing into the game and Beever's run down the right allowed him to get in behind the defence and drive a low, hard shot into the bottom corner.
A great start to the second half saw Eckington pile on the pressure in search of an equaliser and a great run from left back saw Owen Ryan beat two men, before he calmly slotted underneath the keeper to equalise. The game now became open with chances at either end and only a great save by Eckington keeper Luke Sanderson stopped Oughtibridge going back in front, but in the 75th minute Eckington got what proved to be the winner when a ball over the top was controlled by Ben Beever before he rounded the keeper to score.
Another former winner to go out was Wadsley Bridge Pheasant who slipped to an extra time 4-3 defeat at CBC Premier title rivals Stannington Village. Stannington started brightly and had a few chances before taking a deserved lead when a through ball from Danny Smith found Shaun Flynn who finished well
Pheasant hit back and got a deserved equaliser before half time with a Jordan Stocks penalty. Pheasant continued on top after the break and got their rewards with a Josh Statham strike and they looked likely to go through until a last minute scramble allowed Josh Allison to equalise. Lewis Fothergill put Pheasant back in front in extra time, but Stannington replied immediately when Lewis Dickinson bet two men on the edge of the area before finding the bottom corner. Stannington looked the stronger team now and they won it when a quick break allowed Dickinson to put Lee Johnstone away and, although his shot was blocked, the rebound fell to Piers Bond to score.
The nearest to a shock elsewhere was at CBC Premier Cotts, who needed extra time and a penalty shoot-out before finally beating Division One Sheffield Sixs. Cotts led at half time with a Sam Stacey header, but after the break an horrendous keeper error by veteran keeper James Newsome gifted Brad Howe an equaliser for Sixs. Sixs then hit the bar twice and the post, but Cotts held on and after the stalemate continued in extra time, Cotts won the penalty shoot-out 5-3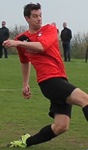 Another close call came at Division One Cobden View, who were just edged out by a CBC Premier and former holders Handsworth Pub in a seven goal thriller. After four straight league defeats Handsworth were looking to kick start their season, and they took the lead when Jas Colliver connected perfectly an outrageous strike from just inside his own half. The game then spread and Cobden View equalised when Sean Robinson curled a beauty into the top and then took the lead in the space of two minutes with a second from Robinson. A powerful team talk by Handsworth's interim manager Ryan Goodinson got a positive second half display and Matty Ellis (right) equalised with a lovely finish after hard work by big Ben Shackshaft. Handsworth keeper Tom Crosby was called upon to keep them in the game before eventually being beaten by a cross shot from Tim Pitt that looped in the top corner. Once again Handsworth responded and when the ball dropped on the edge of the area that man Colliver was first to react and caressed it in level. Extra time looked certain until Sam Marsden latched onto a flick and volleyed it home to send Handsworth through.
Division One Norton Oaks just squeezed through 3-2 at Division Two Mosborough Reds. Great play by Jake Leonard paved the way for Alix Sorsby to round the Oaks keeper to put Reds in front, but Oaks equalised right on half time with a Conor.Rogers header. After no further goals in the second half, extra time saw debutant Brad Rogers put Oaks in front and a Russ Worley volley made it 3-1 in the second half of extra time. Scott Williams pulled one back for Reds, but Oaks held on.
Another close game saw Division One Chapeltown RBL just pipped Division Two Shakey 2-1. Postman Ben Stringer showed he could deliver both on and off the pitch with a first class chip over the keeper to put RBL ahead and Joe Moorhouse doubled the lead before half time when he bundled in from close range. Shakey had a few chances in the second half and pulled one back when Adam Rowley found the net, but the RBL defence made sure they went through.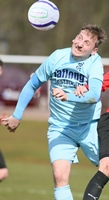 Elsewhere, CBC Premier clubs went through comfortably with Crookes, including 4 goal Liam Cartledge (left), leading the way by beating Division Two Prince of Wales 15-0. Prince's chances weren't helped by a depleted squad, that was further reduced to ten when Ben Sheldon came off with an injury allowing Crookes to run riot.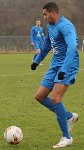 Woodseats Club produced an impressive performance to beat Division One leaders Intake Old Boys 7-0. Liam Bryan (right) led the way with a hat-trick, whilst Woodseats others came from a Ben Southwell double and one each from Cole Oliver and Reece Sturman. Redmires beat Division Two Nether Green 7-1 with Tom Whiting scoring four for a second week running. Andy Bath, Danny Reet and an own goal was Redmires other scorers, whilst Tom Wellman hit Green's consolation.
Despite falling behind to an Elliott Phelan strike from a narrow angle for the home side, Wickersley Youth won 6-1 at Division Two Darfield United. Kris Lee-Green equalised when he took the ball in area and beat two defenders to score from 8 yards and he put Wickersley in front with a header over the keeper. He should have completed his hat-trick before half time, but skied a penalty over the bar. Soon after the break, a low cross from McGuiness saw a diving header from Jordan Thomas extend the lead and McGuiness headed in number four from a Brook Whitmill cross. Sam Terry then crossed for Ben Thornton to beat the keeper and Thornton grabbed his second in the final minute.
Norton Sportsman also hit six to beat Division Two Wadsley Jack Athletic 6-1. Jack Waymouth set up Josh Gibson for a tap in to give Norton the lead, but that was the only goal until after the break. Jack Waymouth latched onto a James Archer pass to double Norton's lead, but Leon Dearns quickly pulled one back for the visitors. Two each from Archer and Antony Holmes settled it for the home side though.

Division One Colley beat Division Two Cadbury 6-2. Colley started like a house on fire and found themselves two up in eight minutes through a Danny Parker (left) screamer and a smart James Malone finish. Colley continued to press, but a mistake allowed Corey Stewart to pull one back before half time. Another from Parker and a Faisal Miladi strike put Colley in control and although Jacob Beech netted a second for Cadbury, Parker coolly finished to complete his hat trick, before Matt Jebson scored Colley's sixth. Despite Cadbury missing a late penalty Colley comfortably went through.
Ranch managed their first clean sheet at home for over a season to put out fellow Division One side Mosborough Whites 2-0. Ranch keeper Alex Smith made a number of good saves to keep the game scoreless in the first half and he made a couple of more important saves after the break. It wasn't one-way traffic though and with just a quarter of the game remaining, Ty Gunter carved out the chance for Jack Jones to fire Ranch ahead, and as Whites pushed for an equaliser, a quick break saw Matt Jacobs seal the win for Ranch
Three ties, Civil Sports v Boynton Sports, Killamarsh Juniors v Southey Social and Woodhouse Juniors v Royal Earl were all postponed due to waterlogged pitches. All will be re-scheduled, probably in November.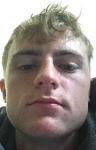 6 OCT - DIVISION 2 - Hastings double helps Bohemians go top - James Hastings (right) scored twice as League newcomers New Bohemians won 5-1 at Beighton Magpies to go top of Division Two. Hastings opened the scoring with a penalty after just five minutes, before Sam Smith quickly added Bohemians second. It stayed like that until the second half when Jono Cooper's deflected strike made it three. The Beighton keeper then passed a goal kick straight to Hastings for him to add his second, and although newcomer Faria Chiveto pulled one back for Beighton, Zach Burns curling effort completed the scoring for the visitors.

4 OCT -
Fixtures for all OCTOBER 2019 now added -
The Fixtures and Referees for 6 October were already on the website and now they have been added for the rest of OCTOBER. Home clubs should contact their opponents and Referees where shown ASAP.