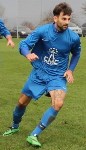 31 OCT – LEADING SCORER – Read all about it, Sam tops the charts – Division One FC Inter striker Sam Read (pictured right) is the early leader of the Leading Scorer chart, closely followed by CBC Premier Handsworth Everest Inn's Sam Marsden. Next come Civil Sports' marksman Jordan Turner and Sheffield South's Harry Pollard. Pollard's team mate Jack Hollis-Smith is just a goal behind along with Max Rhodes of Crookes, Stannington Village's Jack Haslam and Eckington's Joe Renshaw. The full list can be seen in the Results section.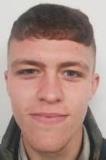 31 OCT – CBC PREMIER – Sam's the man to see Everest climb – In the only CBC Premier game to beat the weather, a Sam Marsden (pictured left) double helped Handsworth Everest Inn to a 3-1 victory over Norton Oaks and climb up to second in the table. Everest had plenty of possession in the first half, but couldn't break down a stubborn Norton defence. Marsden had their best chance, but dragged his shot wide.
Everest changed to a 4-3-3 for the second half and got their reward within two minutes when a long ball from Ryan Goodinson was expertly brought down by Marsden before he fired home. Marsden then grabbed a second after a scramble in the box, but Oaks hit back and reduced the arrears when Chris Pigott set Billy Ireland up to score his first goal since March 2018. Everest hit back almost immediately with Liam Greenfield crossing for Perry Jackson to curl his 20 yard shot into the top corner. It might have been more after that with Marsden missing two headers and the chance for his hat-trick, and Joe France had one ruled out for offside. Referee Steve Clarkson said the attitude of both teams was what you would want in every game and he would have given both teams 20 out of 10 for the way they both conducted themselves.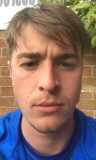 31 OCT – DIVISION 1 – Pollard to the four, but Inter widen the gap – The two Division One games played produced no fewer than 17 goals, with Harry Pollard (pictured right) hitting four of them as Sheffield South maintained their perfect away record with an 8-1 victory at Colley. It was just 2-0 at the break, but the visitors ran riot in the second half with further goals coming from Josh Ing, Ryan Phillips, Jack Hollis-Smith and Louis Marven. Colley's goal came from Chris Belshaw, but it will be little consolation after suffering the second successive 8-1 home defeat.
Still top and now five points clear is FC Inter after a Sam Read double helped them beat Wadsley Jack Athletic 7-1. Read put Inter ahead and although they were pegged back by a terrific 40 yard Brad Worsfold strike, they were back in front at the break thanks to a Tom Ward strike. The second half was one-way traffic with Read adding his second along with Lewis Whitaker, Rob Sturman, Russ Westby and a first ever overhead kick goal for Liam Richards. There was also plenty of praise for young referee Daniel Laugharne.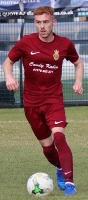 31 OCT – DIVISION 2 – Saxton invades the Tower, but Shakey hold the Reds – In the two Division Two games beat the weather, Denham Saxton (pictured left) scored twice as Chapeltown RBL showed their promotion credentials by coming from behind to win 4-1 at Water Tower. Not surprisingly, Water Tower adapted to the wet conditions at the start of the game and deservedly took a half-time lead when Lewis Fretwell cut in from the left before firing past the keeper. Chapeltown turned the scores around soon after the break when Saxton met the ball at the back post, before quickly volleying a second after being set-up by Niall Smith. They added a third when Adam Todd was fouled 30 yards from goal and he quickly picked himself up to score his third goal in as many games. Chapeltown keeper Ben Palmer then had to be at his best with a one-handed save to keep Tower out, before the final nail in the home side's coffin came with Harley Wilson picking out Smith to race through and find the bottom corner.
Second place Mosborough Reds missed the chance to close up on the leaders after they were surprisingly held to a 1-1 draw at Shakey. After a goalless first half it was Reds that took the lead when Terence Ncube's ball from the right was slotted home by Matt Ellis, but Shakey were more than playing their part in the game and grabbed a deserved equaliser through Liam Moorhouse.


31 OCT – LEAGUE TWENTYTWO CUP –
Phoenix and Bohemians will have to try again –
Brinsworth Phoenix delayed League Twentytwo Cup tie against fellow Division One side New Bohemians was postponed a second time, so they will have to try again on a date to be arranged.
28 OCT – ROTHERHAM CHARITY CUP – Jack's the Lad to see Joker Wickersley into the Rotherham Charity Cup semi-finals – Joker Wickersley played the
remaining Quarter final of the historic Rotherham Charity Cup competition, against The Mexborough and District Sunday League side, Queens Utd and the saying about football being a game of two halves was never more true. Queens came out a slightly stronger attacking side in the first period and went ahead in the 37th minute when Enzo Guamni, cut in from the left and his shot from the edge of the box, through the crowded box found the back of the net.

Queens made several attempts on the Wickersley net during the half, but were thwarted by the Joker Wickersley defence and the in-form keeper Jack Pasley (pictured right). Joker Wickersley's best chance came from a Ryan Smyth header a hair's width wide later in the first half.

During the break a couple of changes to the side and formation of Joker Wickersley, saw the side emerge as a committed and focused side, creating good goal-scoring opportunities as the half progressed. After 76 minutes Joker Wickersley, drew level when Liam O'brien, latched onto a ball on the edge of the area and hit a low shot into the Queens net. With the wind in the Joker Wickersley sails, O'brien came close to winning the tie when he hit a similar shot only to see it rebound off the post. Queens had a last gasp attempt on the net when a shot was deflected by Shaun Edwards just over the bar.

Penalties ensued, with both sides taking 10 penalties and both sides having chances to seal the match. Joker Wickersley's keeper Jack Pasley, saved five of them and it was left to Kallum Nix to take the twentieth penalty which he placed past the Queens keeper to win the tie 7-6 on penalties.

This is the first time in the history of the charity cup that all four semi-finalists are from four different South Yorkshire leagues. Joker Wickersley join, AFC Three feathers (Rotherham Sunday league), Dog Daisy, (Mexborough and District Sunday League) and Wombwell Main (County Senior League). The draw is to take place in November with the semis being played in February.