25 NOV - December Fixtures now listed - The Fixtures for December are now listed in the Fixtures section. Fixtures on 18 December could change dependent on whether or not Redmires is able to play their Sunday Senior Cup tie and whether Penistone Church and Woodseats Club are able to play their Sunday Junior Cup ties.
All home teams MUST make sure that their home pitch is available on all the dates shown. Please email Keith immediately if your pitch is not available on a date shown.
All home clubs must also confirm the details with your referees and opponents for all dates shown IMMEDIATELY. The home clubs should later (the Tuesday before the game) ring the referee to make sure the referee has got all the details. Please email Keith immediately if any of the referees tell you they cannot do the fixture listed.
Matches without referees must still go ahead and, if you have not been allocated a referee by the date of the game, the two clubs must agree on a stand-in 'referee' between them. Keith will still be working to gain more referees, so if you find one yourself, will you let Keith know immediately please.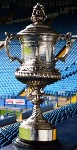 21 NOV - Sunday Cups Quarter Final draws - The County FA Sunday Cups Quarter Final draws have been made and in the Senior Cup our three remaining teams have avoided each other. Redmires reward for beating the holders is a home tie against opponents yet to be decided, but include last season's beaten finalists, the current Rotherham Sunday League leaders, Fitzwilliam Arms. The other two are both away, with Stannington Village travelling to Anston Leeds Arms of the Rotherham Sunday League, and Norton Oaks A travelling to Meadowhall Premier outfit High Noon.
The full draw for the Sunday Senior Cup is: REDMIRES v Winner of tie 64 (Balby Athletic or Forum FCCO v Fitzwilliam Arms); Anston Leeds Arms v STANNINGTON VILLAGE; High Noon v NORTON OAKS 'A'; Joker v Royal Earl. All the ties are scheduled for Sunday 18 December, although Redmires tie is likely to be delayed until after that date.
The Sunday Junior Cup has one definite all-Blades Super Draw Quarter Final between Division One rivals Chapeltown RBL and Dale WMC and there could be another all Division One tie if Penistone Chucrh win their delayed Round 4 tie as they will entertain Woodseats Club. Ecclesfield Players Lounge have a home tie against Maltby Rangers or Wath Tel-Star.
The full draw for the Sunday Junior Cup is: ECCLESFIELD PLAYERS LOUNGE v Winner of tie 90 (Maltby Rangers v Wath Tel-Star); Winner of tie 91 ((Millmoor Juniors v Maltby Stute or Don John Mens) v PENISTONE CHURCH) v WOODSEATS CLUB; Swinton Robin Hood v Brinsworth Whitehill U21; CHAPELTOWN RBL v DALE WMC. All the ties are scheduled for Sunday 18 December, although the potential Penistone Church v Woodseats tie is very likely to be delayed until after that date.

20 NOV - SENIOR SUNDAY CUP - Redmires spot on to KO the holders, while double hat-tricks send Stannington and Norton Oaks through - Redmires won a penalty shoot-out to knock out the holders Westville to go through to the Sunday Senior Cup quarter finals. The Blades Super Draw League will make up 3 of the last 8 as hat-tricks for Danny Abdulla and Danny Smith saw Stannington Village hit double figures against Rotherham's APS Drawbridge, while Danny Reet (right) and Liam Paterson also both hit hat-tricks as Norton Oaks comfortably beat Meadowhall Premier Davys.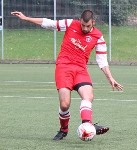 Given the hardest task of all, Redmires sent current Sunday Senior Cup holders Westville out after a penalty shootout. The game didn't start well for Redmires as the visitors scored in the first twenty seconds, but Dave Knaggs' men levelled when Chris Cottyn was sent tumbling in the area and Jon Wall finished from the spot. Andy Bath took advantage of some sloppy visiting defence to put Redmires 2-1 ahead before Westville levelled with quarter an hour left. No further goals followed so it went to penalties and in a nervous battle, Danny Turner (left) scored Redmires' sixth before Joe Taylor saved to send his side through.
Stannington made the biggest impression with a comprehensive 12-0 away win at APS Drawbridge. Danny Abdulla scored a first half hat-trick as Village took the game by the scruff of the neck. Danny Smith matched Abdulla's feat in the second half, whilst there were further strikes from Arnie Grayson with a brace – his first goals for the team – and singles off skipper Lee Johnstone, Joe Howsham, Alex Torr and Dean Jepson.
Also hitting the goal trail were Norton Oaks "A" as they defeated Davy's 7-3. Despite intimidation from their opponents, Norton put the game to bed with five goals without response at half time: Liam Paterson with a treble and Danny Reet with a couple. In the second half, Davy pulled a couple of goals back to make it 5-2 but Reet completed his hat-trick with a superb long range chip to make it six. Charlie Patterson added a seventh Norton goal with a neat finish before the visitors scored a third in the final minutes. Action from the game is below.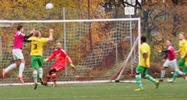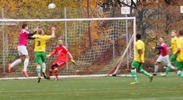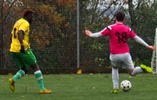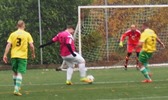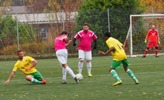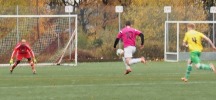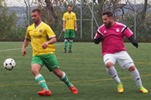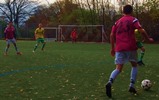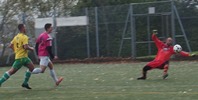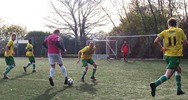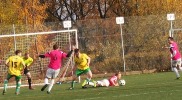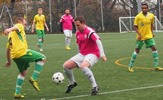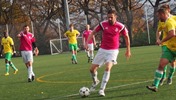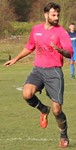 JUNIOR SUNDAY CUP - Owen, Read and Roberts trebles see Woodseats & Dale through along with Ecclesfield and Chapeltown - In the Sunday Junior Cup Nicky Owen and Sam Read (left) both scored hat-tricks as Woodseats Club hit double figures against Chesterfield's Bolsover Town and Sam Roberts also hit three as Dale WMC brushed aside another Chesterfield side, Brampton Rovers. They are joined in the last eight by Ecclesfield Players Lounge who defeated Rotherham's Dalton Progressive, and Chapeltown RBL who comfortably won at Barnsley's FC Pockets. The Blades Super Draw League will make up 5 of the last 8 if Penistone Church win their delayed Round 4 tie.
Dale WMC took advantage of some slowness in Brampton Rovers defending to be 3-0 up after just ten minutes, Sean Maloney and a brace from Sam Roberts. Central defender Richard Hirst powered home a header for four before Brampton pulled one back only Maloney's second of the game made it 5-1 at the interval. Some great play from Roberts and Jordan Wathall set up Ben Pond to crash a sweet half volley to made it six. Brampton then spurned a number of chances before making it 6-2 only for Roberts to complete his treble with a bullet shot from inside the box with eight minutes left. Action from the game is below - pictures by Mick Moat.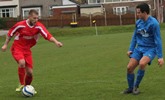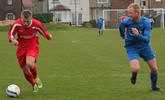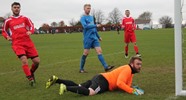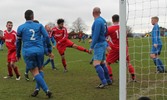 Woodseats Club had a comprehensive path into the next round, dispatching visitors Bolsover Town 11-0. Sam Read and Nick Owen both scored a hat-trick, Liam Bryon and Keith Cronin a brace apiece and one from Chris Lees. Action from the game is below - pictures by Mick Moat.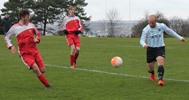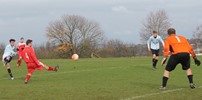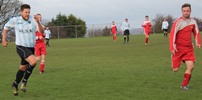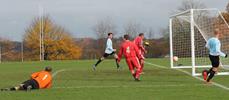 Chapeltown RBL also got a clean sheet as they came away from FC Pockets with a 5-0 win. Joe Moorhouse and Ryan Robinson had them two goals to the good by half time before a nice volley from Louis Barnes made it three just after the interval. Good work from Joe Malone set up Andy Varns for a tap in and four before skipper Danny Cardwell fired home an unstoppable free kick to complete the nap.
Ecclesfield PL are also through after a 2-0 win at home to Dalton Progressive; a team that had knocked out fellow Blades Super Draw League side Crookes and District in the previous round. A lot of pressure eventually told when a Dalton defender turned the ball past his own keeper to give Paul Bashforth's men the lead. Ecclesfield, driven on by man of the match Mark Groves, wasted a lot of chances to increase the lead but sealed the deal in the last ten minutes thanks to a low drive from Ashley Matthews.

CBC PREMIER - Haggerty special helps put Turf back on top, while Whitehill do the double over Phoenix and Angel get back on track - FC Handsworth Turf skipper Dave Haggerty (right) scored a real cracker as his side went back to the top by completeing the double over reigning champions Wadsley Bridge Pheasant. An Ainsley Finney double helped Brinsworth Whitehill complete the double over fellow Brinsworth side Phoenix, while a Rikki Davidson double against one of his former clubs helped Woodhouse Angel get back to winning ways with victory over Civil Sports A.
FC Handsworth Turf went back to the top of the CBC Premier when they came from behind to defeat current champions Wadsley Bridge Pheasant 4-1. Connor Simpson gave Pheasant the lead in the first half but the hosts failed to capitalise on chances and increase their lead, but Turf were a different side in the second half after a few changes. Former Rotherham defender David Haggerty superbly volleyed home from twenty yards after a corner had landed at his feet for the equaliser before two from Russell Hobson put the visitors 3-1 to the good. The inspirational James Leesley set up David Sills for number four and game over; Pip Miskell was outstanding for Turf
It took another comeback to secure the points, this time for Woodhouse Angel against Civil Sports "A". Civil made the brighter start and took the lead with a superb effort from distance by highly rated striker Thomas Bamford. Experienced head Paul Billard made it two with another well taken effort, but a Johno Williams effort reduced the arrears before the interval. Former Civil striker "Rocky" Davidson scored twice to put Angel ahead and the points were secured when Civil keeper Joshua Branch went up for a late corner and failed to contact, allowing Angel to take advantage with Jordan Rymell scoring into the empty net.
The only other game in the CBC Premier saw Brinsworth Whitehill maintain their control in the Brinsworth derbies, defeating Phoenix 4-2. Phoenix made the early running before Ainsley Finney found the net against the run of play; only for Jack Hawkes to score a deserved leveller. Kieran Goff gave them the lead after some good play from Karl Fox but unfortunately Phoenix started to tire. Inspired by the pacy Adam Pursehouse, Whitehill started to wrestle the game away from the visitors. Substitute Sam Carr was in the right place to level after Cory Goodwin had been denied at point blank, before Pursehouse was sent tumbling in the box and Finney scored the go ahead. More chances followed, but Ross Johnson's strike from the edge of the area secured the points and score a fourth Whitehill goal.
DIV 1 - Oughtibridge back on top - Oughtibridge WM are back on top of Division One after a home victory over Intake Old Boys. Chaz Tunnard opened the scoring after a great Ollie Black pass and team move before Callum Chambers put the game beyond visitors Intake Old Boys with ten minutes left. The hosts were grateful for a solid performance by Arran Lamb in cover for regular goalkeeper Paul Cadman, and saw the return in the last fifteen minutes of Justin Westoby whom had been out for eighteen months injured. The other two games at AFC George and Penistone Church were both postponed due to waterlogged pitches

DIV 2 - No stopping Pitt as Cobden beat Cadbury, but Norton Sportsman go back on top - Tim Pitt (left) scored four as Cobden View kept up their Division Two promotion push with victory over Cadbury, but back on top is Norton Sportsman after their victory over another promotion challenger Colley. An El Yougo double helped Norton Oaks B stay in the promotion hunt with victory over Woodhouse Juniors, while Crookes & District beat Woodseats Chantry to win for a second week running for the first time in almost three seasons. Two Blunkett goals for The Sahkey and two from Oxley for Steelers saw the two sides share the points, but Woodhouse Village's visit to Civil Sports A was postponed.
Going back to the of Division Two are Norton Sportsman after a dogged 2-0 home win over a battling, yet scratch, Colley team. The opening goal came with fifteen minutes to go, Joe Muress being the man to notch. Chris Winters secured the win with five minutes left and hand Sportsman their three points. Closing to a point behind Norton and second placed Woodhouse Village are free scoring Cobden View as they beat Cadbury 6-0. After an even first forty minutes, with Cadbury's keeper pulling off a list of saves, Tim Pitt opened the scoring. Yet Cobden turned it up another notch in the second half, Pitt adding three to make it four on the morning and singles from Cav Rowland and substitute Rich Higgins weighing in for six team goals.
Taking account of Civil Sports "B"'s inactivity, Norton Oaks "B" are now fourth after a 4-2 home win over Woodhouse Juniors. All the damage was done in the first half as a double from Hamza El Yougo and one each from Ryan Freeman and Joe Lawson with Luke Simmons responding for Woodhouse. Tom Bland scored a second visiting goal but Oaks have won four in four to head up in the right direction.
Jordan Sambrook gave bottom of the table Woodseats Chantrey a seventh minute lead at Crookes and District but Tawti restored the parity three minutes later. Ten minutes from half time, Jordan Coates continued his incredible run of scoring and that proved to be the winner as both sides failed to improve on their goal tallies whilst Crookes Neil Oldrey clearing four Chantrey chances from the line himself. Finally Steelers and hosts The Shakey shared six goals and had to settle for a point each in a 3-3 draw; Josh Blunkett (twice) and Andrew Redfearn for Shakey whilst Fraser Oxley – also with a double – and Joe Armitage provided the scoring.