1 APRIL - Norton Oaks A resigned - The League was sorry to receive the resignation of Division 1 Norton Oaks A. Because they had already played 75% of their League games this season it means their opponents for their two remaining games - Mosborough Reds and Civil Sports A will be awarded 3-0 victories. PS - this is NOT an April Fool's joke.
31 MAR - TWENTYTWO CUP SEMI-FINALS - It's an all-Division One final as Earl prove too much for Crookes and a late Mawbey strike for Forum - For only the second time in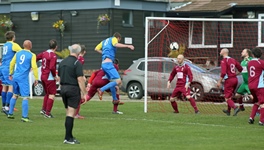 League history, the League Twentytwo Cup Final will not feature a Premier Division side after a late Callum Mawbey strike saw Division One leaders Forum beat CBC Premier side Handsworth Old Crown and a Tom Nolan penalty clinched victory for Royal Earl over fellow Division One side Crookes.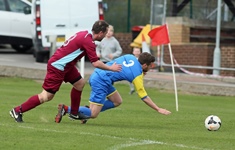 After a shaky start, Royal Earl took the lead after 20 minutes when a through ball from Mike Towey found Steve Brammer and he dinked the ball over keeper Paul Clements. Gareth Simons' shot looked like it would double the lead, but this time Clements tipped the ball over the bar. After the break Clements made an even better save to deny Callum Westney before Michael Towey was also denied by Clements, but he wasn't denied for long as he met the corner with a thumping header to double Earl's lead - pictured left.
Crookes fought hard to get back into the game and Liam Cartledge headed over at the back post before Matt Cowen missed an even better chance when shooting wide. They did get some reward when Mike Murphy shot home from the edge of the area with five minutes remaining, but as they piled men forward they were caught on the break and Conor Chapell was brought down in the penalty area (pictured right) allowing substitute Tom Nolan to smash home the penalty and clinch the tie.
More action from the game is below.
The teams: Crookes FC: Paul Clements, James Hambling, Michael Murphy, Simon Mirfin, Philip Parkin, Peter Smith, Andrew Parkin, Chris Tunstall, Joel Purkiss, Liam Cartledge, Matthew Cowen Subs: James Reed, James Knowles, Robert Jerrison, Micah Bishop, Matthew Roney
Royal Earl: Callum Fielding, Richard Tootle, Connor Chapell, Oliver Beaumont, Callum Westney, Spencer Goff, Gareth Simons, Michael Towey, Steven Brammer, Jonathan Williams, Sam Fewkes Subs: Thomas Nolan, Ryan Hindley, Thomas Furniss, Christopher Wood, Joshua Ranch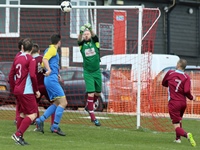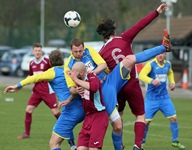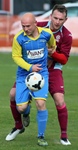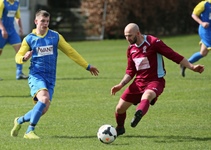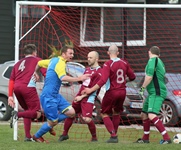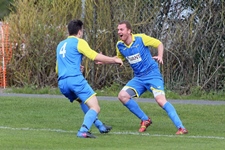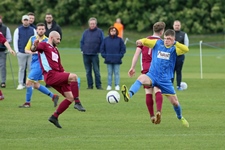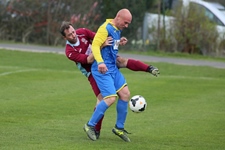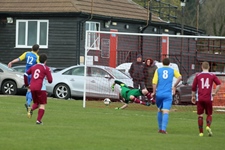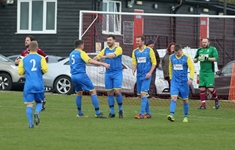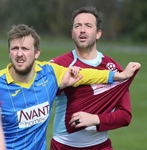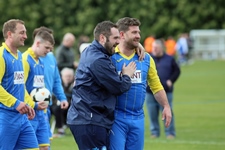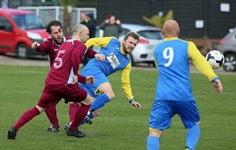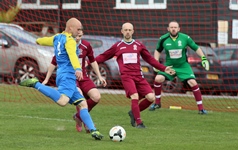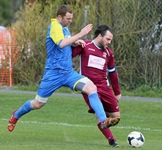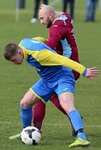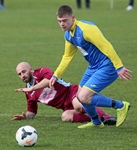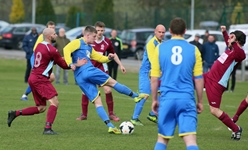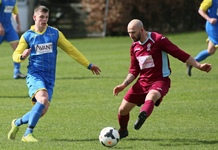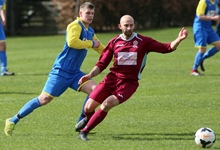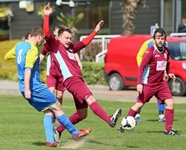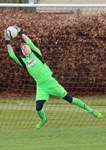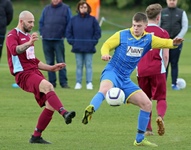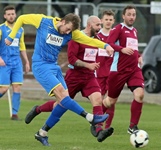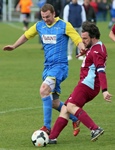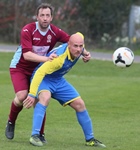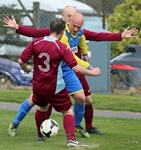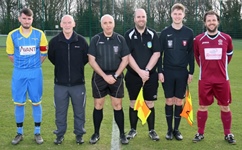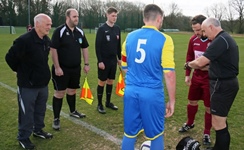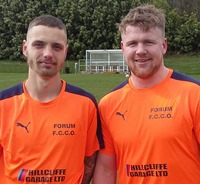 Forum's day got off to the worst possible start when skipper Joseph Thompson had to withdraw when his wife went into labour! When the tie got going both teams cancelled each other out in the first half, but after the break a Lee Thompson through ball found Matty Ord and he crossed for Forum's leading scorer Antony Holmes to put his side ahead.
It looked as if that would be the only goal, but Handsworth aiming for a third successive final snatched an equaliser when a through ball was flicked on by Matt Ellis and Tom Smith applied the finish past keeper Jamie Smith. With extra time looming, Forum threw on sub Callum Mawbey and it turned out to be an inspired move when he found himself in space before coolly chipping the ball past Hansdworth skipper Tom Crosby to send Forum to their first Twentytwo Cup Final.
Action from the game is below and pictured right are Forum's scorers Antony Holmes and Callum Mawbey.
The teams: Handsworth Old Crown: Thomas Crosby, Daniel Leesley, Michael Golland, Luke Fletcher, Carl Bowler, Ben Shackshaft, Harry Johnson, Shane Rollinson, Russell Hobson, Matthew Ellis, Liam Greenfield Subs: Callum Berke, Kieran Gallagher, Samuel Marsden, Tom Smith, Bjorn Taylor
Forum: Jamie Smith, Robert Cupit, Andrew Harrison, Joshua Gibson, Matthew Ord, Lou Jackson, Lee Thompson, James Pemberton, Antony Holmes, Sam Bebbington, Jahvan Sherratt Subs: Joseph Kazmierkiewicz, Joseph Butler, Nathan Reid, Callum Mawbey, Philip Nshindano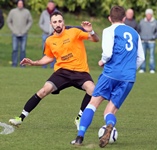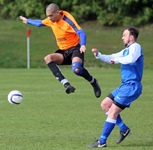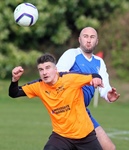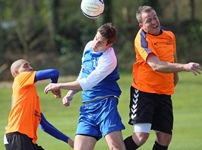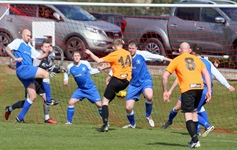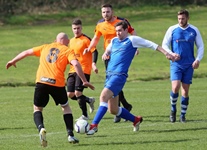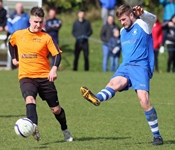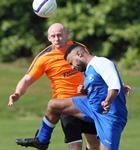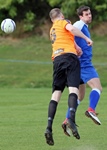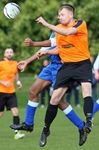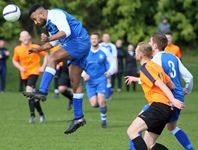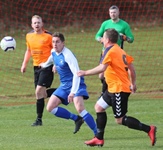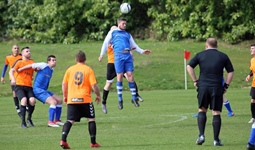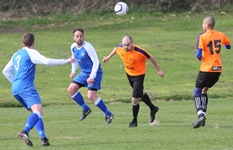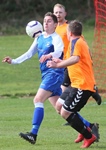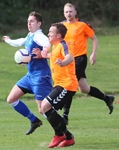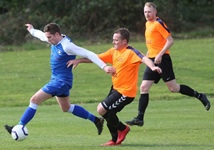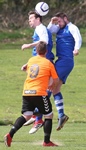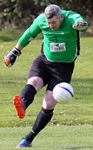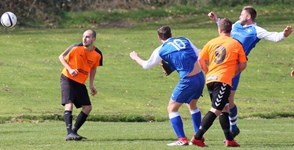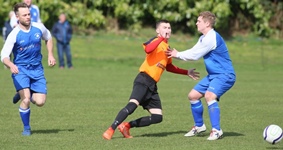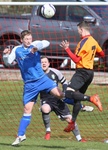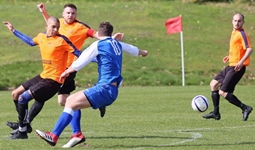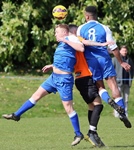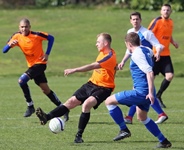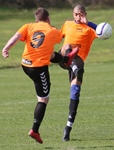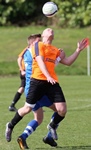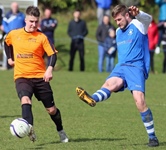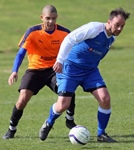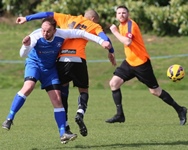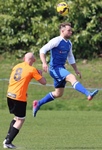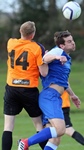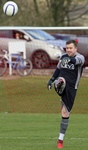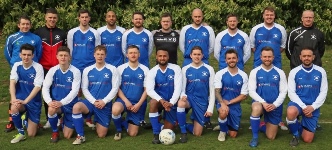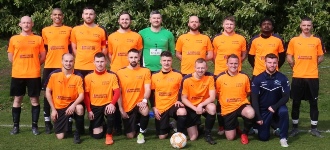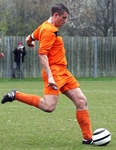 31 MAR - CBC PREMIER - Title race down to two after Village win at Redmires, but it's the drop for Intake - Two Andy Dawson strikes helped Wadsley Bridge Pheasant take another step towards the title with a 3-1 home win over Oughtibridge WM. Pheasant started quickly and took the lead when Dawson's quickly taken free kick beat the keeper, but Oughtibridge then began to have a larger share of possession and equalised before half time with a terrific Adam Thomas strike. Pheasant made some changes at the break and they soon brought their rewards Adam Askwith's flick in box put them back in front. Skipper Dawson then scored his second with a deflected shot and although Thomas hit the bar, Pheasant held on to leave them just one more win away from the title.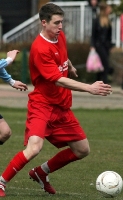 Stannington Village kept up the chase though with a crucial 1-0 away win at a Redmires that cannot now catch the leaders. in what always going to be tight game SVFC had an early chance through a Lee Johnstone free kick which found Bill Green, but he headed straight at the keeper. Dean Jepson was through shortly after and forced a good save from the Redmires keeper, and the game ebbed and flowed with both sides giving everything.
The eventual winner came late in the game when Stannington skipper Lee Johnstone (left) played a neat one-two with Charlie Hobson before firing low into the bottom corner. Redmires piled forward after that, but Stannington held on to win on what has been a bogey pitch for them in the last few years. The win means Stannington hold on to their title for another week at least and although Redmires title hopes are over they can be proud of their efforts this season.
At the other end of the table, Intake Old Boys' stay in the top flight was ended when they were beaten 6-4 at home by Wickersley Youth. Wickersley started the game well and deservedly took the lead through Kris Lee-Green, but Intake squandered a great chance to level when Jack Heald missed from the spot after Chamberlain had been fouled in the area. They did manage to level when Dom Naughton headed home from an Axell long throw, but Brad Carroll hit a quick fire double to put Wickersley back in charge. Intake pulled one back through Heald, but Carroll completed his hat-trick to restore Wickersley's two goal advantage before half time. Carroll hit his fourth after the break, Intake got right back into the game when Naughton completed his hat-trick with two goals in five minutes. Intake went all out to get the equaliser, but it was Wickersley that had the final say when Adam Daughtrey got their sixth in the last minute.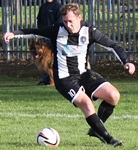 31 MAR - DIVISION 1 - Civil are safe, while Cotts keep up the pressure on Crookes - Civil Sports A secured their place in Division One for another season with a 4-0 home victory over Mosborough Reds. Andrjez Gordon-Hides headed Civil in front just before half time and they secured the win that guarantees they stay up with three goals in second half from a Wes Bamford penalty and two from Tapiwanashe Nyasvimbo.
Cotts continued their chase for promotion as two Michael Blythen (right) goals helped them to a 4-0 home victory over Ranch to go level with third place Crookes. Cotts never looked in trouble with Blythen scoring his first after a mistake by their a Ranch defender and they doubled their lead before half-time when Ryan Simmonite curled a thirty yarder into the top corner. They completed the win in the second half with Blythen's second and a Theo Wilson penalty.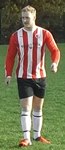 31 MAR - DIVISION 2 - Whites are up, but Boynton look set to take the title - Luke Walker netted four as third place Mosborough Whites clinched promotion with a 6-3 home win over fourth place Colley. Despite having just a bare eleven, Colley struck first when Regan Dempsey climbed highest to head them in front. Whites got back into it after Levi Williamson made sure when a Luke Walker (left) shot was trickling towards the line and although Dempsey scored again with another header to put Colley back in front, Whites levelled again before half time when Walker planted one into the top corner from 25 yards.
The second half saw Walker fire home after being slid in by Jordan Riley and he completed his hat-trick soon after. Dempsey then completed his hat-trick to give Colley a chance, but a bizarre own goal restored Whites two goal lead before Walker broke through the centre of the pitch, sat the keeper down with a dummy and rolled in his fourth to complete the scoring.

Whites chances of landing the title look slim though after four goals from Jake Ballinger (right) helped Boynton Sports to an 8-0 win at Beighton Magpies. Boynton dominated the game from the very first minute when John Heritage nipped in at the front post from a Ballinger cross. Ballinger then added a quick fire double of his own with two superb finishes and should have had a third from a Heritage pull back but fired over. He did complete a first half hat trick five minutes later as Boynton finished the half 4-0 to the good.
After the break Boynton continued to dominate and Marc Peacock got his first with a cool finish into the bottom corner before Ballinger added his fourth moments later with another superb finish. Substitute Jermaine Modest then scored directly from a corner before another Modest corner was flicked on by Ballinger for Peacock to nod home his second. Boynton are now just a point behind leaders Sheffield Sixs and with two games in hand on both Sixs and Whites look favourites for the title.
Woodhouse Juniors didn't do their chances of finishing fourth any good with a 3-2 defeat at Wadsley Horse & Jockey. Leon Dearns, Joe Beachall and George Scott all scored for Jockey in the first half and although Woodhouse scored in each half through Billy Wakefield and Dan Lockwood it wasn't enough.
The day's final game saw Woodseats Chantrey climb out of the bottom three with a 2-1 home win over Cadbury. A real howler by the Chantrey keeper gifted the chance for Cadbury's Josh Grant to put his side ahead and that's how it stayed until midway through the second half. Cadbury lost their centre half to injury and Chantrey took full advantage with assistant manager Ben Raynes flicking the ball through for Luke Simmonds to equalise. The winner came soon after when Simmonds wrestled the defender off his shoulder to play the ball across for Charlie Hawkins to put the ball home.