6 JAN - Clubs pay their respects to Ken Fetch - All Blades Super Draw League clubs playing this weekend paid their respects to former League President and founder, Ken Fetch. Pictured are Cotts FC and their opponents Norton Oaks A and Mosborough Whites and their visitors Boynton Sports.


6 JAN - CBC PREMIER - Slater leaves it late to send Pheasant back to the top, but Oughtibridge's chances go West - There are new leaders at the top of the CBC Premier after a last gasp Joe Slater strike gave Wadsley Bridge Pheasant's 2-1 victory at Woodseats Club. In a game that Ken Fetch would have been proud to witness, after a few missed chances, Josh Statham eventually gave Pheasant a half time lead, but Woodseats levelled after the break with a Lewis Whittaker penalty. Both sides went all out for a winner, but in the final minute Pheasant's stand-in keeper Luke Beedham completed his man-of-the-match performance with a terrific save to stop Woodseats taking the points and Pheasant went straight down to the other end and took the points themselves when Slater flicked the ball home.
Oughtibridge WM slipped a place after losing 3-1 at home to an Intake Old Boys determined to climb away from the bottom three. Intake's keeper had had to make good saves to stop both Ross Brown and Chas Tunnard giving Oughtibridge the lead, but he could do nothing to stop Matt Harrison from finishing a great solo effort to give the home side the lead. It was cancelled out before half time when Mark West fired home after the defence failed to clear. Intake took the lead when Jamie Roper chested a cross down for West to score his second. After the Intake keeper made more saves, worse was to come for the home side when Jonny Roper found the top corner with a 25 yard free kick to seal the points for the visitors and take them four points clear of the drop zone.
Action from the game is below - pictures by Ian Revitt.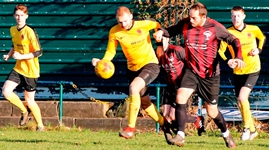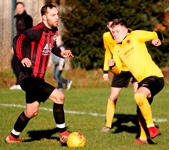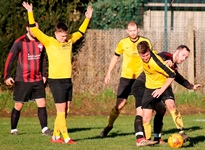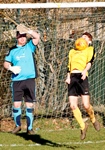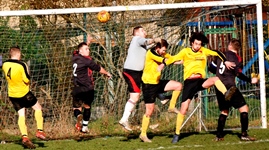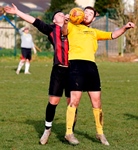 It's not looking too good for Chapeltown RBL though as the bottom club lost an early lead and fell to another heavy defeat, 7-1, by a Handsworth Old Crown that climbed out of the bottom three. Ryan Robinson and Ash Burbeary combined to set up Ben Wright to score from 12 yards, but Crown levelled when Ben Shackshaft bundled home a corner. Luke Fletcher then gave Crown a half time lead when he scrambled a loose ball home. The second half saw Chapeltown have a penalty appeal waived away by the referee and with Shane Rollinson prominent, Crown took control. Liam Greenfield with two, Matt Ellis, Tyrone Wilson and Bjorn Taylor all found the net.
6 JAN - DIVISION 1 - Top four all win, while Ranch make it 18 goals in three games to go fifth - Forum maintained their 11 point lead at the top of Division One with a narrow 2-1 win over Southey Social. Southey struck first when Ryan Whitney pressured the home keeper and defender into a mix-up that allowed him to score, and it might have been worse for the leaders when Southey had a strong penalty appeal waived away. John Mellor missed a good chance for Southey at the start of the second half before Forum were relieved a defender only saw yellow for a challenge on Ryan Damms. Forum managed to level with a James Pemberton penalty and grabbed a winner when Antony Holmes finished off their best move of the game.
Second place Cotts FC saw off the challenge of Norton Oaks A with a 4-1 victory that had referee Steve Clarkson waxing lyrical about the best game he has been involved with this season. Luke Kingswood headed Cotts in front, only for them to be pegged back before the interval by a Jon Rossiter strike for the visitors. After the break, Kingswood bundled the ball home to restore Cotts' lead and Matt Fells beat the keeper after a terrific solo run, before Harry Shaw sealed the points with an 18 yard piledriver.
Third place Crookes kept pace with them when they gained their first clean sheet of the season and came away from Civil Sports A with a 3-0 victory. Andy Parkin gave Crookes the lead from the edge of the area and it was doubled from the penalty spot by Liam Cartledge, before Max Pemberton completed the scoring.

Fourth place Royal Earl also kept pace with a 3-1 win at Cobden View. Ben Bell gave Cobden an early lead and had more chances to extend it, but Earl levelled when Mike Towey headed home and they went into the break ahead after Alex Rippon (right) marked his debut with a goal from close range. Both sides missed chances in the second half and it wasn't until ten minutes from time when Sam Smith clinched the points with Earl's third.
If it's goals you want, Ranch is the team to watch as their 6-1 victory over Mosborough Reds meant their last four games have generated an amazing 39 goals. Liam Price, Harley Wilson, Alex Mosley, Tyrone Gunter, Josh Naylor and Alex Cowlishaw did the damage for Ranch and Luke Fogg netted Reds consolation.

6 JAN - DIVISION 2 - Davies treble helps Sixs go 6 points clear, as Whites end Boynton's perfect away record - Division Two leaders Sheffield Sixs went six points clear as a Liam Davies (left) treble helped them to a 7-1 victory at Shakey. A foul on Harry Buxton allowed Davies to score his first from the penalty spot but it was cancelled out when Wez Fidler netted from the edge of the area. Any thoughts that it would be level at the break were crushed in the final minute as Danny Barnsley put Sixs back in front and in stoppage time, Sixs were awarded a second penalty and although Davies hit the bar this time, an unlucky defender turned the rebound into his own net.
Within five minutes of the interval, Davies scored twice to complete his hat-trick. Luke Lomas then netted his first goal for two years, before Barnsley netted his second to complete the scoring. Shakey had perhaps not deserved such a heavy defeat, but even a penalty ten minutes from time couldn't help as it was saved by Sixs keeper Jack Selby.
Sixs lead at the top was extended as second place Boynton Sports lost their perfect away record with defeat at third place Mosborough Whites. Boynton started on the front foot and despite missing a number of guilt edged chances, including a Marcus Gordon penalty saved by Whites' keeper Curt Congreve, they got their noses in front when a cross by Lee Jordan was headed in by Enos Huly. It didn't last long though when Luke Walker took advantage of a mistake at the back to equalise for Whites. The second half saw Whites take command and they took the lead when man-of-the-match Levi Williamson was brought down in the area and Jack Bennett slotted home the penalty. Boynton rallied and had a number of chances to equalise but it wasn't to be and Whites held on to go level on points with their visitors
Liam Edge scored twice to help Beighton Magpies stay in the promotion race with a 3-1 victory over Brinsworth Phoenix, a result that saw Phoenix slip into the bottom three. Edge finished off a good move to put Magpies ahead and Dale Featherstone sprung the offside trap to double it before half time. Edge hit a real thunderbolt for his second before Joe Statham lobbed the keeper from 40 yards to score Phoenix's consolation.
Leapfrogging over Phoenix and out of the bottom three was Woodseats Chantrey after four goal Luke Simmonds helped their revival continue with a 5-0 victory over Civil Sports B. It took until the stroke of half time before a Matt Brookfield corner saw Simmonds leap like a salmon to power a header home. Civil stayed in the game until the last quarter of the game when Brad Leather's lightening run down the right and his curling cross gave Simmonds a simple tap-in. Simmonds made the most of a scramble in the box to complete his hat-trick and his fourth came when Makinson's through ball was crossed by Brookfield for another tap-in. The scoring was completed two minutes from time when Rhys Oakes dribbled pas three defenders before finding the bottom corner from the edge of the area.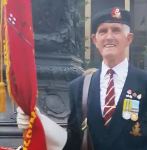 4 JAN 2019 - R.I.P. Ken Fetch - The League is very saddened to hear about the death of its former League President Ken Fetch on 24 December. All clubs are asked to have a minutes silence, or applause, in honour of Ken this weekend, 6 Jan. Ken was one of the founders of the League and over the years carried out many duties before becoming the League President. His experience, input and loyalty was always of value. Ken also collected for the armed forces veterans "Poppy Appeal" for over 40 years and was often seen in Barkers Pool collecting in the weeks leading up to Remembrance Sunday each year. Our condolences go to all his family and friends. We do not yet have any confirmed details for his funeral, but will publish them when we do.