31-MAY - Seven teams join the League for the 2017-18 season - The League is pleased to announce that seven teams will join the League for the 2017-18 season. They include the Meadowhall Premier champions, Crookes and the Sheffield Imperial Premier champions, Forum. Also from the Meadowhall Premier is Royal Earl and Mosborough Reds, and they are joined by Meadowhall Division 1 champions Mosborough Whites. A second Imperial League team, Boynton Sports also join us along with a completely new team, Wadsley Horse & Jockey. All will start in what must be the strongest Division 2 in League history. There is four of our existing teams that are folding - Woodhouse Angel, City Taxis, Ecclesfield Players Lounge and Dale WMC - and we thank them for their participation in the League.
31-MAY - League Honours for the 2016-17 season - The full list of honours for the 2016-17 season is as follows:
CBC Premier: Champions: Stannington Village; Runners-up: Redmires; Leading Scorer: Alex Torr (Stannington Village) 34
Division 1: Champions: Penistone Church; Runners-up: Woodseats Club; Leading Scorer: Tim Council (Penistone Church) 25
Division 2: Champions: Norton Sportsman; Runners-up: Cobden View; Leading Scorer: Brad Bowland (Norton Sportsman) 36
twentytwo League Cup: Winners: FC Handsworth Turf; Runners-up: Norton Oaks A; Man of the Match: Ryan Goodinson (FC Handsworth Turf)
Steve Gee Merit Cup: Winners: Brinsworth Phoenix; Runners-up: Ecclesfield Players Lounge
County FA Sunday Junior Cup (sponsored by Danwood): Winners: Woodseats Club; Runners-up: Chapeltown RBL
8 MAY - LEAGUE TWENTYTWO CUP - More Cup Final Pictures added - see Latest News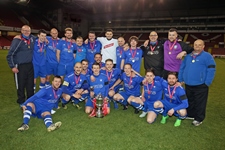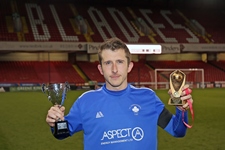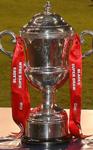 4 MAY - LEAGUE TWENTYTWO CUP - Turf too Good for Oaks - A crowd in excess of 600 braved a very chilly eveing to see FC Handsworth Turf (far left) lift the League twentytwo Cup for a second time as two goals from James Leesley helped clinch a 4-0 victory over fellow CBC Premier side Norton Oaks A at Bramall Lane. Leesley was still pipped to the Sheffield Trophy Centre Man of the Match Award by Ryan Goodinson (left) after he set up the first two goals with inch perfect crosses.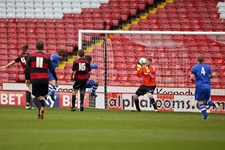 Both sides looked to get on the front foot at the outset, but neither could find a away through until, on eighteen minutes, Goodinson received the ball wide on the right and after going past a defender he produced the perfect cross for James Leesley to plant a terrific header past Oaks keeper Ben Birtles (pictured right). Oaks tried to respond with Younes Mekhalfia and Patric Winter trying to find leading scorer Danny Reet, but Mike Golland and skipper David Haggerty looked in no mood to let Oaks back into the game.
After a couple of half chances were wasted, five minutes before the break Turf doubled their lead when Goodinson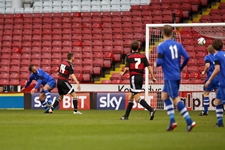 again made some space for himself wide on the right and he once again produced the perfect cross for veteran Russell Hobson to twist and plant a firm header past Birtles (pictured left). It was almost three just before the break when James Leesley burst past a couple of defenders and he was only stopped outside the penalty area when he was tripped by Oaks skipper Kenny Brakes, but with two other defenders getting back to cover Brakes breathed a sigh of relief when he saw the card produced by referee Dave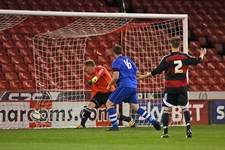 Evans was just yellow.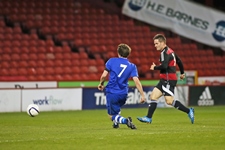 Oaks player/manager Andy Dawson tried to rally his team at the break and an early chance almost fell to Liam Paterson until it was snuffed out by a combination of Greg Taylor and Danny Leesley, but it was the Turf midfield that was winning the midfield battles and their third came when a through ball found James Leesley in space down the middle and he produced a finish low into the corner (pictured 1st right). David Sills almost grabbed a fourth for Turf, but it did come late in the game when another move down the right saw the ball crossed for another of Turf's long serving players, Ben Shackshaft, to produce a simple finish (pictured far right). Turf manager Adam Johnson knew his last game before stepping down was going to produce a trophy and his skipper Dave Haggerty and Man of the Match Ryan Goodinson stepped up to receive the Cup from Sheffield United's Super Draw Lotto manager Mick Rooker. All pictures from the game are below (pictures by Mark Rodgers)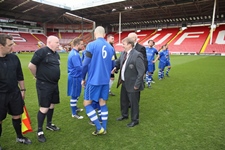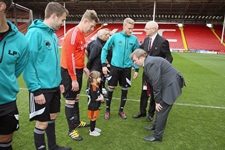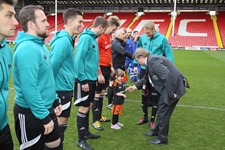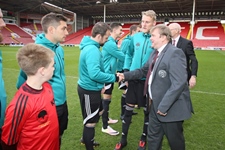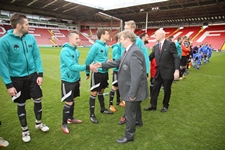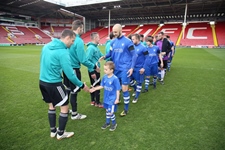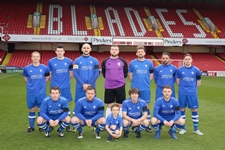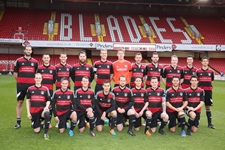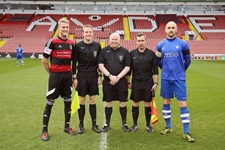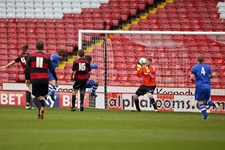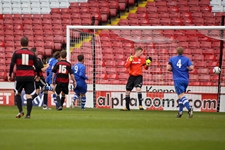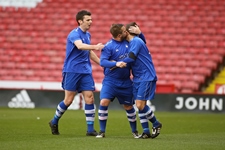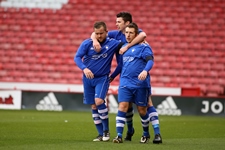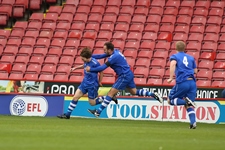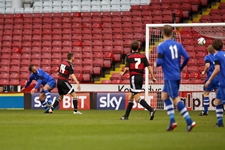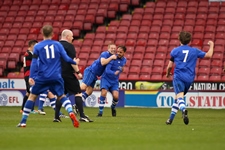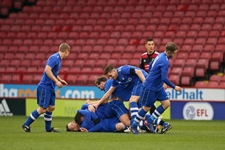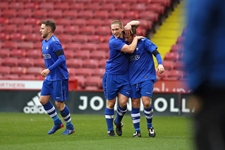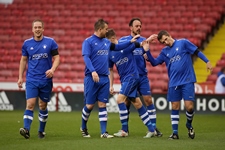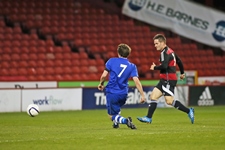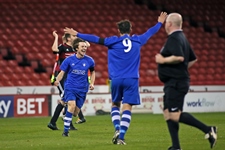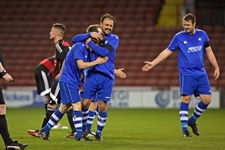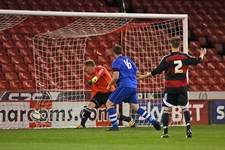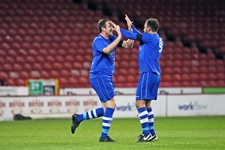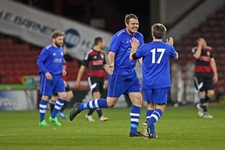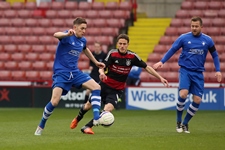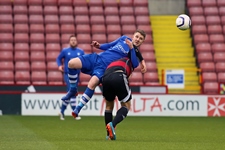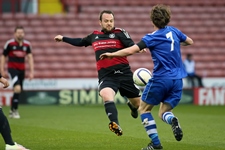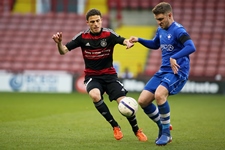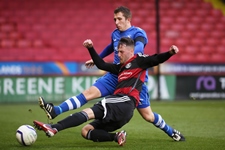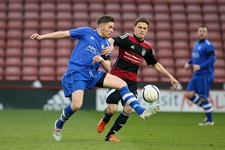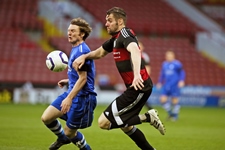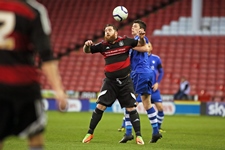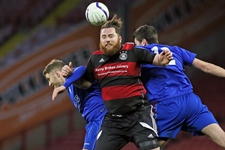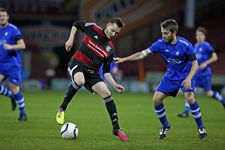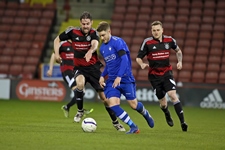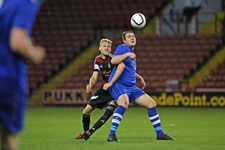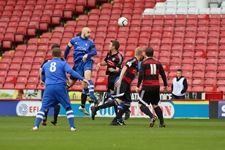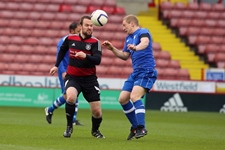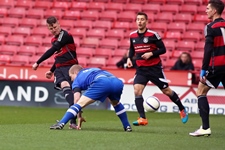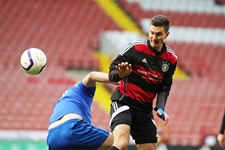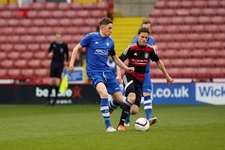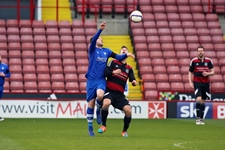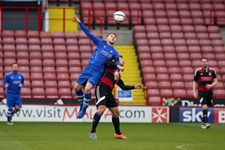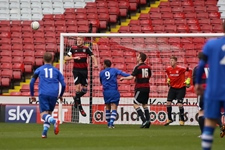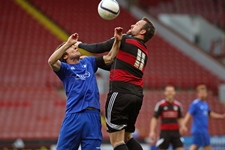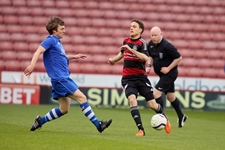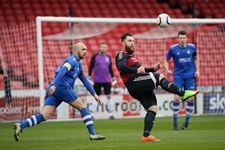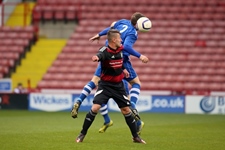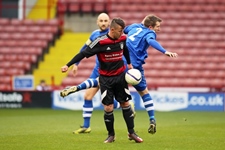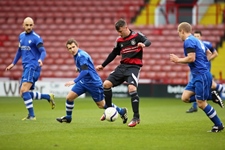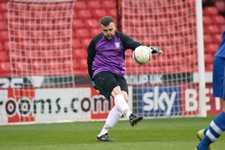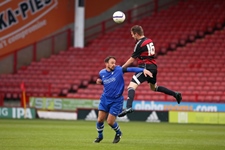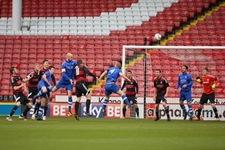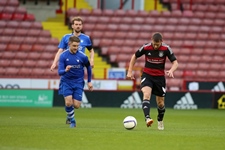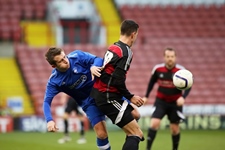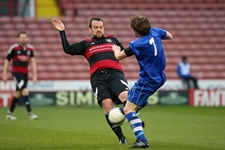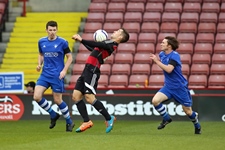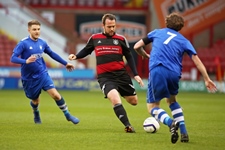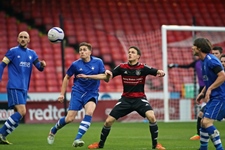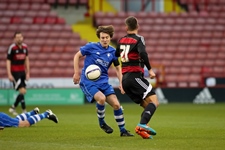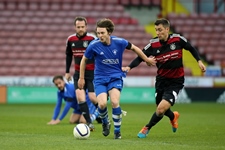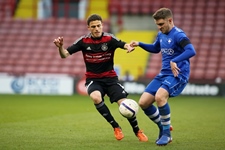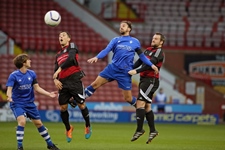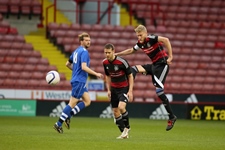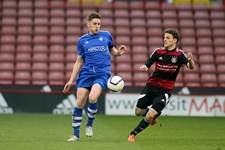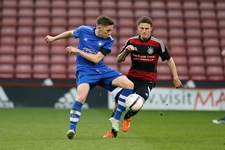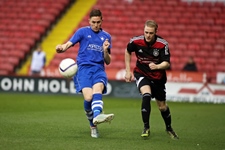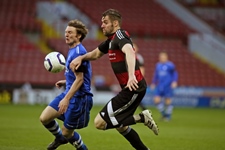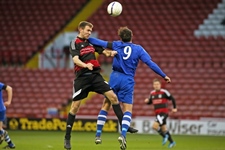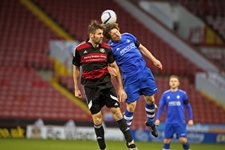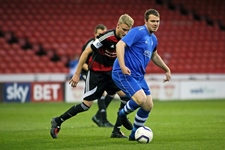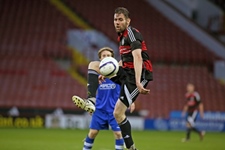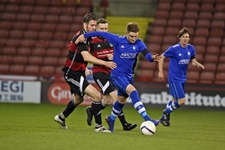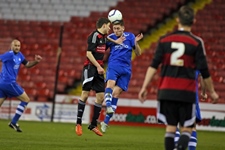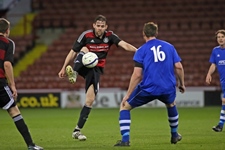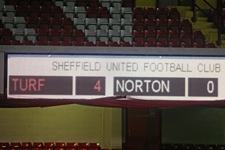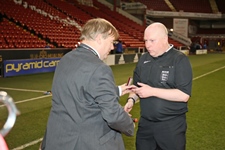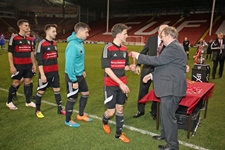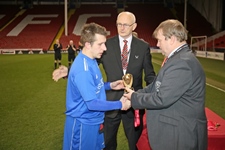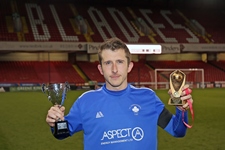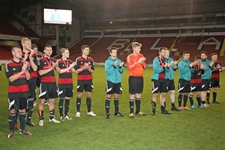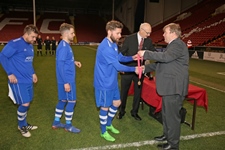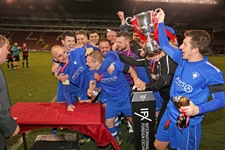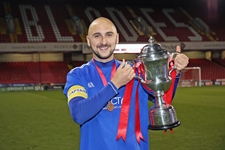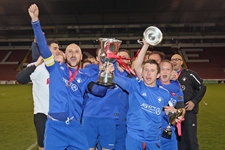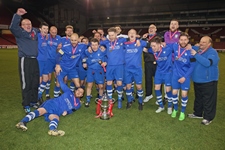 The Teams: FC Handsworth Turf: Sam Atkin, Mike Golland, Ryan Goodinson, Danny Leesley, Greg Taylor, David Haggerty (Capt), James Leesley, Russell Hobson, David Sills, Phil Miskell, Tom Crosby Subs: Ben Shackshaft, Paul Turner, Tom Smith, Carl Eaton, Carl Bowler
Norton Oaks A: Ben Birtles, Ste Scott, Kenny Brakes (capt), Dale Kay, Liam Paterson, Rich Conway, Andy Dawson, Paul Knapton, Younes Mekhalfia, Patric Winter, Danny Reet Subs: Lucas Baker, Dom Jolly, Alan Mowforth, Nick Glossop, Alex Hughes.
Referee David Evans, Assistants Craig Couldwell and Joe Alborough, 4th Official Andy Hogg
More pictures below from Mick Moat: