29-Nov 2015 – CBC PREMIER - Pheasant make it 5 out of 5, while Husbands treble keeps Angel flying & wins for Vine and Southey - A Craig Mawhood double helped Wadsley Bridge Pheasant to victory number five out of five, 4-1 at Brinsworth Whitehill and back to the top of the CBC Premier. The match was played in windy conditions, but Pheasant took an early lead when a wind assisted cross by Mawhood deceived the Brinsworth keeper and finished in the net. Mawhood got a second before half time with a strike from the edge of box that took a deflection past the keeper, but Brinsworth almost pulled one back when Danny Willis hit a post. Just after halftime with conditions getting worse Dean Williamsom strike made it three and a Carl Andrews drive from the edge of box made four before Joe McGuiness netted Brinsworth's consolation with a header from a Willis corner.

Mitch Husbands (left) made it seven goals in two games with a hat-trick as Woodhouse Angel came from two down to beat Norton Oaks A 7-3. In very blustery conditions two Stevie Mann strikes saw Norton take an early two goal lead, but Angel regrouped and deservedly got back into the game via goals from Angel's prolific strike force of Mitch Husbands and Darryl Parkin. Husbands first via a free flowing passing move and Angel's second through a sublime first time volley from Parkin. Norton once again used the wind to their advantage to go back in front with a Dale Kay strike, but Angel rallied once again and a Mike Towey goal saw the teams go into the break level. The second half was all Angel and Darryl Parkin soon put them ahead, before Husbands second put them in control. Mike Towey then grabbed his second, before Husbands completed his hat-trick with the outstanding goal of the game.
Fellow title challengers The Vine inflicted Civil Service A's sixth successive defeat on them 2-0. In the first half, despite facing a strong wind, The Vine had the best of the chances and created numerous chances. Lou Jackson forced a great save from Civil keeper Josh Branch and Karl Ainsworth followed up, but hit the post. Vine took the lead when Civil keeper Josh Branch's goal kick held up in the wind and after it was headed forward by Craig Woolley, Liam Allott produced an unstoppable volley into the far top corner. Branch kept his side in the game with some excellent saves but the home side secured the points with a second late on when man of the match Pip Miskell's long ball and flick on by Christian Nixon caught out Civil left back Matt Betts and former Civil striker Rikki Davidson finished low past the advancing Branch. The win took The Vine to just two points behind the leaders, while Civil will hope their improved performance will mean they can soon end their run of defeats.
Southey Social climbed off the foot of the table by coming from behind to beat FC Handsworth Turf 2-1. Turf took the lead when Greg Taylor was pushed in the box and Tom Crosby scored from the spot and Ryan Taylor, after signing back for his second spell with the club, shot just over the bar, but Nicky Danks netted on his return for Southey before Todd Guest's shot in the last minute took a deflection off Carl Bowler's head into his own goal to give Southey just their second win of the season.
DIVISION 1 - The table is turned upside down as the top three are all beaten, while Whittington hits Hounds for six - The Division One table was turned upside down as the top three at the start of the day were all beaten. Leaders Phoenix slipped to their second defeat of the season as Callum Hackford scored twice to help earn City Taxis first win of the season, 4-0. Julian Lawrence gave Taxis the lead with a header after ten minutes and ten minutes before half time, Hackford blasted his first from thirty yards. Hackford made it three midway through the second half, before Jason Hopwood completed the scoring with a simple tap-in near the end.
Second place Hallam failed to take advantage as they slipped to a first home defeat, 4-1, to a Chapeltown RBL boosted by two Gav Butler goals. Joe Moorhouse pounced on a stray pass by a Hallam defender to put Chapeltown ahead and they doubled their lead when a quick break from defence left Butler one-on-one with the keeper and he made no mistake (first picture below). Moorhouse turned provider to provide the opening for Ben Palmer to slide the ball under the Hallam keeper and although Joe Howsham pulled one back for Hallam when they were awarded a penalty (second picture below), Butler made the game safe for Chapeltown when he again pounced on a stray pass to score his second of the game (third picture below).
All action pictures by Mick Moat.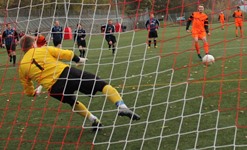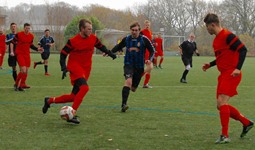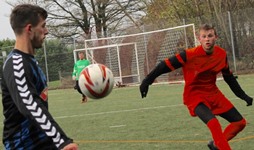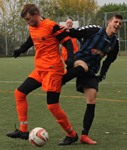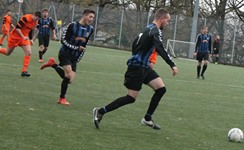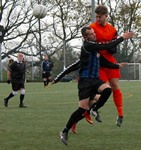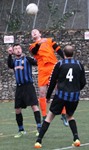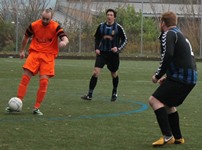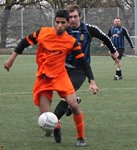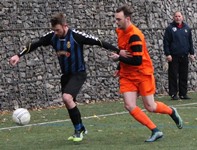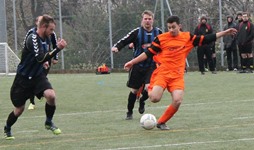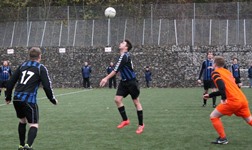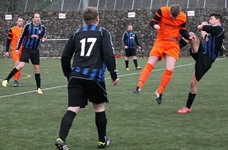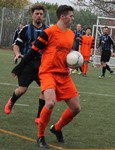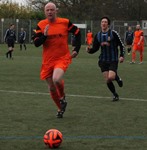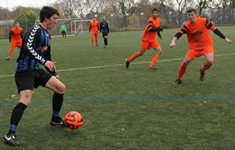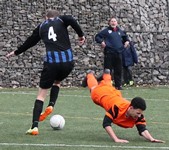 Intake Old Boys started the day third, but they were literally blown away 5-1 as Mickey Thomas scored twice to help a rampant Ranch end a run of just one point from their previous seven games. Ranch look determined to out battle their visitors right from the start and they deservedly took the lead when Thomas produced a wonder strike. Jakob Burgin then scored with another screamer to double Ranch's lead and Richard Berry produced a clever finish to increase the lead by half time. Intake had the better of the conditions in the second half and had the majority of possession, but the Ranch defence were in no mood to let it slip and instead it was Ranch that made it four with Thomas's second. Kavan May did eventually pull one back for Intake, but it was Ranch that had the final say when Josh Naylor finished off a swift break out of defence.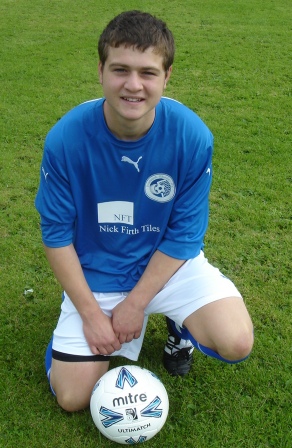 The day's big winner in more ways than one was Ecclesfield Players Lounge who moved up to third by thrashing Hare & Hounds 8-2, with Scott Whittington (right) hitting six to take his tally to nine goals in two weeks. Whittington's first four, along with one from Joe Knight, came in the first half, although Sean Maloney netted one for Hounds on the stroke of half time. George Sheen netted a sixth for Ecclesfield straight after the restart and although George Rudd scored Hounds second, it was Whittington that rounded things off with two more to complete his double hat-trick.

Aston Swallownest moved out of the bottom three as David Sills (left) hit a hat-trick in a 4-2 victory over Colley Tavern. After Sills, Josh Connor levelled for Colley, but just before half time Sills hit his second to put Aston back in front. Aston took control in the second half and extended their lead with an Ian Draper strike before Sills completed his hat-trick. Colley's second came from Matt meaney, but it wasn't enough to get them back in the game.
DIVISION 2 - Devonshire make it 6 out of 6, while Norton Oaks B get their second win of the season - Devonshire closed the gap at the top of Division Two to three points as they made it six wins out of six with a 2-0 victory at Cobden View. Nicky Owen and Lewis Whittaker made the most of the strong wind to score the Devonshire goals from distance, but a spirited Cobden side made them work for their victory.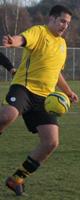 Norton Oaks B moved out of the bottom three with their second win of the season, 4-2 at Laycock Sports. Matt Bradley's goal for Norton was cancelled out by a Scott Lyons penalty, but the second half saw Jeremiah Donnelly put Norton back in front. Laycocks with Aaron Connell and veterans Andy Register and Mick Plumtree all prominent, levelled a second time with another Lyons penalty, but Billy Ireland (left) put Norton Oaks back in front with his seventh goal of the season, before John Holland made it safe with his fifth goal of the season.
SUNDAY JUNIOR CUP ROUND 4 - Loxley game off a third time - Loxley's tie at Swallownest MW was postponed for a third time and they will have to try again next week.
29 Nov - Howsham & Blythen top the Leading Scorer charts - The Twentytwo Leading Scorer charts for the season have been updated and last season's top scorer, Division One Hallam's Joe Howsham is once again in front on 18 goals, but just two behind him on 16 is Division Two AFC George's leading marksman Michael Blythen. At the top of the CBC Premier scorers is Woodhouse Angel's' Mitch Husbands on 8. See the Leading Goalscorers in the Results section for a full list of each team's Leading Scorer.
25 Nov – SUNDAY JUNIOR CUP ROUND 5 -- Intake Old Boys & City Taxis both get home ties, but Devonshire are away - The draw for Round Five of the Sunday Junior Cup saw both Intake Old Boys and City Taxis get home draws, but Devonshire are away at Three Magpies. Intake's tie could potentially see them face fellow Division One side Loxley, if they win their Round Four tie at Swallownest MW, while City Taxis will play host to the Meadowhall League's Players Lounge Athletic. The City Taxis and Devonshire ties are scheduled for 20 December, but the Intake Old Boys tie is likely to be played in the New Year.
23 Nov – SUNDAY SENIOR CUP QUARTER FINAL -- FC Handsworth Turf to face The Vine - The Quarter Final draw of the Sunday Senior Cup has seen our two remaining clubs drawn against each other at Hillsborough College on 20 December. The only consolation is that it means that the League will definitely have a semi finalist for a second successive season. The full draw is: Royal Earl v Westville; FC Handsworth Turf v The Vine; Wombwell Main v Plough (Greasbrough); Fitzwilliam Arms v High Noon.
23 Nov - Howsham & Blythen top the Leading Scorer charts - The Twentytwo Leading Scorer charts for the season have been updated and last season's top scorer, Division One Hallam's Joe Howsham is once again in front on 17 goals, but just one behind him on 16 is Division Two AFC George's leading marksman Michael Blythen. At the top of the CBC Premier scorers is Redmires' Jon Wall.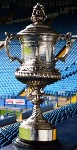 15-Nov 2015 – SUNDAY JUNIOR CUP ROUND 4 - Aston let it slip, but Loxley will have to try again - Despite Ross Edwards, David Sills and Ian Draper giving Aston Swallownest an early three goal lead at Balby Athletic, Aston switched off after that and crashed out of the Sunday Junior Cup 6-4. Loxley's tie at Swallownest MW was postponed for a second week and they will have to try again next weekend.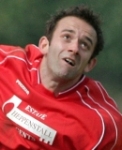 CBC PREMIER - Redmires go top, but the Crosby show sees The Vine slip up, while Sampson's last gasp strike saves Oughtibridge - Jon Wall scored twice as Redmires defeated Southey Social 5-0 to go top of the CBC Premier. After a slow start Redmires took the lead when Wall scored with a quickly taken free-kick and just a minute later Andy Bath laid the ball into Wall's path for him to hit his second. Southey were reduced to ten men soon after and after a neat Stephen Parry through ball, recent signing Chris Cottyn scored his first goal for Redmires. The second half saw Redmires create chance after chance, but they couldn't take any until player-manager Dave Knaggs (right) introduced himself after a long injury lay-off and the move worked well as he marked his comeback with a goal from a Mikey Taylor pass. Knaggs then had a shot saved from a corner, but Taylor was on hand to knock home the rebound.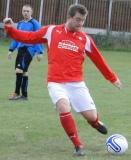 The Vine missed the chance to go second after a Tom Crosby penalty gave FC Handsworth Turf a 1-0 victory. Crosby (left) also kept a clean sheet after taking over in goal when keeper Liam Richardson had to go off injured. The Vine had the best chances in the first half with Rikki Davidson three times bringing saves out of Richardson, while Turf's only effort of note was a Ben Shackshaft shot well saved by Andy Taylor. Turf had the better of the second half though and after James Leesley saw his shot hit a post and Taylor save well from Danny Wilson, their winner came when Brent Heely brought Ollie Grady down in the box and Crosby stepped up to smash his spot kick into the top corner. Soon after Richardson had to give way and Crosby went in goal, but it was Turf that continued to look more dangerous and Harry Johnson's cross was just missed by Craig Cansdale and a Declan Healy header brought another good save out of Taylor. The Vine tried to get back in it, but the nearest they came to an equaliser was Liam Allott's shot that trickled past a post.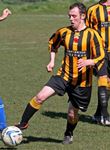 Strachan Sampson (right) hit a last-gasp equaliser to give them a 3-3 draw against a Brinsworth Whitehill that had led after a Joe McGuiness double. Ross Johnson gave Brinsworth an early lead, but Ross Brown turned and volleyed a superb equaliser past Liam Buttery for Oughtibridge. Matt Cundy then broke away from midfield to score with another unstoppable strike to put Oughtibridge in front by half time. Brinsworth got on top at the start of the second half and deservedly levelled with a McGuiness header from a Danny Willis corner and only a good save stopped Johnson putting them back in front. Brinsworth did eventually get their noses back in front when McGuiness scored his second from a tight angle and Joe Simpson went agonisingly close to scoring a fourth for them, but Oughtibridge hit back and their pressure forced corner after corner and with just seconds remaining Sampson forced home the equaliser after David Sheakey's header had been cleared off the line.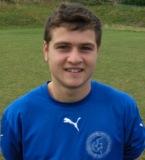 DIVISION 1 - Whittington treble lifts Ecclesfield, but Intake are held by Legion - Scott Whittington (left) scored a hat-trick as Ecclesfield Players Lounge climbed into the Division One promotion race with a 5-2 victory over Ranch. Whittington set up Gav Hunter to give Ecclesfield the lead and soon after Hunter returned the favour for Whittington to score. Whittington added his second with a free kick to give Ecclesfield a three goal lead at the break. The second half saw Whittington complete his hat-trick and Hunter grab his second, although Ranch scored twice through Mikey Thomas and Ash Betts.
Intake Old Boys promotion push stuttered after they let two points slip in a 1-1 draw at Chapeltown RBL. Lee Pierpoint, Chris Evans and Michael Crossland all played a part in providing the opening for Russell Hobson to give Intake a half time lead, but Chapeltown deservedly took a share of the points when Ryan Robinson's left wing cross by Tom Duty's diving header at the back post.
DIVISION 2 - Adams & Council lead the way for Church, while Owen stunner keeps Devonshire on course and White-out hits Crookes -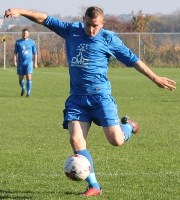 After both Tom Adams and Tim Council had scored hat-tricks for Penistone Church in the County Senior League the day before, they did it again on Sunday to help Penistone to increase their lead at the top of Division Two with an 8-2 victory over Laycock Sports. The visitors keeper Mark Green was doing his best to keep the score down but he couldn't stop Penistone's others coming from Mitch Savage and an own goal, while Laycock's goals came from Steve Morris and Scott Lyons.
Second place Killamarsh Juniors looked set to wreck third place Devonshire's perfect record, but Devonshire hit back to win it 4-3 with a Nicky Owen (right) stunner in the final minute. Joe Glover gave Killamarsh the lead, but it was cancelled out by an Owen strike. Keith Cronin then gave Devonshire the lead, but another from Glover sent the teams in level at the break. Montelle Kamara then gave Killamarsh the lead and they almost increased it when Chris Savage hit the outside of a post. It looked like Devonshire's record was about to go, but with just five minutes remaining a Chris Lees header brought them level and in the final minute Owen smashed home from twenty five yards to give Devonshire victory.
Cobden View gained their first home points of the season when goals from Rich Higgins, Joe Taylor, Alex Butt, John Rowland and an own goal gave them a 5-1 victory over Norton Oaks B, while a Dimitri White treble helped Woodhouse Juniors also record their first home win of the season, 6-0 against Crookes & District. Harry Flowers, Henry Bradshaw and Nick Mulgrew netted Woodhouse's others.
20 Nov - December Fixtures now listed - The fixtures for December are now shown in the Fixtures section. Home teams MUST make sure that their home pitch is available on all the dates shown. Please email Keith immediately if your pitch is not available on a date shown, BUT note that the Fixtures for 20 December could be subject to change due to Sunday Cup ties - it is not yet known if the Sunday Senior Cup Quarter Final ties will be scheduled for that date. All home clubs must also confirm the details with your opponents and referees for all dates shown IMMEDIATELY. Please email Keith immediately if any of the referees tell you they cannot do the fixture listed.
Due to United's home game on 13 December and Wednesday's home games on 6 & 20 December, we will support any teams that want to kick-off early on any date in December, but the home clubs must agree a time with their opponents and make sure that their pitch is available for an early kick-off, and make sure that the referee is also OK with an early kick-off. IF YOU ARE SHOWN WITH A GAME ON A DATE YOU HAD ASKED KEITH FOR NO GAME, YOU MUST NOTIFY KEITH IMMEDIATELY.
18 Nov - Colley Tavern on the look out for more players - Division One club Colley Tavern are looking for further players to boost their squad. Anyone interested should contact Neil Whitworth on 0775 799 0020 or by email: n.whit@hotmail.co.uk . They are an established club with good facilities, playing on the Chaucer School 3G pitch

15-Nov 2015 – Redmires and Brinsworth Whitehill pay their respect to the people of Paris - Redmires and Brinsworth Whitehill, along with referee Adam Burgess paid their respects to the people of Paris after the weekend's tragic events there.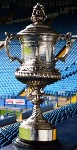 15-Nov 2015 – SUNDAY SENIOR CUP ROUND 4 - Pheasant get Turfed out, while The Vine strangle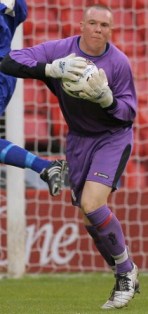 Friendship - FC Handsworth Turf caused a minor surprise when they won a penalty shoot-out 4-2 to defeat fellow CBC Premier side Wadsley Bridge Pheasant to reach the last eight of the Sunday Senior Cup. Pheasant went into the game with a perfect record in all competitions and although the windy conditions made good football difficult, they took the lead with an Adam Askwith strike. Turf had to go into the tie with a depleted squad and they were indebted to keeper Liam Richardson (right) to stop them falling further behind. Turf got back on level terms when Tom Crosby curled a free kick into the top corner midway through the second half. They nearly won it in normal time when Ben Shackshaft steered the ball past the keeper, but just wide of the goal, so the game went to extra time. Carl Andrews put Pheasant back in front, but they missed several chances to put the result beyond their visitors and with time almost up Danny Leesley gave the ball to Crosby and he crossed for Declan Healy to sidefoot the ball home to take the result to a penalty shoot out. With Crosby, Healy and Oli Grady all scoring, while Richardson saved one penalty and another hit a post, it left Danny Wilson to step up and score the winning penalty for Turf.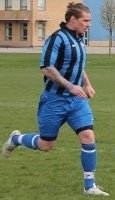 Turf are joined in the quarter finals by The Vine who, helped by two Rikki Davidson (left) strikes, defeated Sunday Imperial League's The Friendship 4-1. The Vine flew out of the blocks and took an early lead when Davidson played in Matt Ellis to slot the ball past the keeper and they quickly doubled it when Steve Wilkinson set up Liam Allott to score on his first start of the season. Allott then hit the bar with a powerful shot, but a third wasn't too long coming with Allott's free kick taking a deflection off Davidson to wrong foot the keeper. The Friendship pulled one back before the break, but the second half again saw The Vine dominate affairs. Allott again hit the bar, but a fourth came when they were awarded a penalty for handball and Davidson stepped up to score his second of the game.
SUNDAY JUNIOR CUP ROUND 4 - Late Cronin strike see Devonshire through and they are joined by City Taxis and Intake - Division Two Devonshire needed extra time and a late Keith Cronin strike to overcome Memories to reach the last sixteen of the Sunday Junior Cup and they are joined by Intake Old Boys and City Taxis, who beat Shaw Inn and Loaded Sports respectively. Devonshire took an early lead through Sam Read, but they were pegged back by a wonder strike by the Memories centre forward and worse soon followed when Memories were awarded a penalty, to go into a half time lead. Devonshire weren't behind for long though as Nicky Owen equalised in the first minute of the second half, but they missed chance after chance after that and the game went into extra time before Cronin won it with a terrific strike from twenty five yards.
Intake Old Boys passage into the last sixteen was more straightforward, beating Shaw Inn 2-0. They took the lead when a Russell Hobson cross was deflected into his own net by a defender and the victory was wrapped up when Lee Pierpoint placed the ball round the keeper. City Taxis also went through 2-0 and also had the help of an own goal. After a goalless first half, Jordan Marshall put Taxis ahead before the own goal confirmed their victory.
Despite second half goals by Joe Knight and Scott Whittington, Ecclesfield Players Lounge went out 4-2 at Three Magpies. Ecclesfield were 3-0 down soon after the break and the nearest they had come to a goal was a Ryan Keeney shot that crashed against the bar, but Knight and Whittington's goal put them right back into it and Craig Senior had another effort disallowed before Magpies clinched the game in the final minute. Aston Swallownest at Balby Athletic, and Loxley at Swallownest MW will have to try next weekend after their ties were postponed.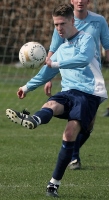 CBC PREMIER - Husbands shows he can multi task to celebrate Nick's new arrival - On the day Woodhouse Angel's veteran defender Nick Hague (right) became a dad for the first time, he had a double celebration as Mitch Husbands scored four as Angel stepped up their CBC Premier title challenge by completing the double over Civil Service A with a 10-0 romp. Angel took the lead when Husbands tapped home the rebound after Jordan Rymell's shot had come back off a post and Mark Coggin doubled their lead after going through one-on-one against the keeper. Chris Towey then hit a stunning thirty five yarder before Husbands made it four by half time with a good finish. Daryll Parkin and Sam Comer strikes soon made it six and Jon Williams made it seven with a free kick. Josh Barringham finished off the move of the game and Husbands completed his hat-trick with a penalty before netting his fourth of the game with a terrific solo goal.
An Andy Bath penalty set Redmires on their way to a 2-0 victory over Brinsworth Whitehill to put them second in the table. Despite playing into a strong wind, Redmires took the lead with Bath's penalty after a handball in the area and they doubled it before the break when Mikey Taylor swung in a free kick for man of the match Danny Turner to head home. Redmires, with the wind at their backs in the second half, began to dominate and after Bath put another header wide they had more chances to extend their lead, but Brinsworth rarely threatened and Redmires took the points that's puts them level with leaders Wadsley Bridge Pheasant. Action from the Redmires game is below - pictures by Mick Moat.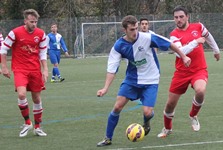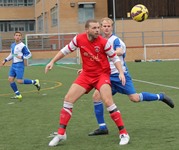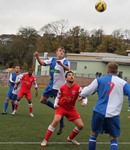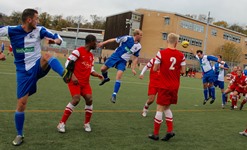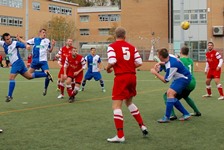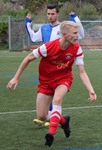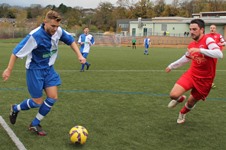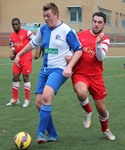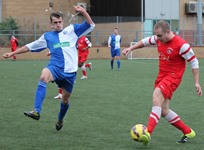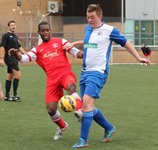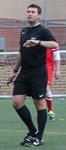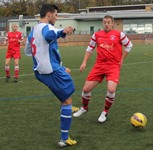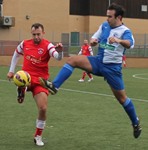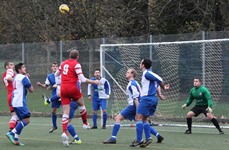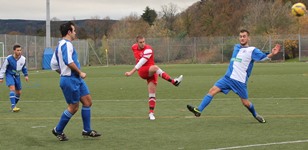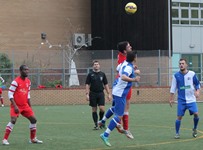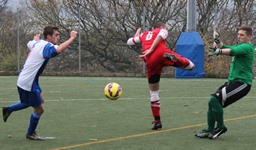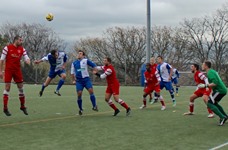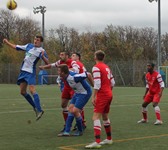 Callum Chambers netted twice as Oughtibridge WM continued their revival with a 3-1 victory at Southey Social. Both teams struggled to make chances in a first half dominated by the wind. Mark Townsend, with a header and Charlie Tunnard both went close for Oughtibridge while Christian Rowe went closest for Southey. After the break, with Ross Brown bossing midfield, Oughtibridge began to take charge and they took the lead when Chambers headed the ball into Matt Cundy's path for him to score. Chambers then doubled their lead when he headed home from Tunnard's cross and Chambers made it three when he headed home at the back post. Southey got some reward for their efforts when Rob Womack hit a shot into the bottom corner, but it proved to be too little too late.
DIVISION 1 - Shaw and Hawkes doubles keep Phoenix flying, while Howsham makes it eleven goals in three games for Hallam - Nicky Shaw and Jack Hawkes both netted doubles as Phoenix maintained their six point lead at the top of Division One with a 7-0 victory over Colley Tavern. Shaw netted his first after just three minutes when he got onto the end of a John Mellor pass and two minutes later Mellor got on the scoresheet when he finished off a flowing move. Dale Savage made it three before half time when he met John Aston's corner with a left foot strike that nearly ripped the nets. As Colley came into the game more, Phoenix keeper Kieran Osbourne had to make a terrific save to maintain their lead, but Phoenix soon got back on top and Jordan Pearce beat the offside trap to score their fourth. Sub Hawkes then set up Shaw's second with an unselfish back heel, before man of the match Karl Howden set up Hawkes to strike his first. Hawkes then completed the scoring with his second in injury time.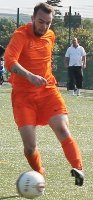 Chasing Phoenix hard is Hallam after Joe Howsham (left) scored yet another hat-trick in their 6-2 victory over Ranch to take his tally to eleven goals in his last three games. Ranch made a lively start, having most of the play and creating several chances, but Hallam's nerves were settled with goals from Howsham and Hothryfa Gadour. Connor Brunt pulled one back for Ranch before the break, but the second half saw Hallam get on top and Miles Howarth and Steve Shaw further extended their lead. Tom Evans pulled a second back for Ranch, but Howsham had the final say with two more to complete his hat-trick.
Chapeltown RBL came from two down to end their four match losing run with victory at a Hare & Hounds that suffered their first home defeat. Hare & Hounds took the lead as early as the second minute as Daz Mitchell bundled home from close range flowing a Fraser Ward free kick to the back post. Chapeltown fought back, and having missed several chances won a penalty on thirty minutes as full-back Billy Keats committed a clumsy foul near the edge of the box. Debutant keeper Ashley Raikes saved the spot-kick, only to penalised for leaving his line early, and cautioned for his protests, but fired up, he saved a weaker kick low to his right. Hare & Hounds extended their lead soon after as winger Jake Schofield latched onto a loose pass out of the Chapeltown defence and kept his cool to slot past the keeper. Despite their lead, Hounds never looking entirely comfortable and five minutes into the re-start, their vulnerability to the high ball was shown as Chapeltown fired in high to the back post and Gav Butler finished with a clever lob over both defender and keeper. Hounds were finding Danny Cardwell's long throw weapon for Chapeltown difficult to defend and another high ball was nodded in by Tom Rollitt to level the scores. Minutes later Hounds re-took the lead as Schofield crossed low across the six yard box for Sean Maloney to blast home from close range at the back post. Ten minutes later Hounds left back Ross Eckhardt toe-ended an attempt to clear straight to Chapeltown's Dale Shaw, leaving him with a simple tap-in to level the scores again. With ten minutes remaining another long throw to the back post undid the Hounds defence once more and centre half Ryan Robinson headed home Chapeltown's winner.

DIVISION 2 - Penistone just pip Cobden to go top - Penistone Church just maintained their perfect league record with a narrow 2-1 victory at Cobden View to go top of Division Two. Gareth Brown and Tim Council (right) goals gave Penistone a comfortable half time lead, but Cobden came storming out for the second half and deservedly pulled one back through Rich Higgins. They pushed hard for the equaliser they possibly deserved, but Penistone hung on to claim top spot on goal difference.
In the only other game played, Steelers and Laycock Sports shared the points after thrilling 3-3 draw. Steelers gained the early advantage with a Kaiden Simpson strike and missed a host of other chances in the first half. They paid for those misses when Scott Lyons set up Alexis Burton for Laycocks equaliser and when a defence splitting pass from skipper Steve Morris found Lyons, he rounded the keeper to put Laycocks in front. Steelers hit back with Elliott Greaves lashing home an equaliser, but Laycocks went back in front when man of the match Morris set up Ricky Williamson for a rare headed goal. Steelers wouldn't give in and they deservedly took a share of the points with Blake Owen's thirteenth goal of the season.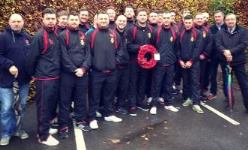 13-Nov 2015 - Chapeltown Royal British Legion turn out for Remembrance Sunday - Division One Chapeltown Royal British Legion turned out in force to mark Remembrance Sunday. Naturally, they had asked for no game on the day so that they could help the Legion pay its respects on Remembrance Sunday and the club also contributed with a large poppy and the players are pictured right with it.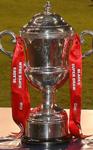 9-Nov 2015 - KITLOCKER CUP - Holders to entertain The Vine in the Quarter Finals - The draw for the League Kitlocker Cup quarter finals saw holders Oughtibridge WM get a home tie with fellow CBC Premier outfit The Vine, while another all-CBC Premier tie sees Stannington Village entertain Civil Service A. The other two ties see two of the Division Two newcomers both get home ties, with Penistone Church entertaining Redmires and Devonshire entertaining Wadsley Bridge Pheasant. Three ties are scheduled for 6 Dec, while the Penistone Church v Redmires tie is scheduled for 13 Dec. The home clubs playing on 6 Dec must make sure their pitches are booked for that date as there is no grid for that date. Penistone are already due to be at home on 13 December, but they should also make sure their pitch provider is aware they will be at home that date. The full draw is: KITLOCKER CUP ROUND 4 Sunday 6 Dec Devonshire v Wadsley Bridge Pheasant; Oughtibridge WM v The Vine; Stannington Village v Civil Service A Sunday 13 Dec Penistone Church v Redmires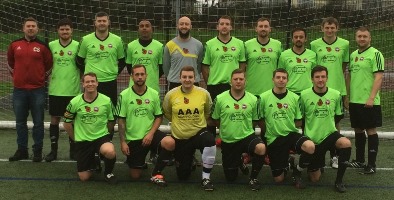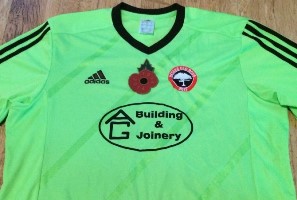 9-Nov 2015 - Intake mark Remembrance Sunday with new kit - Intake Old Boys marked Remembrance Sunday by wearing their new kit containing a poppy in its design.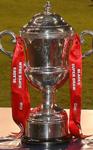 8-Nov 2015 – KITLOCKER CUP - James late show clips Angel's wings - A Reece James winner in the last minute of extra time saw Wadsley Bridge Pheasant defeat Woodhouse Angel 2-1 to go through to the last eight of the League Kitlocker Cup. Mike Towey scored a great solo goal midway through the first half to give Angel a lead they held until the next to last minute when Jordan Turner netted Pheasant's equaliser with a glancing header. Straight from the re-start man of the match Mitch Husbands took on the Pheasant defence single handedly, but his shot was saved by the Pheasant keeper and although he looked certain to tap in the rebound a last ditch tackle saw the ball cleared and the game went into extra time. With neither side looking as if they could break the other down, penalties looked certain until a scramble in the penalty area saw James turn the ball home to win it for Pheasant.
CBC PREMIER - Champs held as Redmires and Brinsworth close up, while a Reet treble lifts Oaks - Champions Stannington Village stayed second in the CBC Premier after they were held to their first draw of the season, 1-1 by a The Vine that stayed level on points with them. Stannington started the better of the two and Alex Torr had a shot saved by the legs of The

Vine keeper Andrew Taylor. Adam Todd then missed a free header from a Lee Johnstone cross and Torr headed over the keeper only to see the ball hit the post and roll along the line before it was cleared stopped them taking the lead. With man of the match Matt Ellis (left) beginning to cause mayhem as the game approached half time, The Vine almost got their noses in front when Ellis played Lewis Rodgers in, but he shot straight at the keeper.
The second half started with Mike Golland crossing for sub Christian Nixon to slide in his shot struck the Stannington post and the chance was cleared, but just five minutes later Golland put Rikki Davidson in and he turned to fire home from the edge of the area to put The Vine in front.. They should have doubled their lead when Lou Jackson crossed for Karl Ainsworth only for him to shoot straight at the keeper, but it was Stannington that got their equaliser when Cory Mann put in a cross that was held up by Shaun Murphy before he laid it off perfectly for Robin Elliott to blast home. The final chance went Stannington's way, but Lee Johnstone headed over and both teams had to settle for the draw that leaves them both two points behind leaders Wadsley Bridge Pheasant.
Just a point behind both of them now are both Brinsworth Whitehill and Redmires. Brinsworth took a deserved lead at home against FC Handsworth Turf when Ainsley Finney headed home from a Mike Hare corner and they doubled their lead just before half time when Hare put Joe McGuiness through and he rounded the keeper to score. Turf, who had nine players missing and former keeper Tom Bryan in goal after a three year absence, were struggling to cope with their hosts and Brinsworth continued on top in the second half. Ross Johnson was just off target with a volley before Finney hit a post, but Brinsworth did get a third when Cory Goodwin put Finney through and rounded the keeper to score his second of the game. Turf pulled one back when Harry Johnstone's free kick was headed home by Greg Taylor and Taylor a another effort disallowed for a foul on the keeper. Turf skipper Danny Leesley also had a shot well saved by the keeper and Brinsworth held on for a 3-1 win.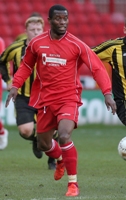 Redmires had a narrow 2-1 victory over a Civil Service A that crashed to their fifth successive league defeat. Mikey Taylor's through ball allowed Jon Wall to steal between Carl Ledger and Matt Betts to deftly steer the ball into the far corner to give Redmires a half time lead. Civil were beginning to get on top and got a deserved equaliser when Wes Bamford got the final touch to an Andrzej Gordon-Hides. At this point it looked as if Civil would go on to win it, but Redmires were always dangerous and after Civil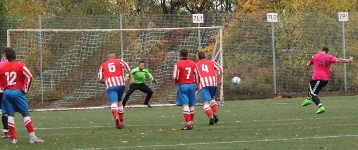 keeper Chris Verity had turned a long range effort round a post, the resulting corner was headed home by Hegel Noubissie (right). Civil tried to force an equaliser and when Richard Honeyman shot, the keeper pushed it out and then blocked Bamford's follow up. Gary Eades then hit the bar, but the ball just wouldn't go in and Redmires held on.
A Danny Reet treble helped Norton Oaks A to their first win of the season, 5-2 over bottom club Southey Social. Alan Mowforth put Oaks ahead from inside the six yard box before Reet netted his first with a first half penalty (pictured left). After being put through by Reet, Mowforth chipped the ball over the Southey keeper before tapping the ball into the empty net for his second of the game to give Oaks a three goal half time lead. Southey, who had lost their skipper Lee to injury in the first half started the second brightly and after playing a one-two with Christian Rowe, Todd Guest saw the keeper off his line and lobbed him perfectly from thirty yards. Oaks responded and Reet lashed his second of the game (first three pictures below) and although Rowe pulled a second back for Southey, Reet had the final say by sliding in to complete his hat-trick (fourth picture below). More action from the game is below - pictures by Mick Moat.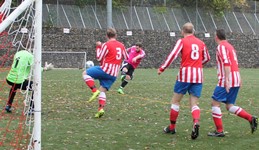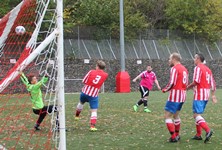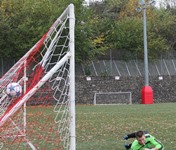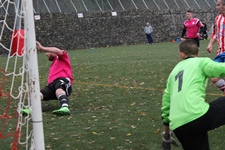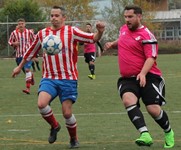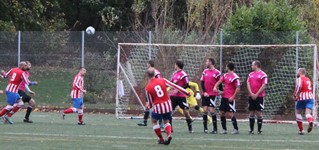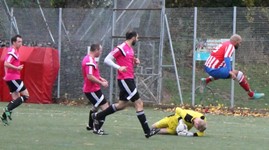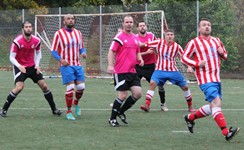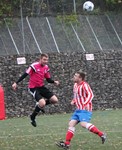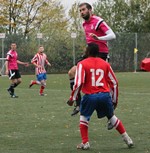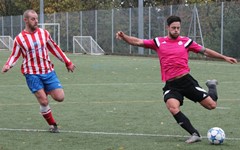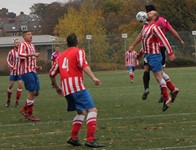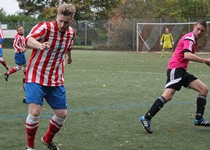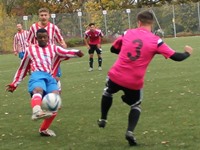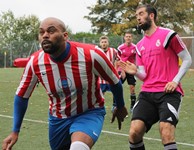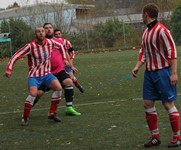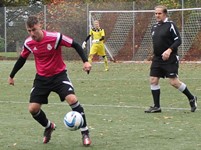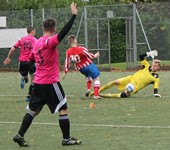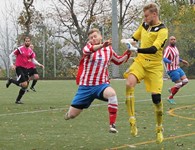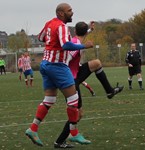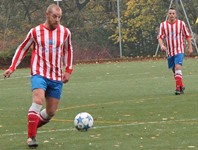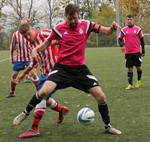 DIVISION 1 - Taxis arrested by Marshall, while Howsham and Brunt both hit trebles, but Phoenix stay clear at the top - Phoenix stayed six points clear at the top of Division One after coming from behind to beat Aston Swallownest 2-1. Aston took the lead when Jack Montgomery just beat the Phoenix keeper to an Adam Smith cross to head home, but Phoenix hit back strongly and deservedly levelled just before the break with a terrific Kieran Goff finish. What turned out to be the winner came in the second half when Goff, Jordan Pearce and man of the match Bradley Spencer all combined to set up Josh Aston and he curled an unstoppable shot into the top corner. Aston rallied and as well as having the ball cleared off the line, they hit a post, but the Phoenix keeper wasn't to be beaten again and Phoenix held on.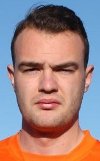 Hallam stayed in second place thanks to a 4-3 win at Ecclesfield Player Lounge. Joe Howsham gave Hallam a two goal half time lead, but Scott Whittington pulled one back for Ecclesfield and George Sheen had another effort disallowed for offside. Howsham (right) scored his eighth goal in two weeks to complete his hat-trick and restore Hallam's two goal lead before Adam Caywood extended it, but Ecclesfield hit back as Whiitington grabbed his second and man of the match Sheen scored a third, and they thought they had levelled near the end when Whittington went through and put the ball past the keeper, but the referee had already blown for handball by a defender outside the penalty area so Hallam went home with all three points.

Level on points with Hallam is Loxley after Anthony Marshall (left) hit four goals to help them come from a goal down at half time to win 5-2 at City Taxis. Jason Hopwood gave Taxis their lead with a terrific strike from distance before the Taxis keeper made good saves from both Steve Dickinson and Steve Mayfield. Loxley came out for the second half with real purpose and Steve Mayfield twice set up Marshall for his first two to edge Loxley in front. Dickinson was the provider for Marshall's third, before Mayfield played a poor clearance by the keeper back into the unguarded goal for Loxley's fourth and although Craig Williams briefly reduced the arrears for Taxis, Marshall nabbed his fourth with a clever header.
Also on the same points is Intake Old Boys after a narrow 2-1 win at Colley Tavern. Intake, who marked Remembrance Sunday by wearing a new kit that included a poppy in its design, took the lead when Shaun Garwell produced a brilliant header from John Higgins' free kick that took a deflection off Ridha Miladi. Colley equalised when Matt Meaney got onto the end of a long clearance by keeper Niall Wilkinson, but Intake won it when Jamie Smith got a toe poke to Russell Hobson's cross. A Connor Brunt treble helped Ranch earn a point with a 3-3 draw at Hare & Hounds. Stef Rankine, David Mitchell and Sean Maloney all scored for the home side, but Brunt's treble earned Hounds their point.
DIVISION 2 - Crookes win at last, while top five all win – Crookes & District climbed off the foot of the Division Two table with a first win of the season, 2-1 at Cobden View, on a day the top five also won. Crookes took the lead on the half hour when new signing Matt Talbot latched onto a mistake by the View keeper and guided the ball into the net. They extended their lead ten minutes after the break when another new signing Michael Shaw finished a good move by toe-poking the ball past the keeper. Cobden View pulled one back with a James Cottingham penalty, but with Richard Slattery in commanding form for Crookes they held on for that first win.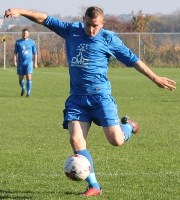 Killamarsh Juniors kept top spot with a 4-2 victory over Norton Oaks B. Goals from Jack Stanley, Ash Drabble, Christian Savage and Ryan Hanstock did the trick, while Oaks scorers were Jordan Holland and Kevin Bly. Penistone Church maintained their perfect record to stay second as two Mitch Savage strikes and one from Tim Council gave them a 3-1 win at Woodhouse Juniors that ended the game with ten men. Woodhouse never gave up despite their numerical disadvantage and were briefly in the game when an Alex Law header pulled one back, but Penistone stayed in charge. Devonshire, who are also yet to drop a point, are third after a Nicky Owen (right) treble helped then to a 5-2 victory over Steelers. Steelers shocked their hosts by taking the lead with a Brad Oxley strike, but with half time approaching Devonshire were awarded a penalty, confidently put away by Owen and a minute later Owen grabbed his second to give the home side a half time lead. A third from Owen and others from Sam Read and Keith Cronin made it comfortable for Devonshire before Blake Owen's penalty gave Steelers their second.
Both Shaun Waller and Mike Blythen scored hat-tricks as AFC George maintained their title challenge with a very convincing 9-2 victory over visitors Civil Service B. George's others came from Jordan Cooper, Lee Cotton and Carl Hodgkinson, while Civil's goals came from Alex Knight and a Toz Fogarty penalty after Ryan Haywood had been fouled in the area. Despite two goals by Scott Green, Laycock Sports lost their unbeaten away record 5-2 at a Top Club that proved too strong for them. Club led at half time with an own goal and one from Anton Blake, while second half goals from Liam Bryan, Michael Brown and Damian Wilcox meant Green's double counted for nothing.